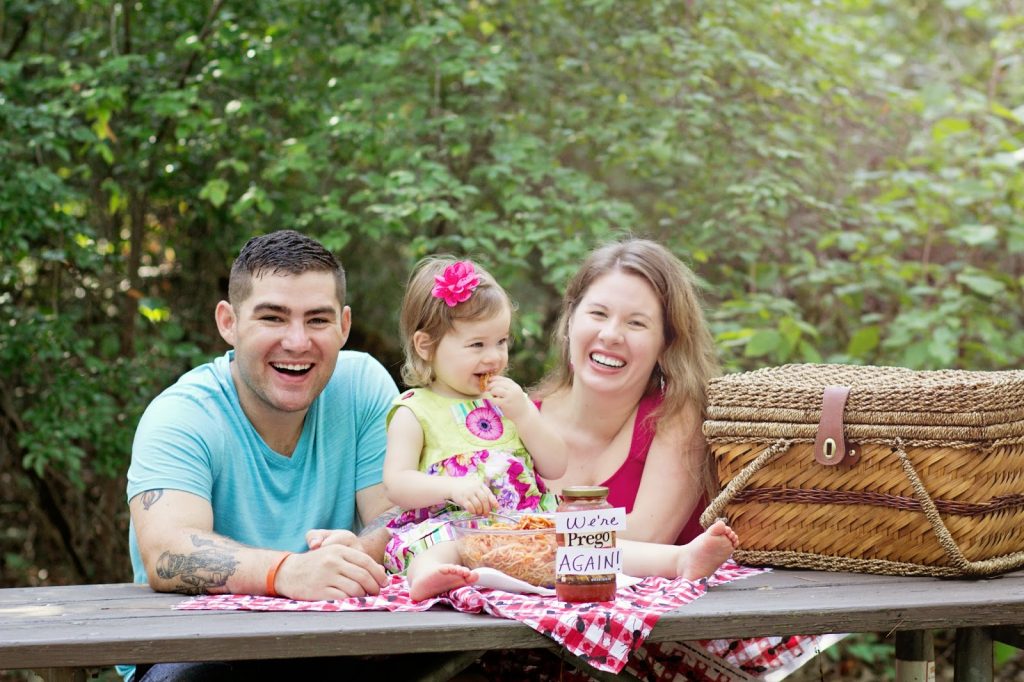 We're Prego…Again!
Ava can't wait to be a big sister!

Ingredients:
4 stalks celery, chopped
4 carrots, peeled and chopped
1 small-medium sweet onion (or 1/2 large Vidalia onion), chopped
1 red bell pepper, chopped
1 yellow or orange bell pepper, chopped
8oz mushrooms, sliced
1 lb ground beef (I use ground chuck)
1 lb ground Italian sausage (or ground pork)
3 cloves garlic, pressed
2 tbsp Italian seasoning
4 bay leaves
1 tsp nutmeg
28oz can crushed tomatoes (I recommend San Marzano)
12 oz can tomato paste
3 cups heavy cream
2 tbsp olive oil
salt/black pepper, to taste
cooked pasta (I prefer pappardelle or fettuccine)
Parmesan cheese, for serving (optional)
Directions:
Place celery, carrots, onion, and bell peppers in a large food processor. Pulse until minced and mixed well. *Alternately you can finely mince by hand.
Add olive oil to a large double boiler or soup pot and heat over medium.
Add minced vegetables and cook until softened about 5-8 minutes.
Stir in garlic and seasonings and mix well.
Next, add crushed tomatoes, sliced mushrooms, and tomato paste.
Meanwhile, in a large skillet add ground beef and ground sausage or pork and break apart into crumbles
while cooking. Cook, stirring, until no longer pink. Drain any grease.
Stir into the simmering pasta sauce.
Put lid on the pot and lower heat to med-low.
Cook at a simmer for 1-1 1/2 hrs.
Stir in heavy cream and cook for another 20 minutes.
Serve ladled over hot pasta with Parmesan cheese on top with an Italian Salad on the side.
The basic ingredients for this sauce are good quality San Marzano crushed tomatoes and tomato paste,veggies, ground meat, and pasta!
I've also found this pasta and used it too.
Even bow tie pasta works but I like the thicker long pasta better!
Cook the ground meat in a large skillet over medium heat.
Cook, stirring, until cooked through and no longer pink.
Drain.
Meanwhile, finely mince celery, onion, bell peppers, and carrots in a food processor.
Add to a double boiler with olive oil heated over medium heat.
Cook for 5-8 minutes until softened.
Then add crushed tomatoes, sliced mushrooms, and tomato paste.
Stir cooked meat into the simmering pasta sauce.
Add heavy cream and stir to combine.
Cook for another 20 minutes then it's ready to serve!
This flavorful, chunky sauce reminds me of home! Yum!
Ladle over hot pasta and top with Parmesan cheese.
Serve with a fresh green salad on the side.