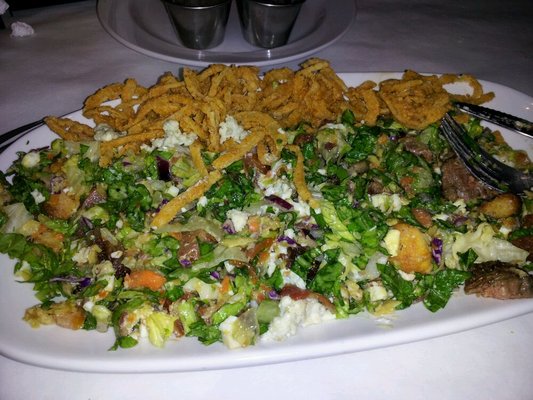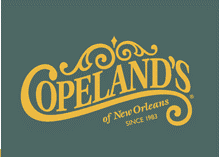 I remember, back in the day, driving to Pensacola with my folks and eating dinner at my favorite Cajun restaurant, Copelands. They had delicious seafood, beautiful decor, and a jaw dropping jazz brunch. Alas, all good things come to an end and one day it went out of business. I was crushed! Well, now I live in good ol' Louisiana and guess what restaurant I spotted on my first trip to Alexandria (the closest "big" town to us)? Yep, you got it: Copeland's of New Orleans! Ashton and I had dinner there right away and I've since been back for lunch a few times too. They have one of those huge menus (think: Cheesecake Factory) that is somewhat overwhelming but just about everything is lip smacking good! What are my faves you ask?
I tend to stick to their Classics and Fish along with their new Small Plates Menu.
1. Catfish Ricochet – hands down my favorite! Lightly fried, with pecans, sesame, and Creole Meuniere sauce!
2. Chop Salad, obviously! Great as an appetizer or add sliced steak and amke it a meal! Check out the recipe below!
3. Shrimp Ducky – Duck and Shrimp are a match made in heaven in this rich pasta dish with Burgundy mushroom sauce.
4. Eggplant Pirogue -fried eggplant on pasta, topped with crab claws, shrimp, and au gratin sauce.
5. Cajun Gumbo Ya Ya -classic Cajun loaded with shrimp and scallops!
6. Anything and everything on their Brunch Buffet!
7. Copeland's side items are large portions and rich flavors. Try the Loaded Mac and Cheese, Corn Macque Choux, Creamed Spinach and Smothered Green Beans!
8. Banana's Foster – Who can forget dessert?! This sweet concoction is amazing and big enough for 2-3 people!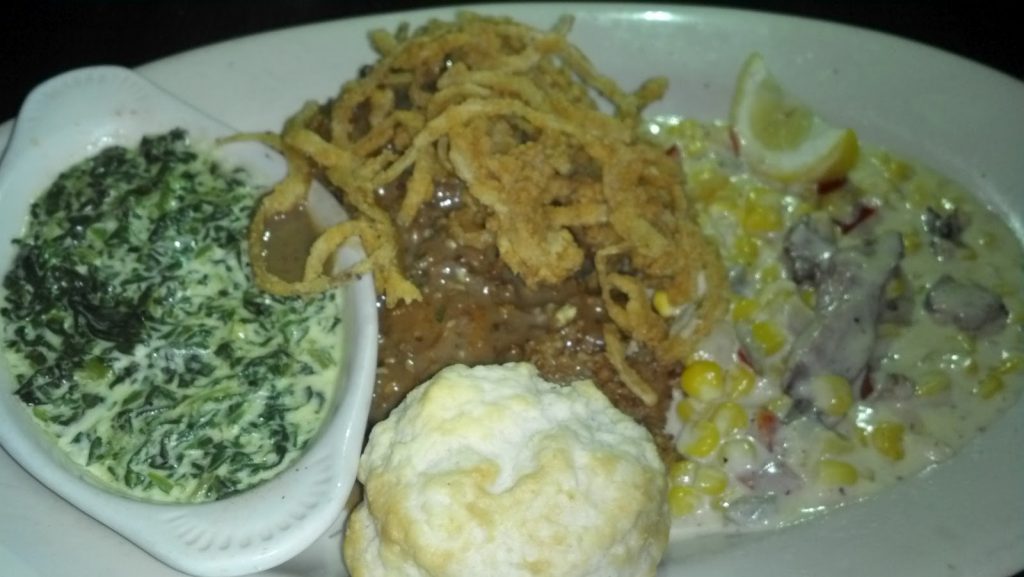 Catfish Ricochet with Creamed Spinach and Corn Macque Choux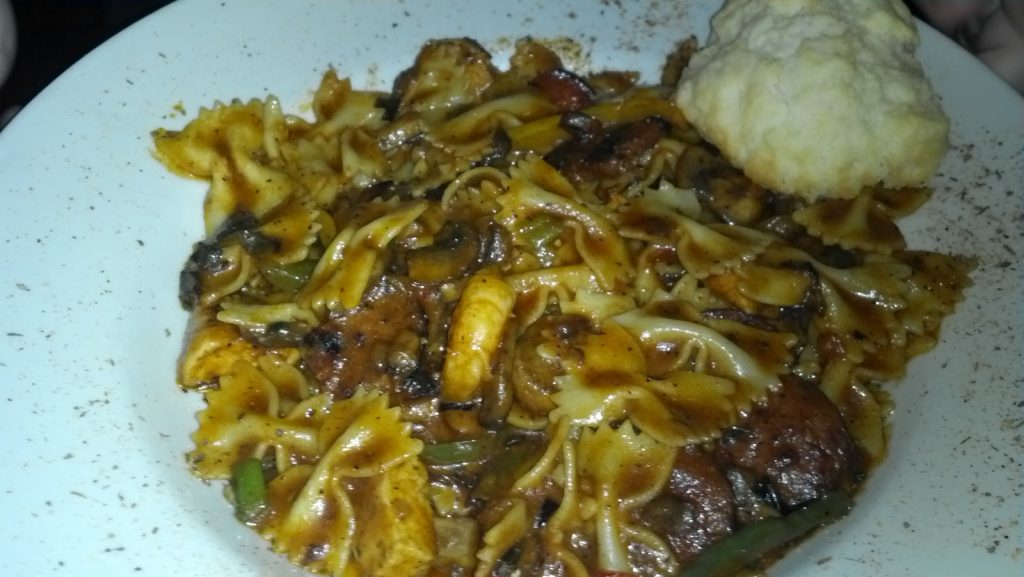 Jambalaya Pasta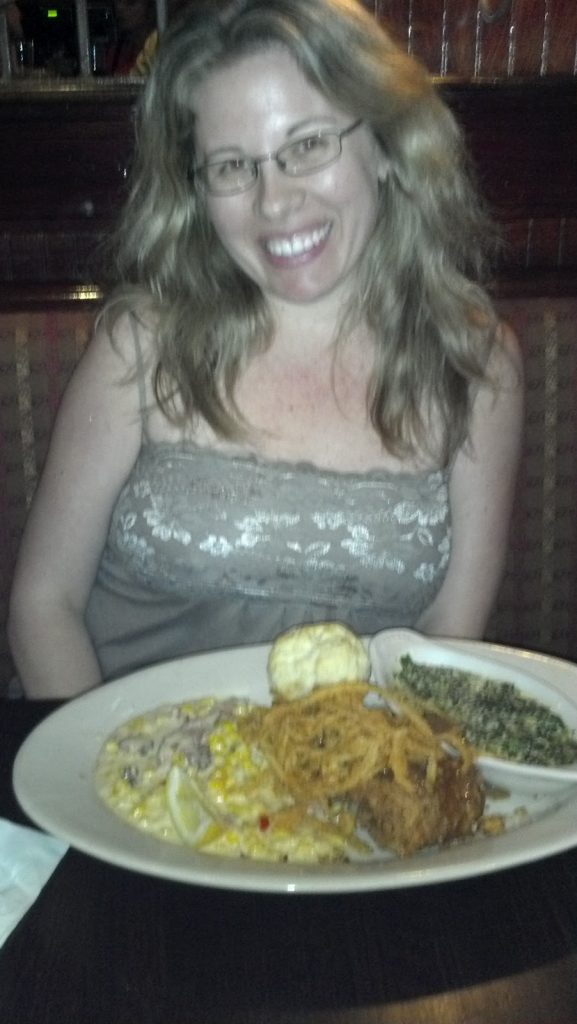 Here's a tip: ALWAYS sign up for your favorite restaurant's email newsletter. It's a great way to find out bout specials and receive coupons and bday deals! Copeland's has a great email program, with a $10 sign up coupon and free dessert on your bday!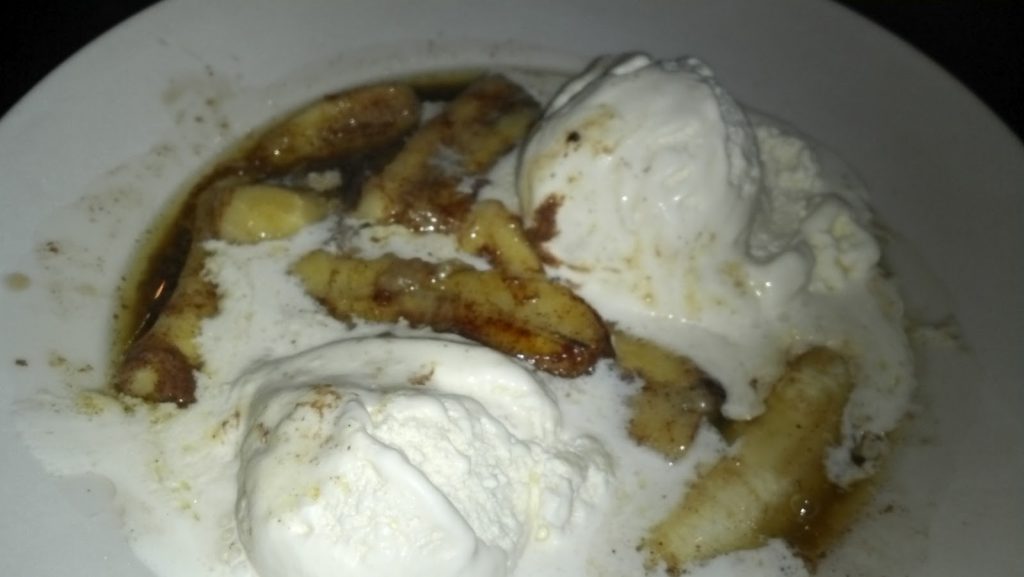 Copeland's now has a Cheesecake Bistro offering all sorts of delicious cheesecake goodness but my fave will always be the classic Bananas Foster, served warm with gourmet vanilla ice cream!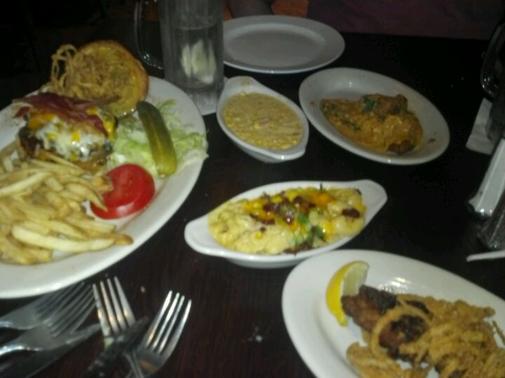 Another tip: Try the Small Plates for lunch or dinner! It's a great way to sample a few items or have a "tapas" style dinner with a few friends. Here my hubby ordered a burger (surprise, surprise) but my Mom and I ordered two sides and Pecan Crusted Catfish and Oyster Eggplant Remoulade. This way we saved room for dessert..you guessed it…Bananas Foster!

Here's a simple version of Copeland's classic for you to make at home!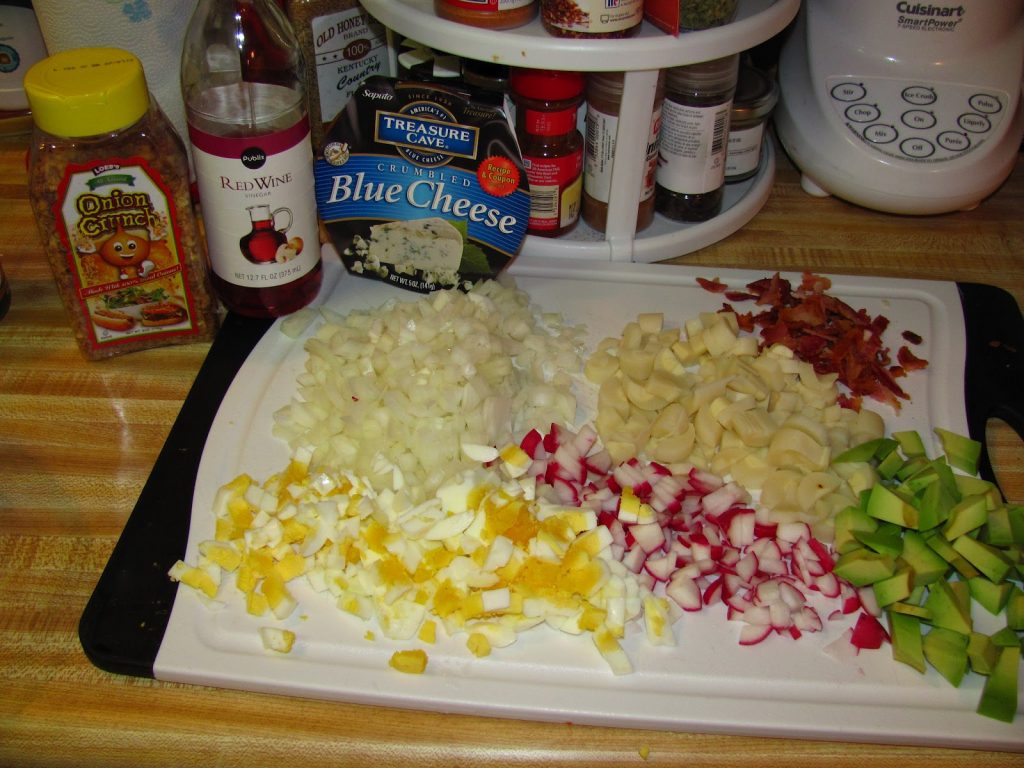 Super easy and super tasty!
Dice all your ingredients! I pretty much stuck to what was in the Copeland's original but you can add whatever you want…it's yummy any way you make it!
Serves 2, as an entree
Ingredients:
Bag of salad lettuce, finely chopped
2 boiled eggs, chopped
1/2 red onion, chopped
4 slices of crunchy bacon, chopped
1 avocado, diced
1/2 cup hearts of palm, chopper
1/3 cup radish, chopped
4-6 oz crumbled blue cheese
1/3- 1/2 cup fried onions (to top the salad)
red wine vinegar, to taste
crushed black pepper, to taste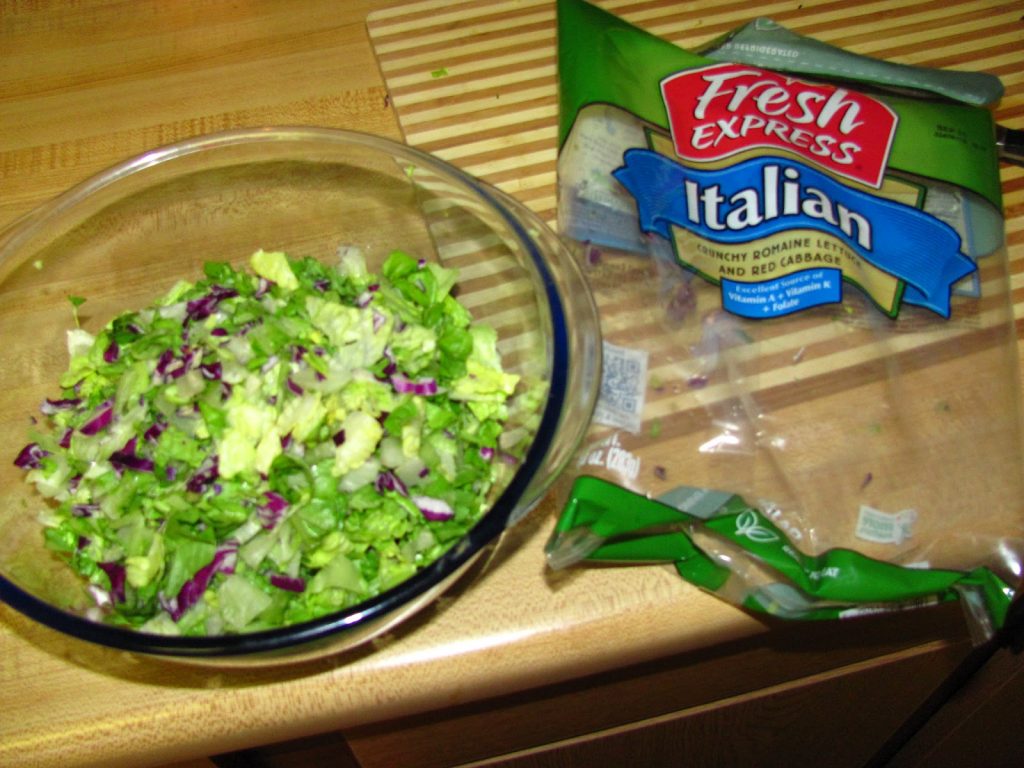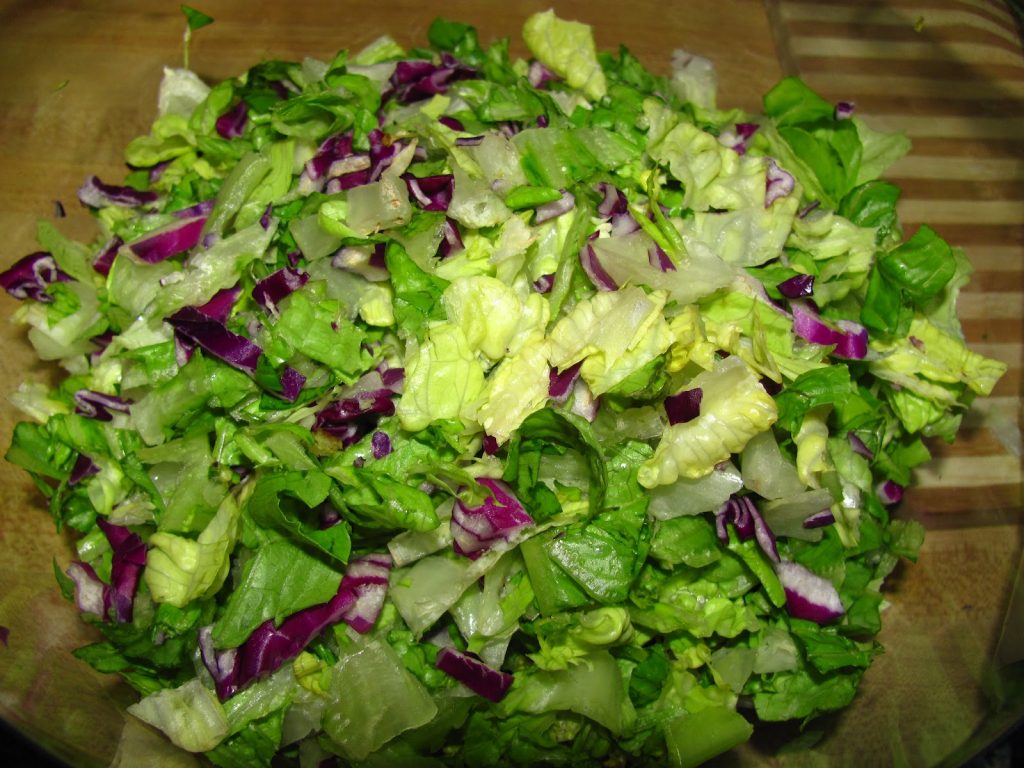 Make sure you finely chop the lettuce.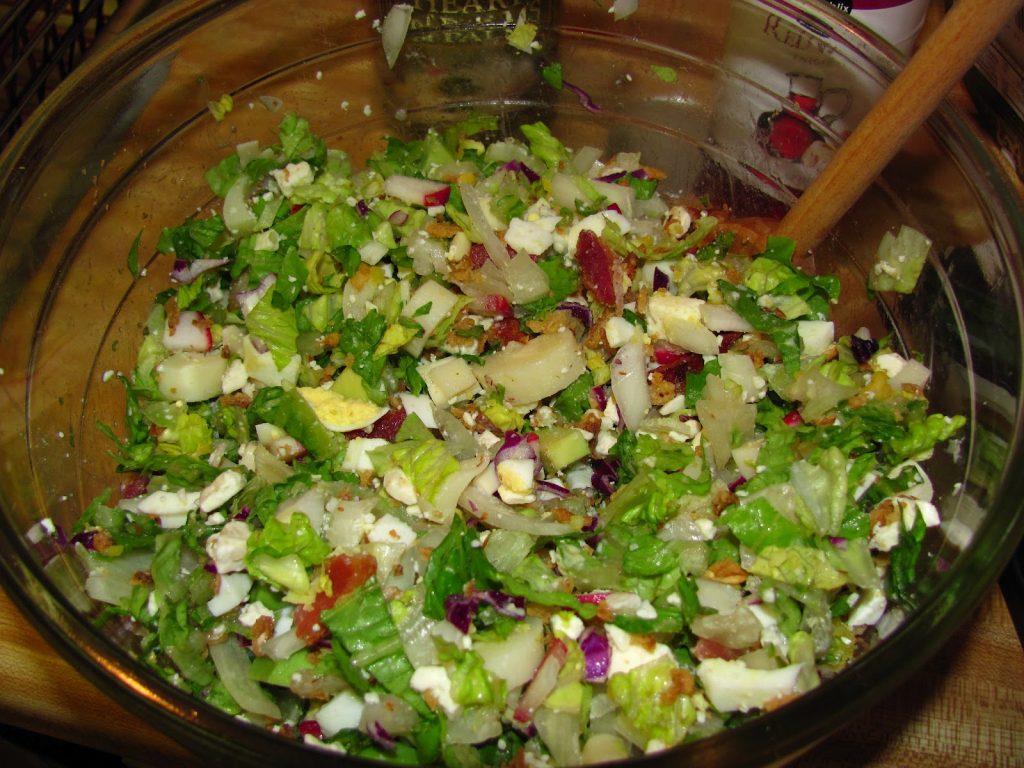 Then just simply mix together and add red wine vinegar and fresh ground pepper to taste.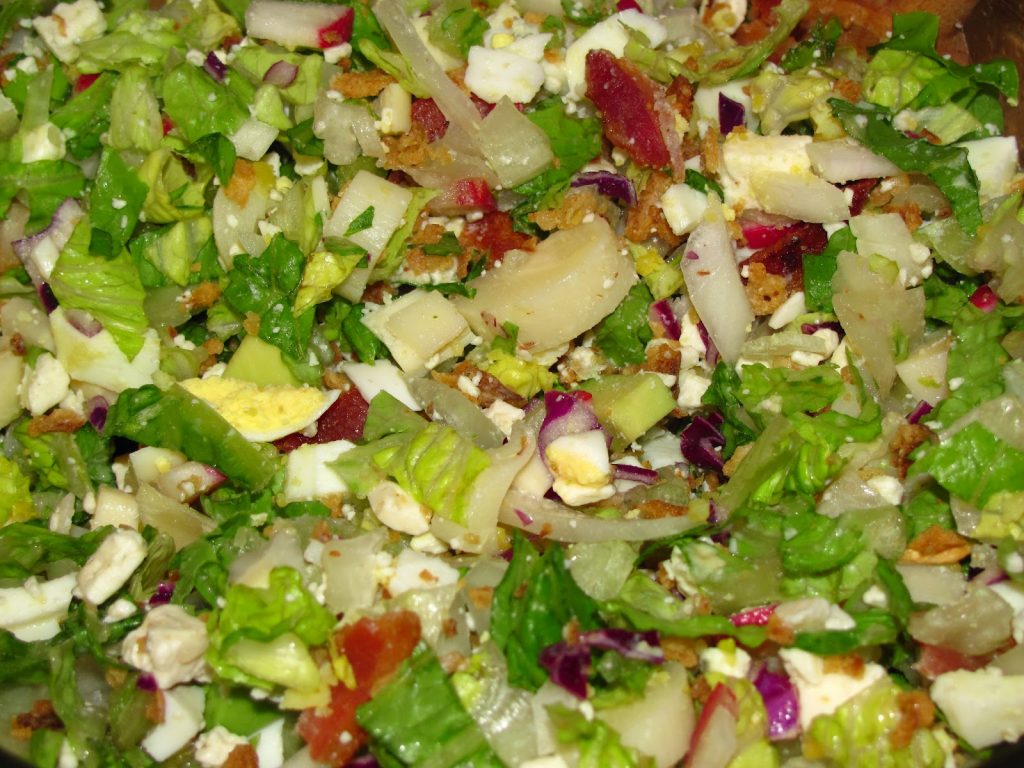 Colorful, Flavorful, and down right Delicious!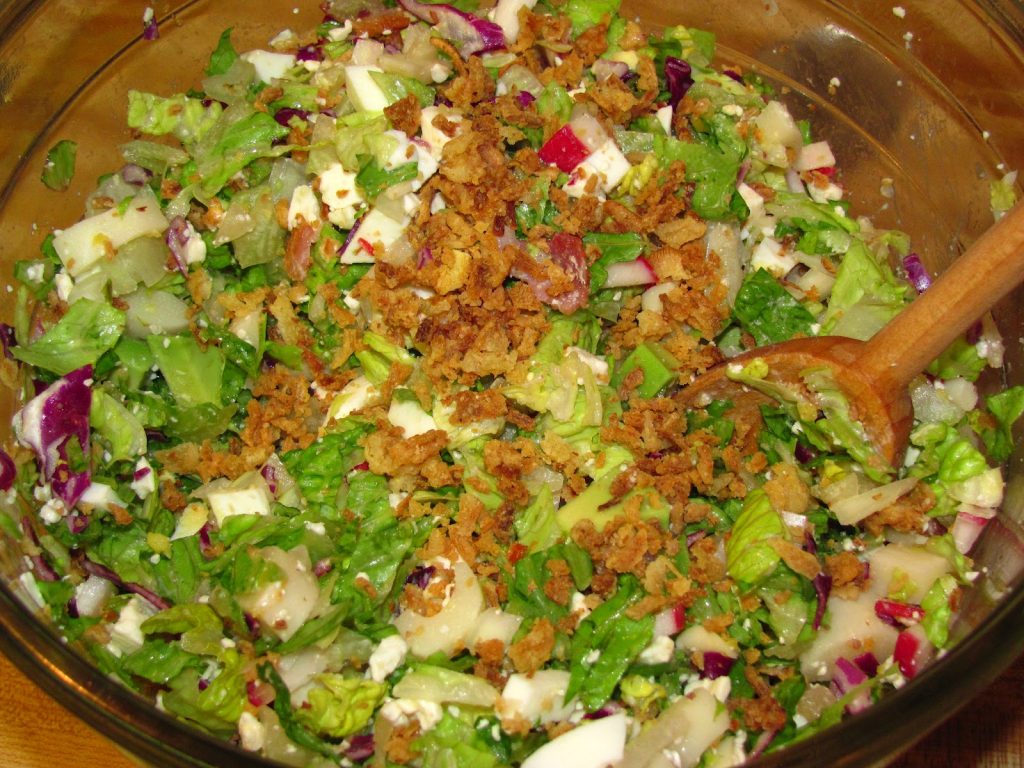 Lastly, top with crunchy fried onions. Enjoy!