The Sweetest Cookoff Yet!
It's time for the last cookoff challenge before the finale!
Battle Desserts!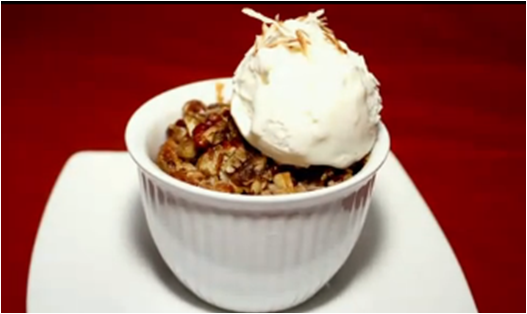 Ooey Gooey Pecan Cobbler
Ingredients
1 ¼ cup chopped pecans
½ tsp vanilla
2 eggs, beaten
1 tbsp flour
½ cup sugar
¾ cup brown sugar
2 ounces butter, melted
½ cup Lactaid Chocolate milk
1 cup plus 2 tablespoons shredded coconut
2 tbsps bourbon
3 scoops vanilla Lactaid ice cream (or substitute regular ice cream)
Non stick baking spray
Directions
Preheat oven to 350 degrees.
Mix all ingredients
except ¼ cup pecans, ¼ cup brown sugar, 2 tablespoons coconut and ice
cream in a bowl.
Pour into greased ramekins.
Bake in oven for 35-40
minutes.
Heat a sauté pan over medium and toast remaining coconut. Set
aside.
In another sauté pan melt butter and stir in ¼ cup pecans and ¼
cup brown sugar. Stir until bubbly and melted. Drain butter and reserve
sugared pecans.
Remove cobblers from oven and top with sugared pecans.
Return to oven and bake for 5 more minutes.
Remove from oven and let
cool for a few minutes.
Serve with ice cream on top and top with toasted
coconut.