Ingredients:
2 eggs, soft poached (read how to poach an egg here)
1/2 Granny Smith apple, thinly sliced
1/2 cup walnuts, chopped
1 tbsp butter
1 tbsp brown sugar
1/2 cup goat cheese, crumbled
1/2 small red onion, sliced in thin rings
2 Roma tomatoes, sliced into wedges
4-5 cups baby spinach
1/4 cup thick croutons
1/2 cup Hot Bacon Vinaigrette (ingredients below)
2 cups apple cider vinegar
1/2 cup red wine
1/2 pkg bacon (about 8 slices)
1 cup diced red onion
1 tbsp fresh thyme, chopped
2 tbsp minced garlic
1 tbsp Worcestershire
1/3 cup white sugar
1/3 cup brown sugar
1/4 cup dry mustard
1 tbsp cracked black pepper
1 tbsp kosher salt
2 tbsp cornstarch
1/4 cup water
Directions:
I used 1 large red onion and diced half for the vinaigrette and sliced the rest for the salad.
Cook bacon until crisp, drain, then chop.
To make the vinaigrette mix all ingredients together in a saucepan until they come to a boil.
Make a slurry in a bowl with 2 tbsp cornstarch and 1//4 cup water. Whisk into vinaigrette and simmer until slightly thickened.
Candied Walnuts are simple!
Melt butter in a skillet, add brown sugar and chopped walnuts. Stir and toast until coated, about 2-3 minutes, then remove from heat.
Slice tomatoes and apples right before serving.
Toss apples in lemon juice to prevent browning.
You can use goat cheese crumbles or a log of soft goat cheese. I prefer this kind so I can break off chunks for thicker pieces and a more rustic look.
Look at this chunky, flavor packed dressing! Mouth watering yet?
Plate your salad with a couple cups of baby spinach then top with walnuts, cheese, onions, tomatoes, apples, and a poached egg.
Drizzle the Hot Bacon Vinaigrette on top.
Ready to serve and devour!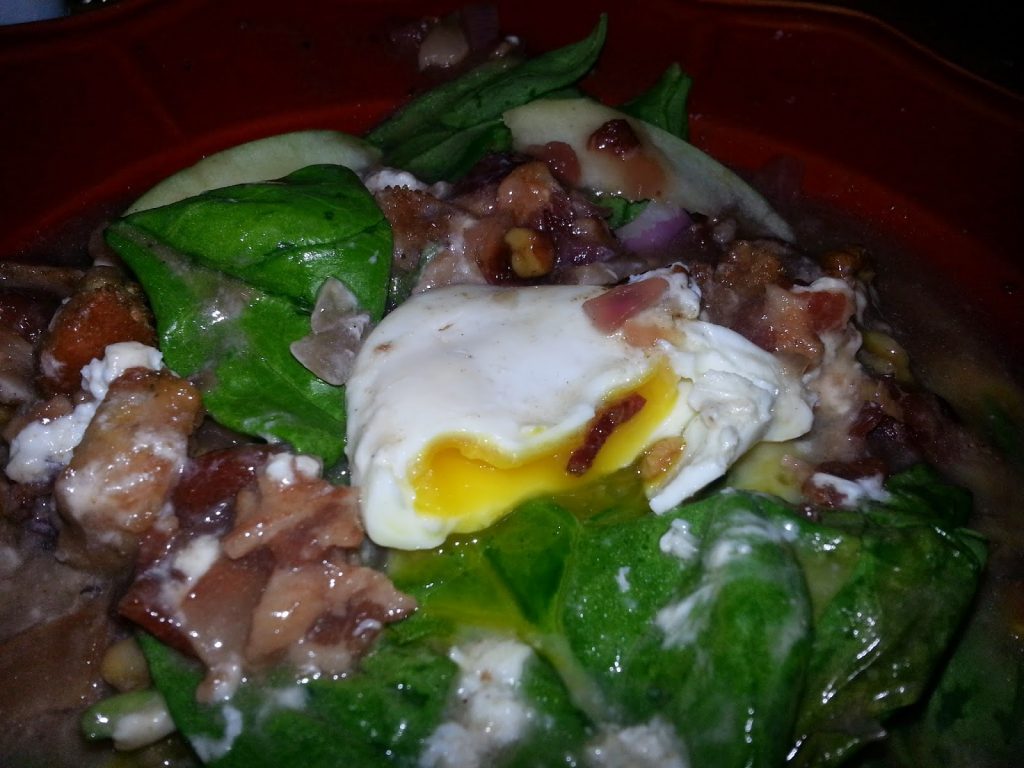 Warning: bad cell phone pic!
But check out this beautiful runny egg on top of this tasty salad!
Enter to win!