here in the Hood household!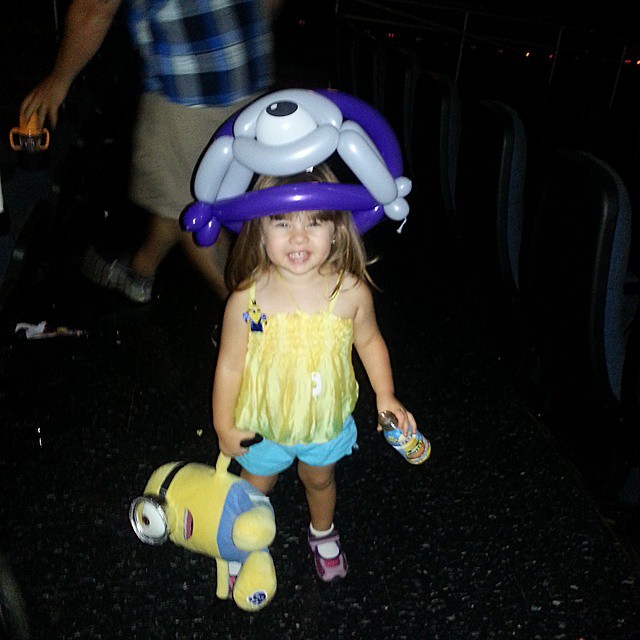 Ava at The Minions movie
Do you know some other fun Minion crafts? Please comment with the link below!
Minion Paper Tote Bag
Just cut out colored cardstock and glue onto a yellow paper bag
in the shape of Minion eyes, mouth, and overalls.
Minion Paper Lanterns
I bought a 3 pack of yellow paper lanterns at Hobby Lobby and hot glued on black and white card stock in the shape of Minion goggles, hair, and a mouth. Attach string to hang (or drag around the house like Ava does).
Minion Thumbprint Necklace
Pick up a a yellow cord or string and a white plaster pendant at the craft store and loop and tie them together. Then paint some yellow on your little ones thumb and press their thumb to the pendant. Not use a sharpie or paint pen and draw blue overalls and black hair and goggles and you've got a easy DIY necklace!
Glitter Minion Mason Jars
I came up with this fun project when I spied all the empty mason jars I had laying around.
All you need is yellow acrylic paint (I used glow in the dark neon yellow), dark blue glitter, mod podge, tape, foam brushes, stick on google eyes, and paint pens. I also like to seal the glitter with a sealer spray. See the step by step pics below.
I paint a few coats of paint then let dry overnight.
Tape off the bottom of the jar, paint on Mod Podge and sprinkle on blue glitter.
Let dry and remove tape.
Then stick on a google eye and use a paint pen to draw goggles, a mouth, and hair.
Minion Jell-O Molds
I found these fun jello molds at Wal-Mart and had to get them!
The inexpensive kit comes with 2 boxes of blue and 2 boxes of yellow jello along with 2 Minion shaped Jell-O molds. Ava loved making (and eating) these!
Funny, jiggily Jell-O Minions!
My little helper- and Minion lover!
Minion Paper Dolls
I love bonus crafts! These paper dolls were on the back of the Minion Jello Molds box.
Easy peasy, cut out and your set! This is a fun craft to take with you in the car or to restaurants to entertain your little ones.
Minion Cut Out
They had all the shapes already cut for the kids: yellow paper body, arms, and legs and blue overalls.
Give the kids a glue stick and let them glue it together then glue on google eyes (or eye!) and black pipe cleaner hair and use a black marker for adding details.
Minion Coloring
Minion stuff is everywhere, which I'm sure you've seen. I pick up Minion sticker pads, coloring books, crayons, paints, pretty much any Minion coloring items I see. Even better most are around $1-2! I found these at Target and Wal-Mart.