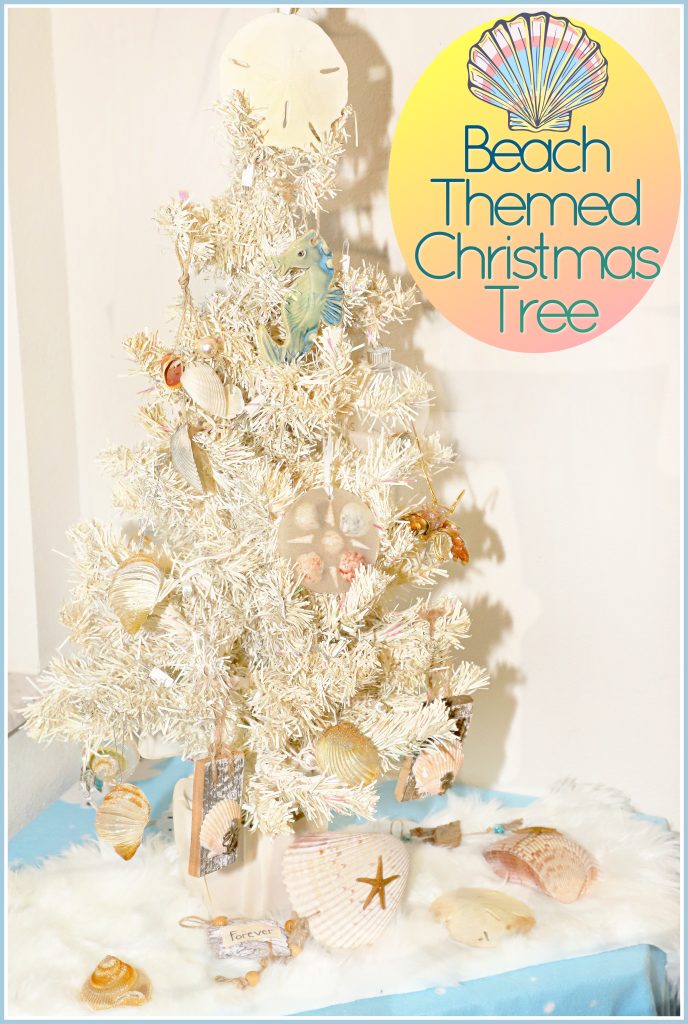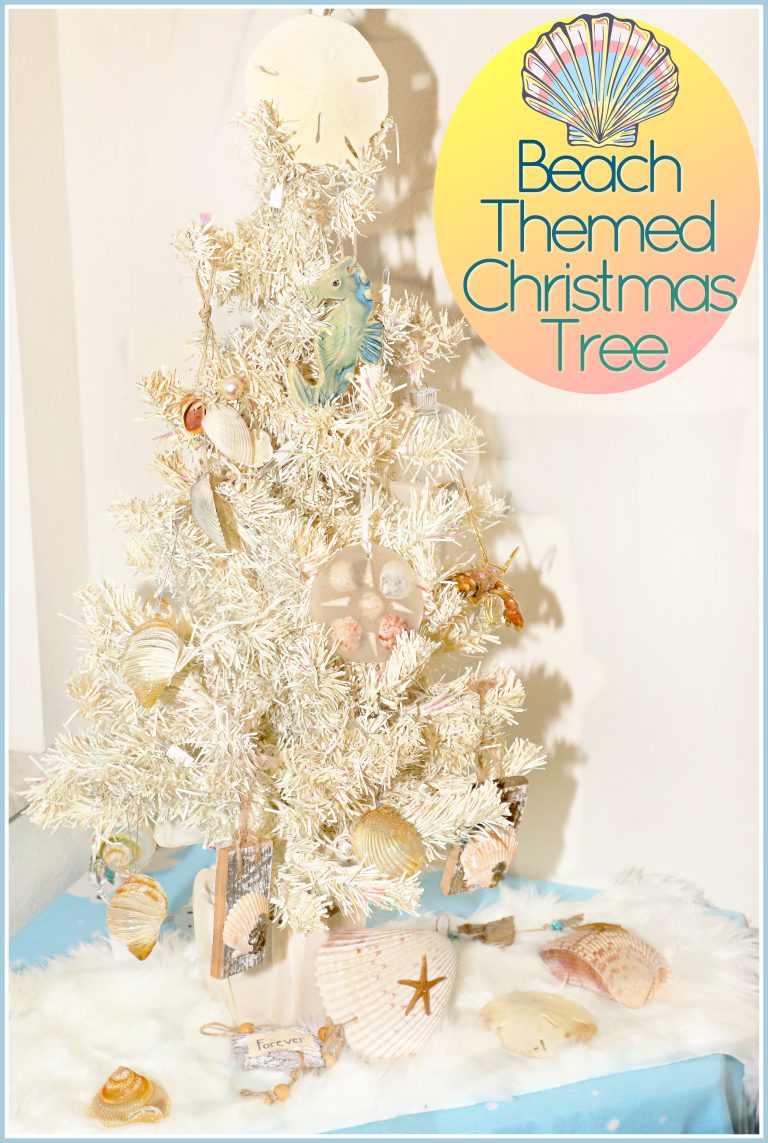 It's time for the annual Christmas Trees on Parade hosted by Terri from Christmas Tree Lane .
This fun Christmas Tree hop features 7 bloggers and their Christmas tree creations and ornament giveaways.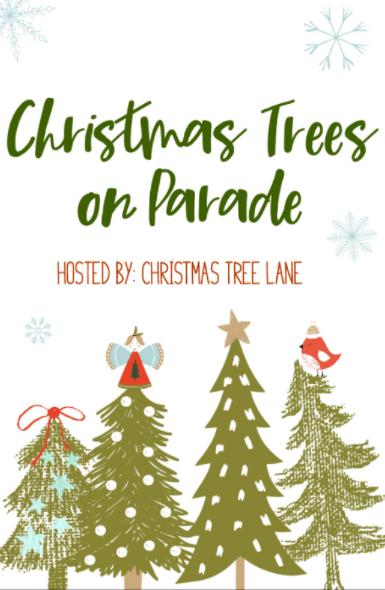 Scroll down to see my Beach Tree from this year and to enter to win my themed ornament.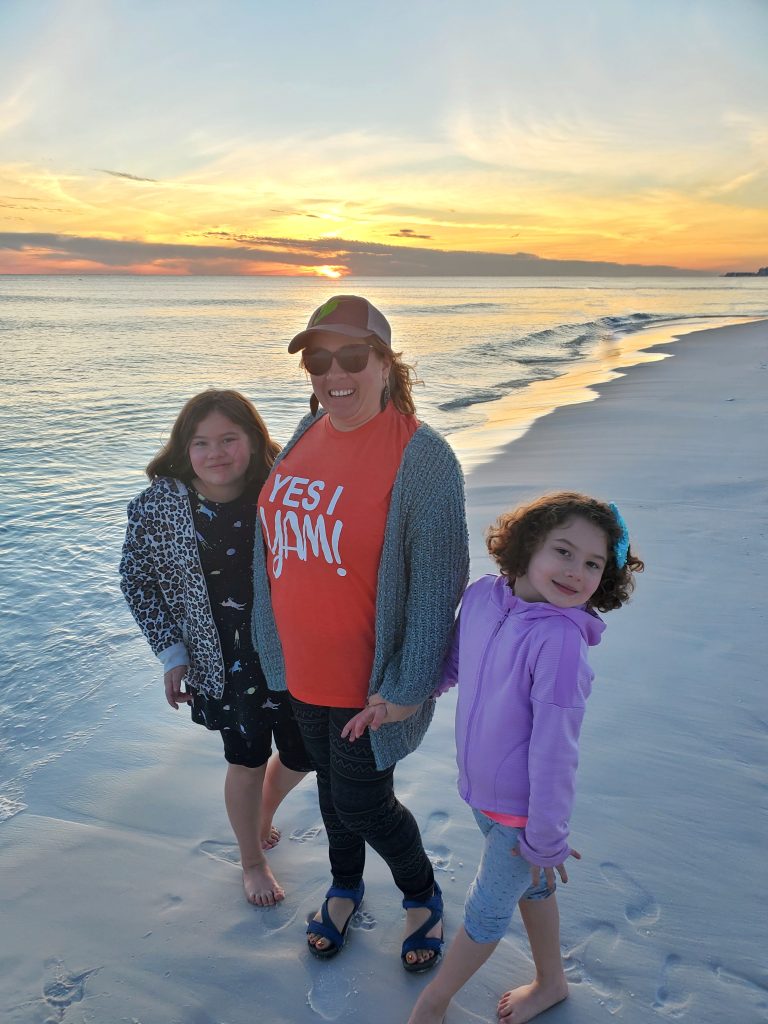 I am from Florida and last month we were lucky enough to travel home to the Florida Panhandle to see my family for Thanksgiving. We had a wonderful time and one of my favorite memories is taking my kids to the beach. There is really nothing like it. The smooth white sand, the cool air, the blue green ocean, the ocean life and birds everywhere, and our favorite, the shells!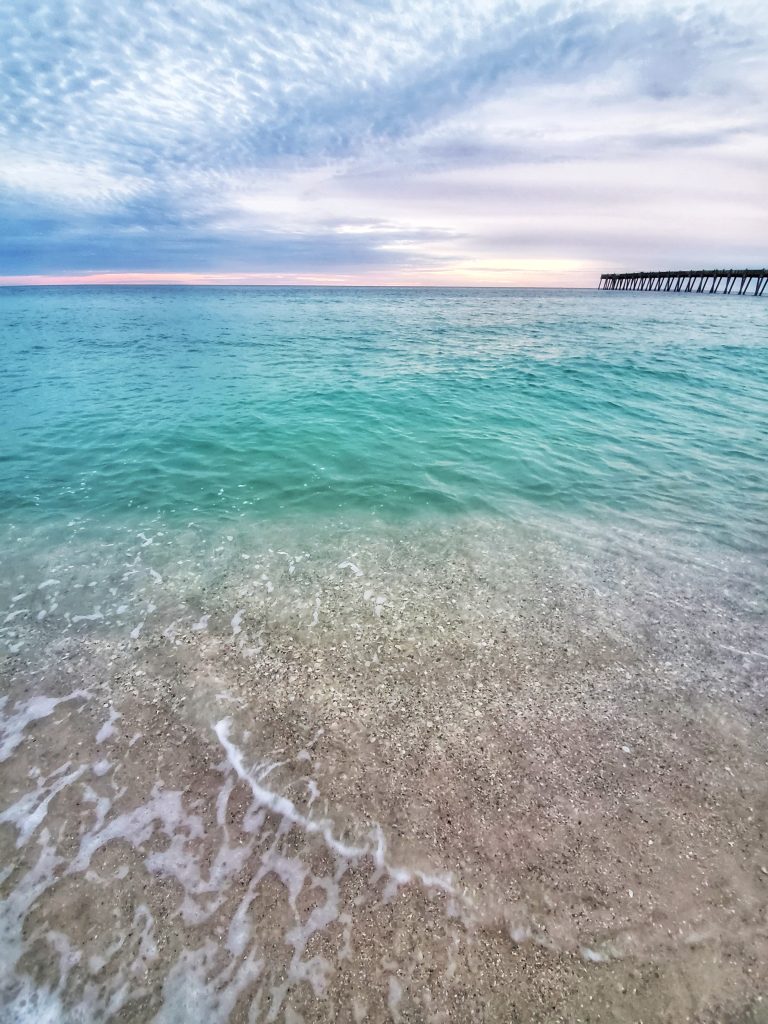 So naturally for this year's Christmas Trees on Parade I wanted to make a Florida Beach Tree.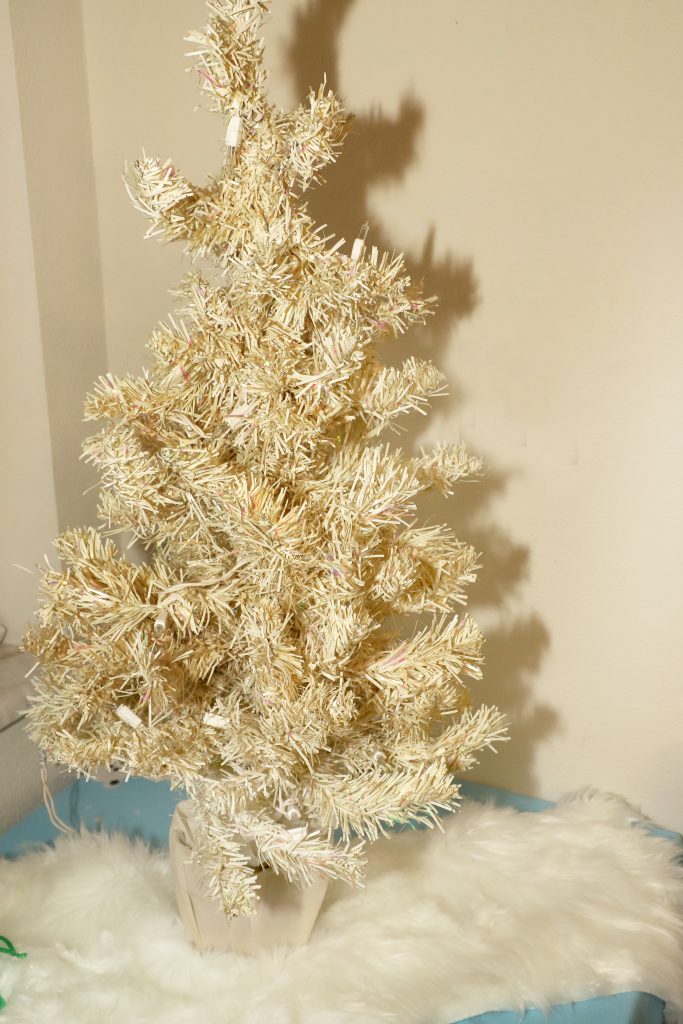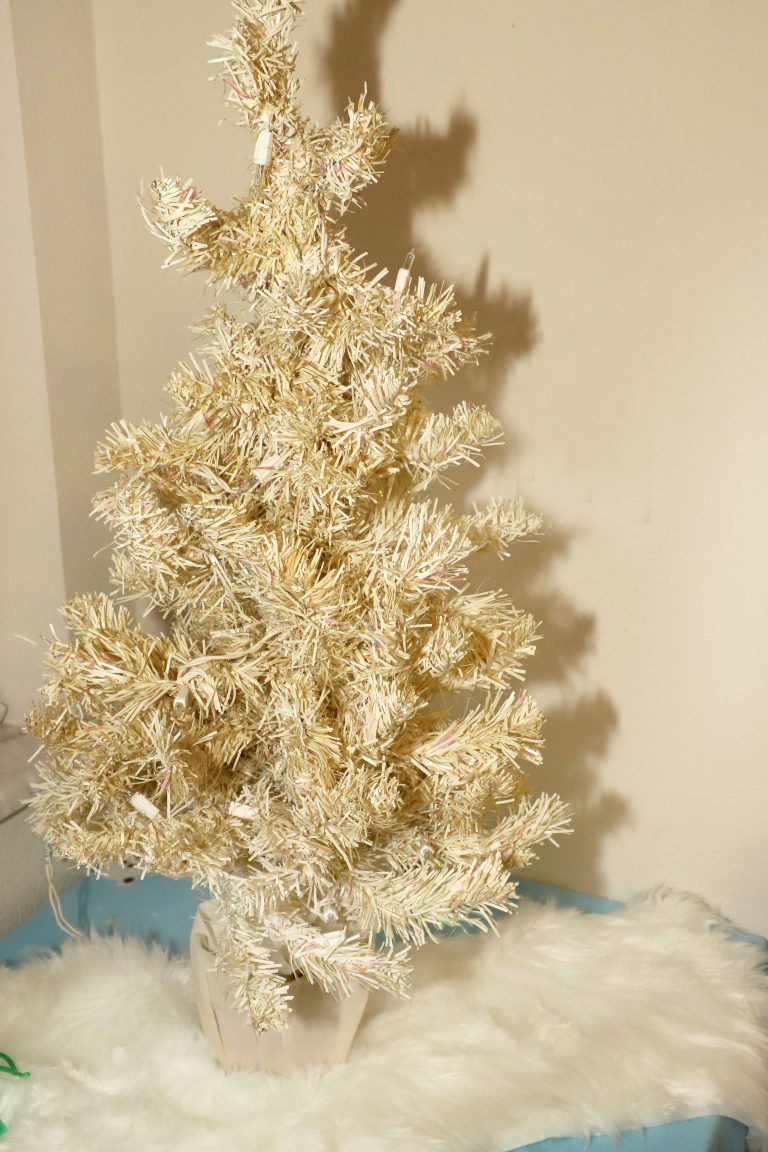 I used a small white tree that reminded me of beach sand and placed it on a table with a light blue holiday blanket and a white fur table runner to represent the beach.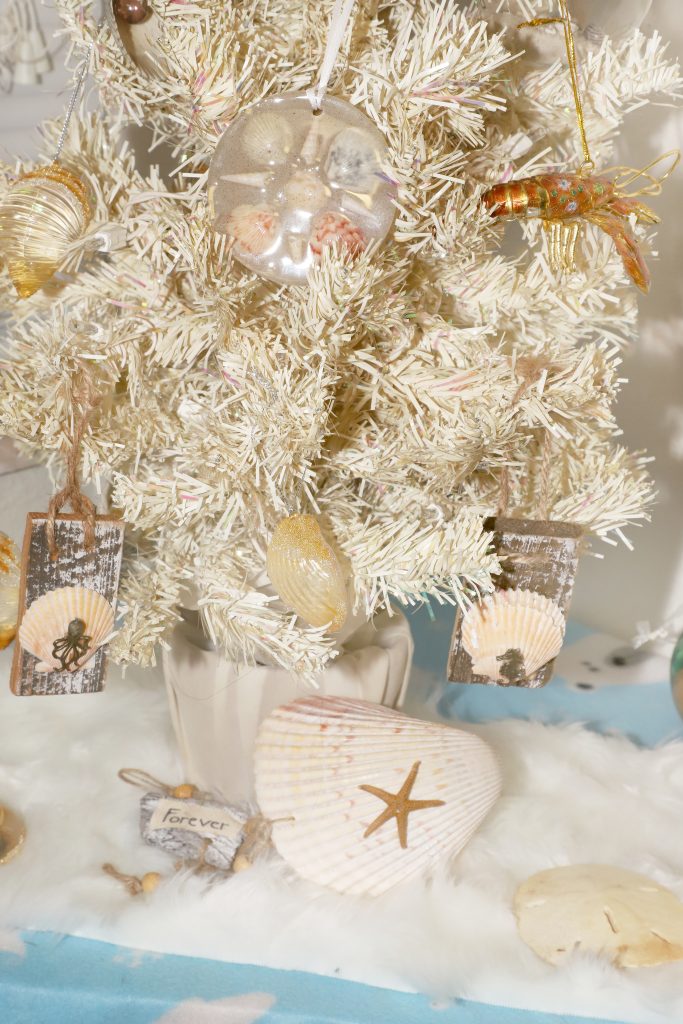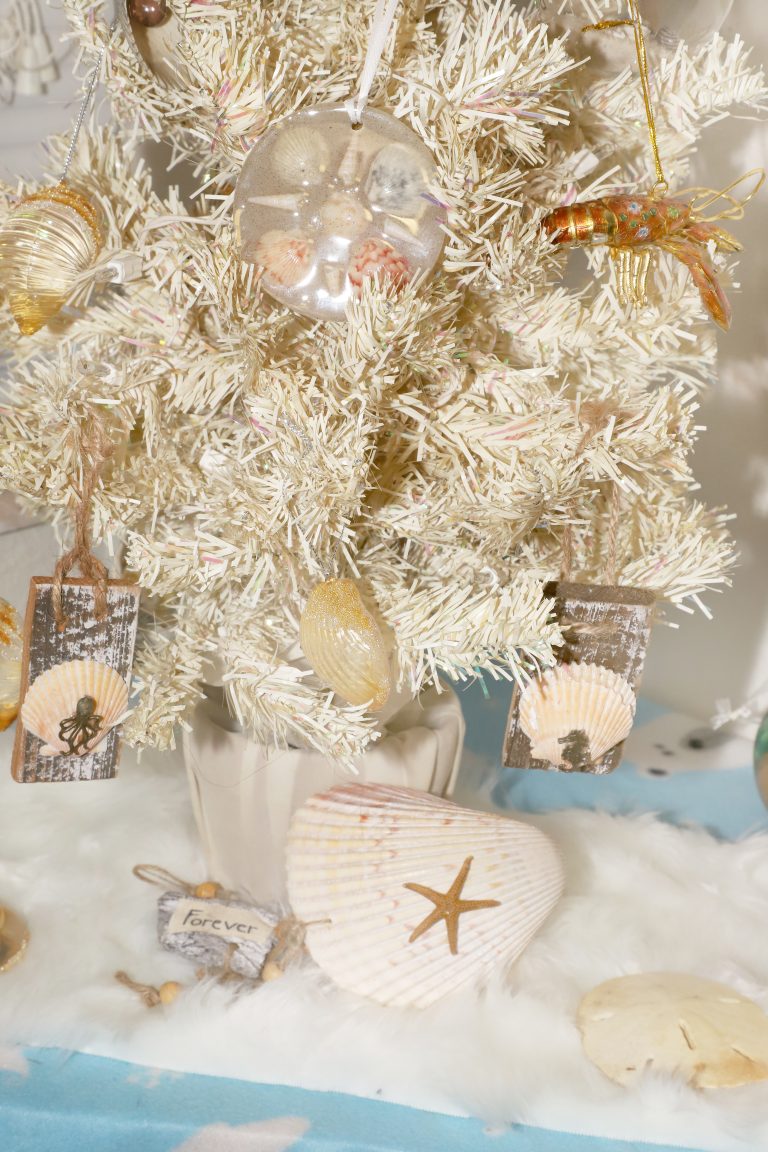 I added a few large shells and decor on the blanket and base of the tree and then decorated with a variety of shells, beach themed ornaments, and handmade trinkets
and decorations from our visits to Florida.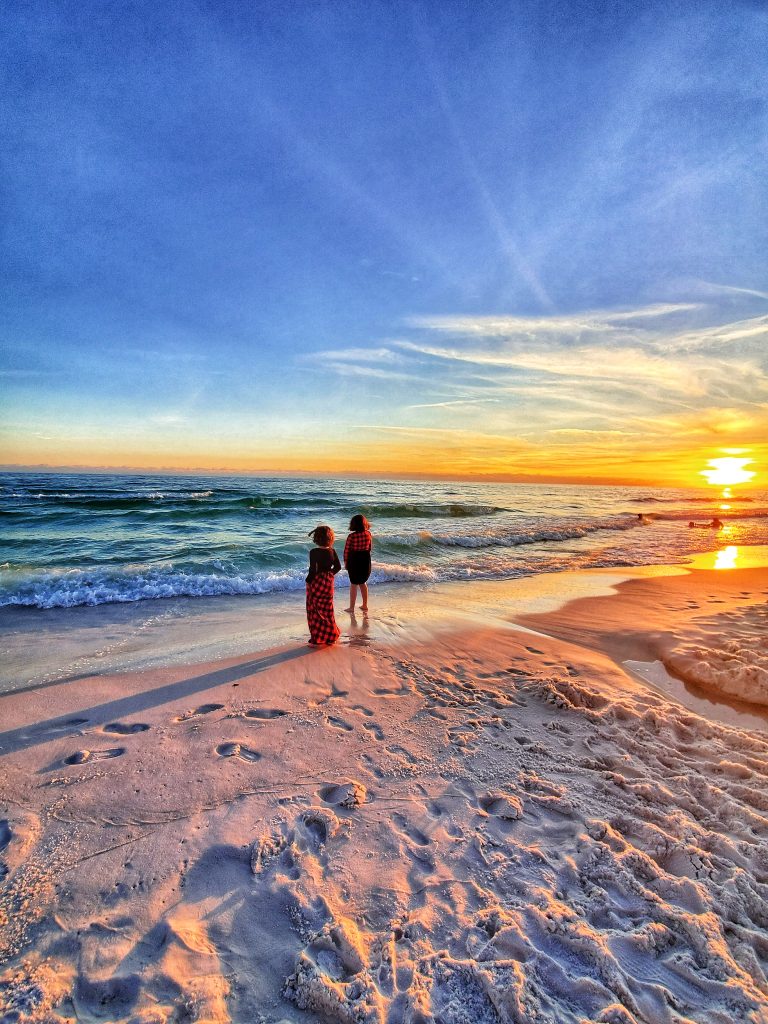 Scroll down for more details on our beautiful Beach Themed Christmas Tree and tips on creating your own themed mini tree.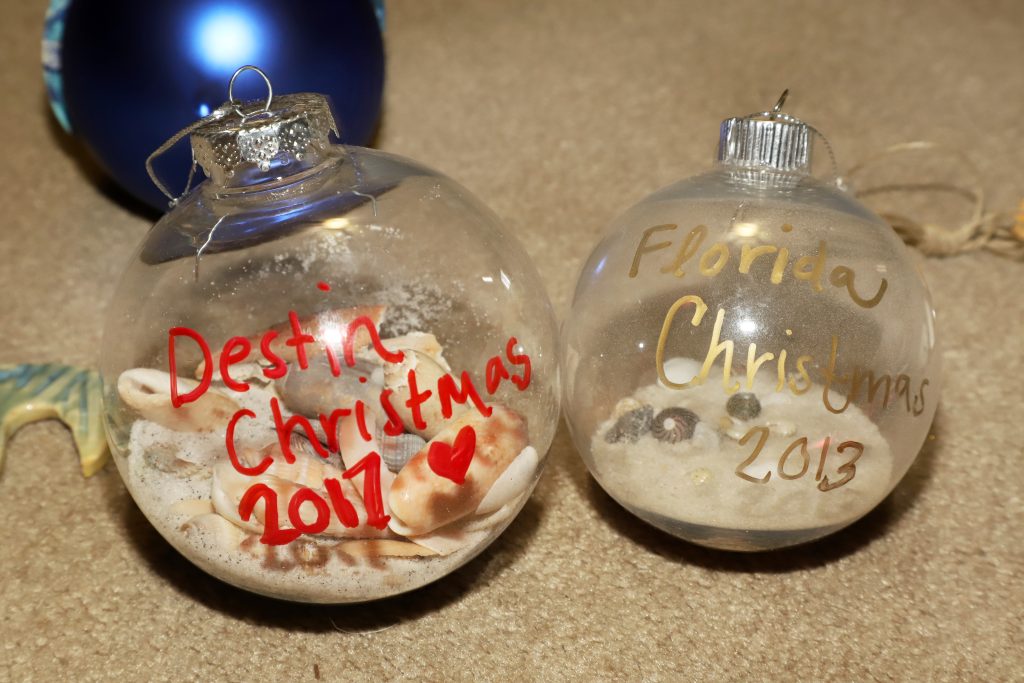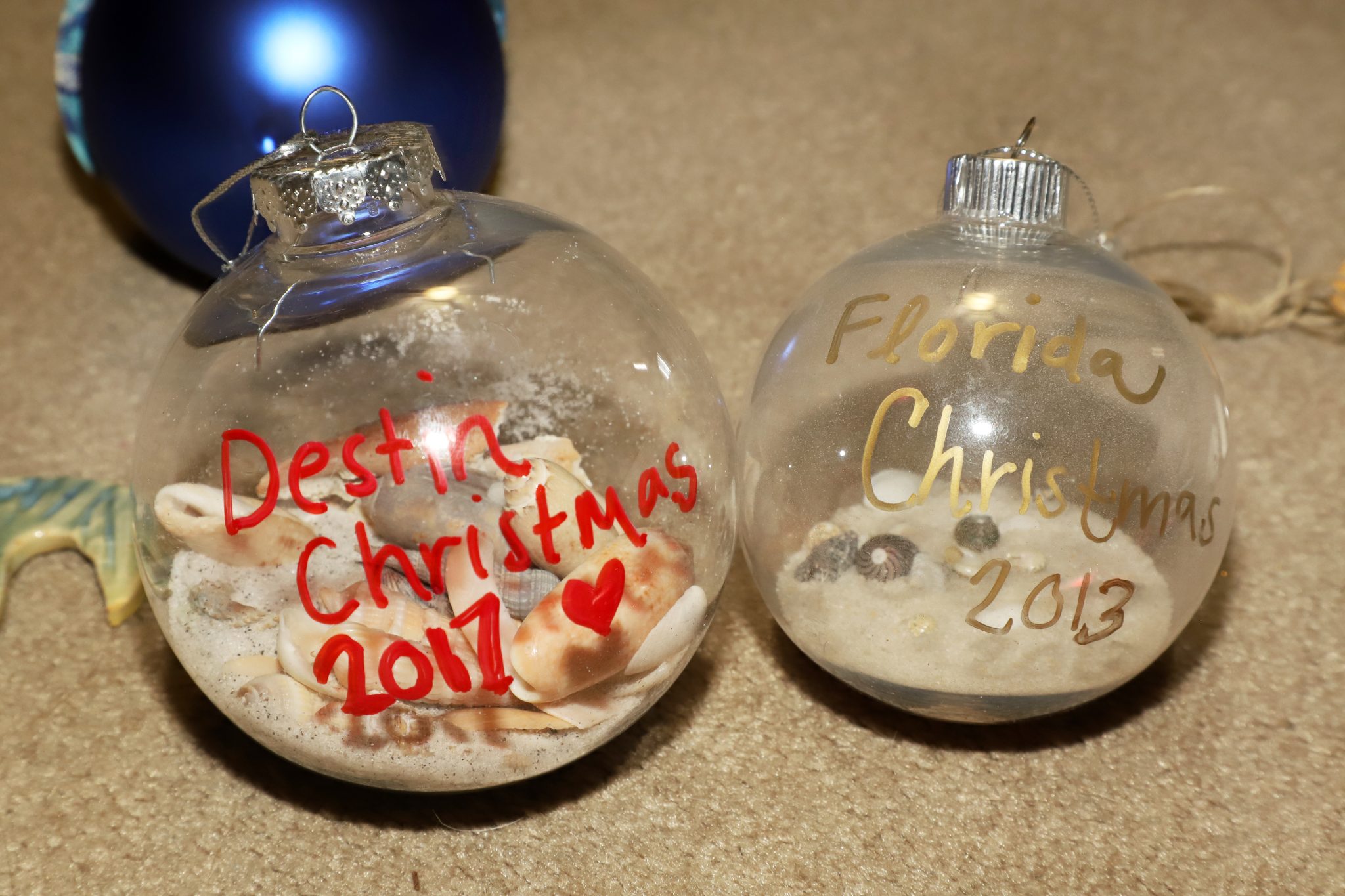 I adore special mementos on family trips so every year we have celebrated Christmas in Florida
we made an ornament filled with sand and shells from the nearby beach. This is what first inspired my beach tree.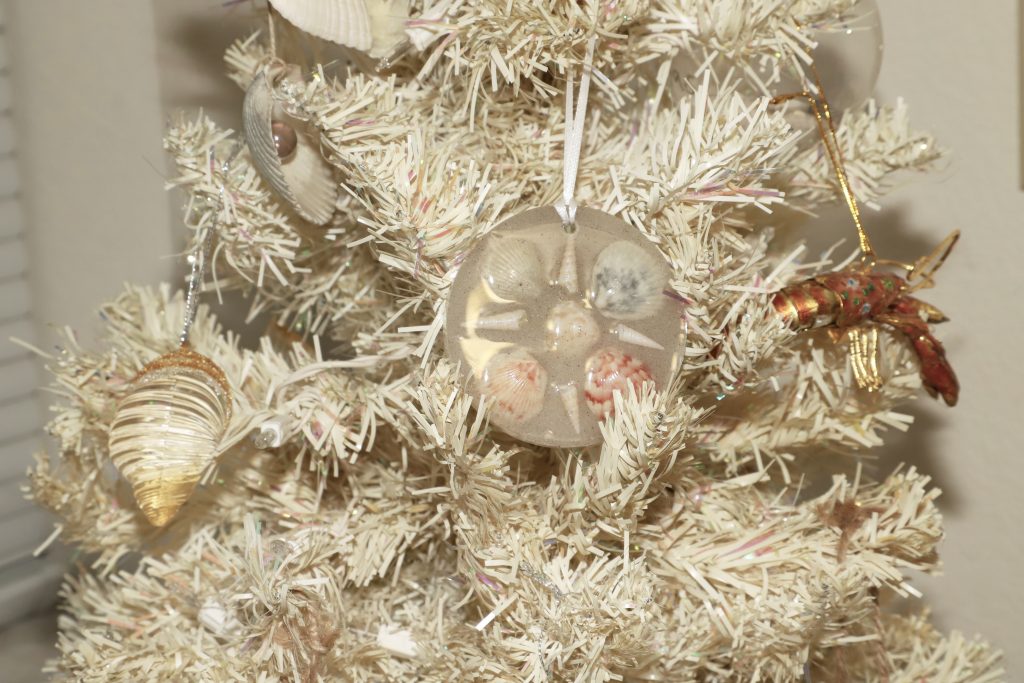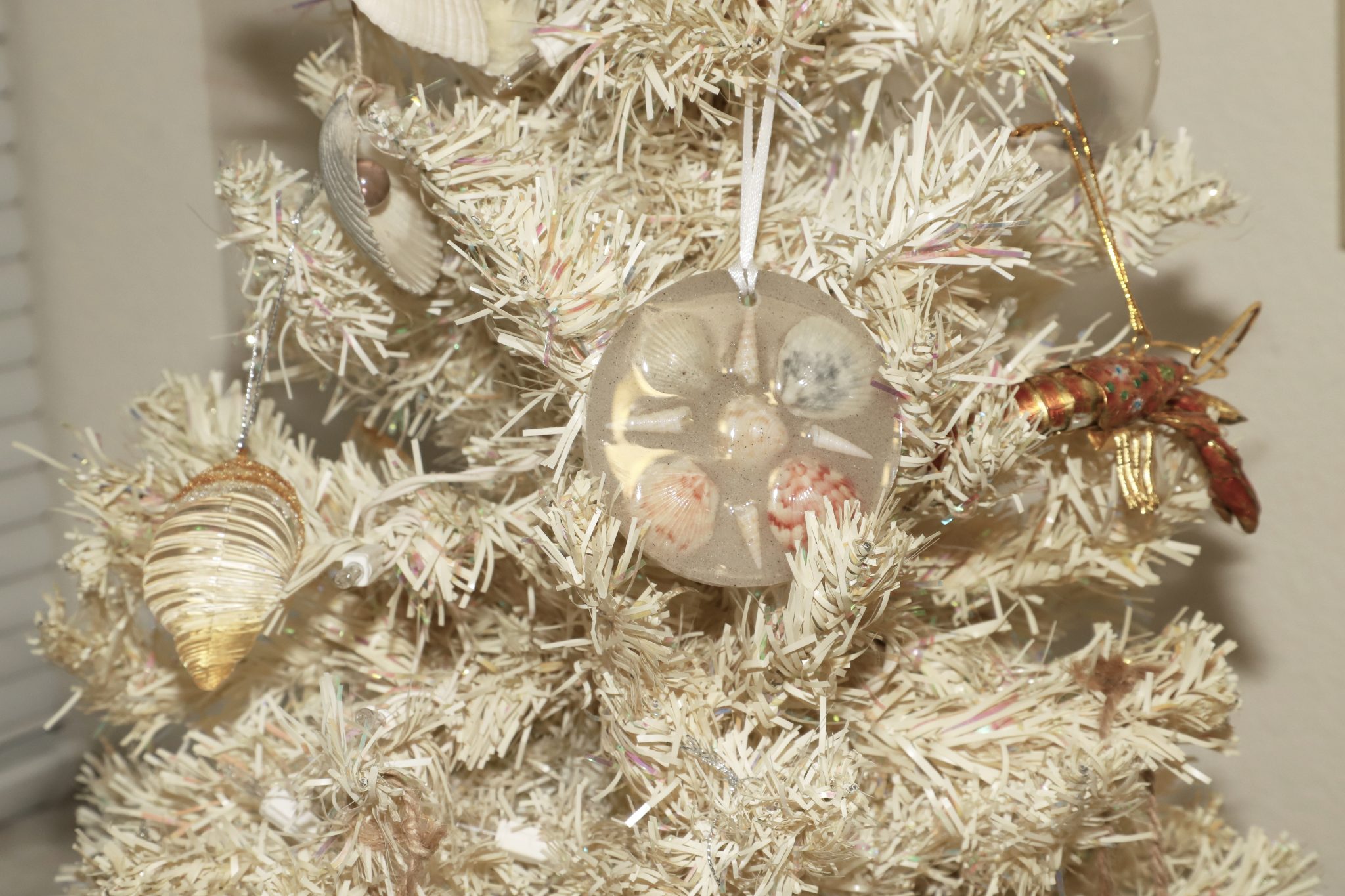 So if you have a special ornament from a trip or family memory or tradition start there and see what themed tree you can create with it!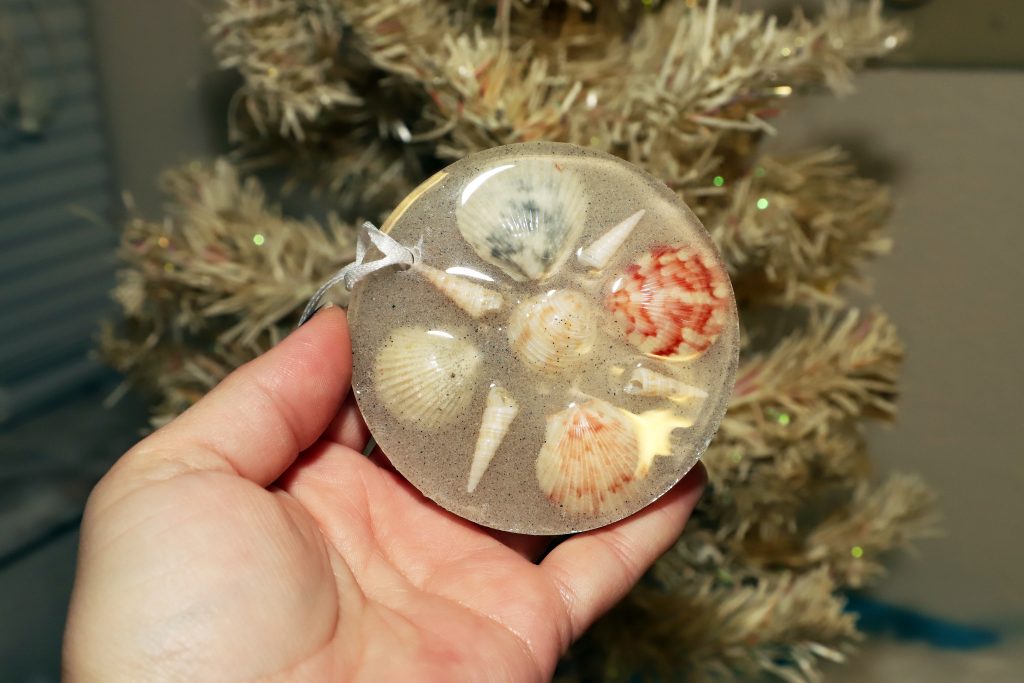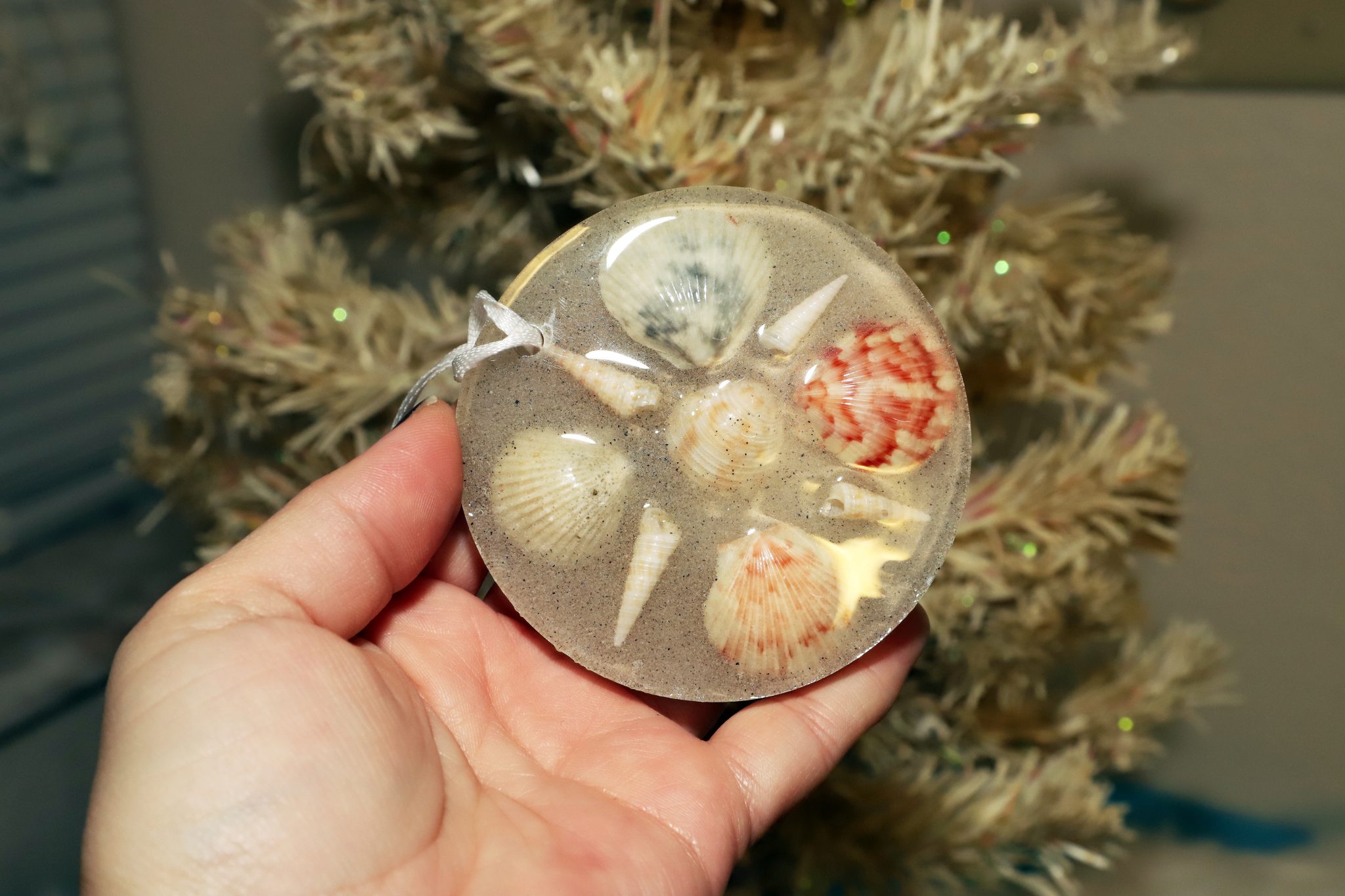 Every year we add a new ornament (or two or three) and this year I found my ornament at the Pensacola Farmer's Market.
It is a resin filled ornament with sand and shells and it looks perfect front and center on my beach tree!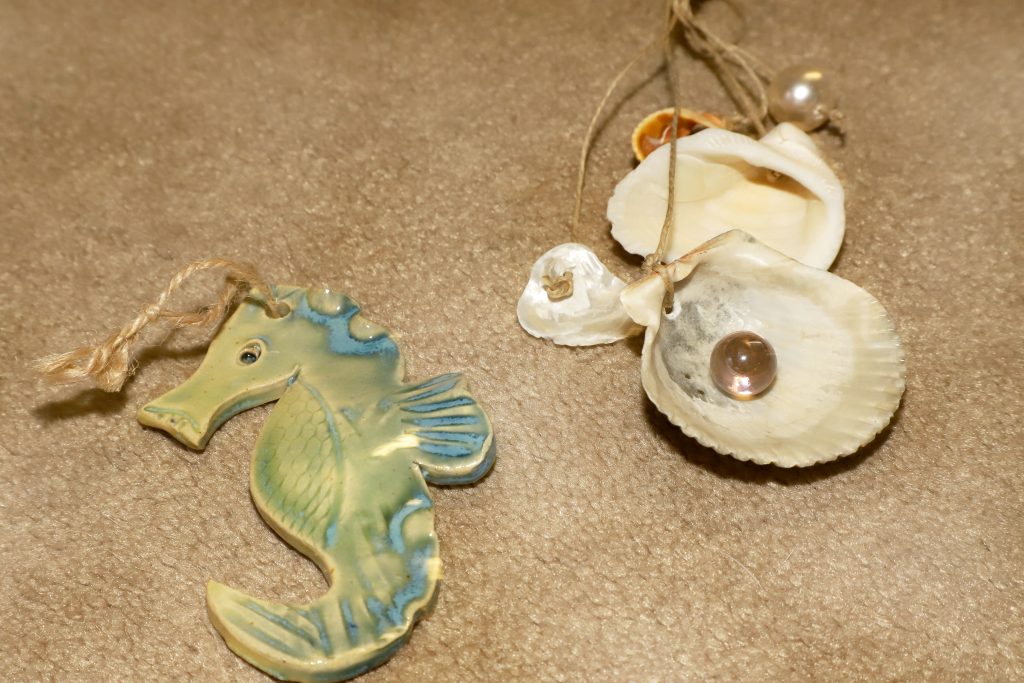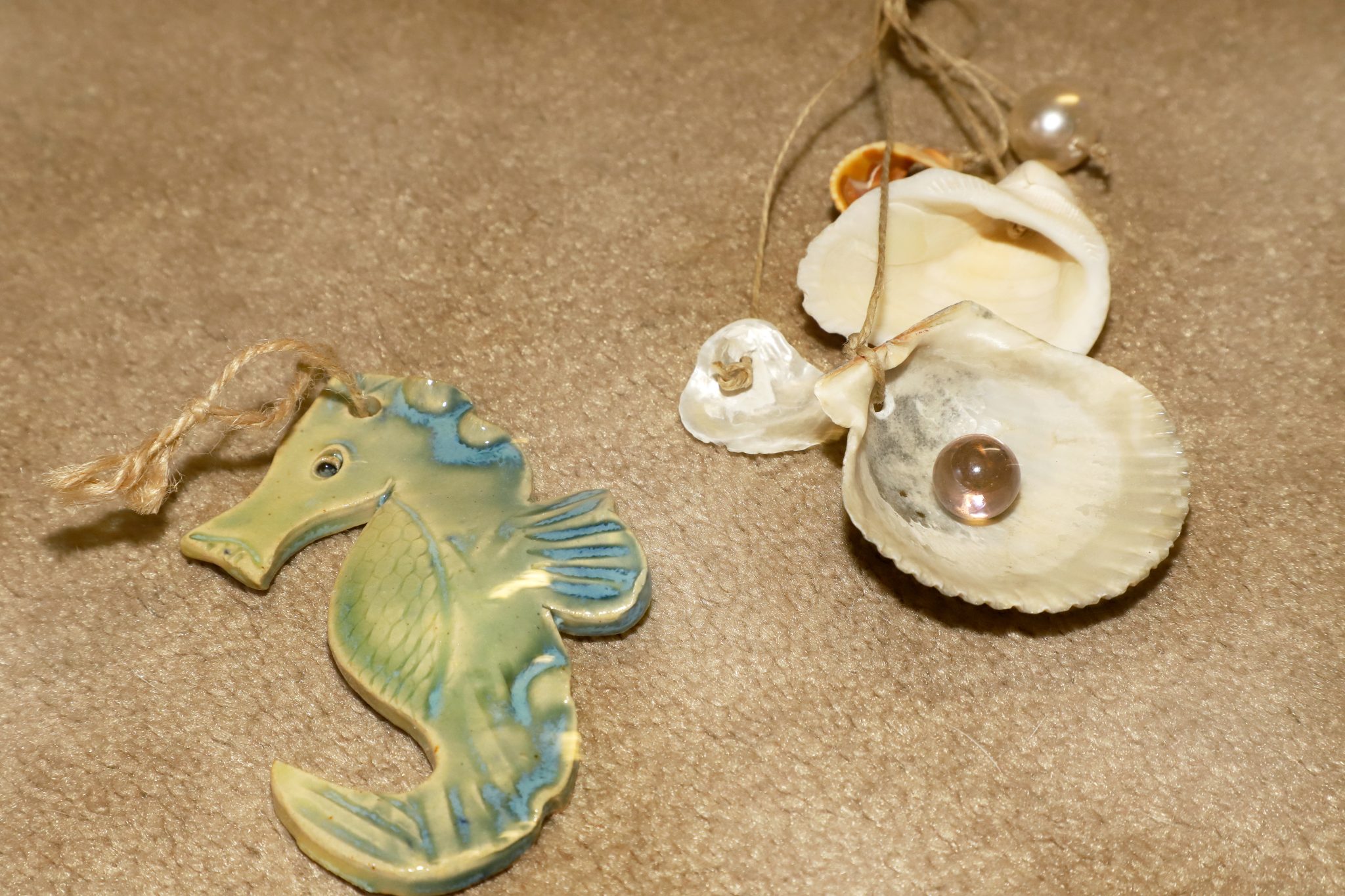 Other special ornaments were added such as these market finds from Florida.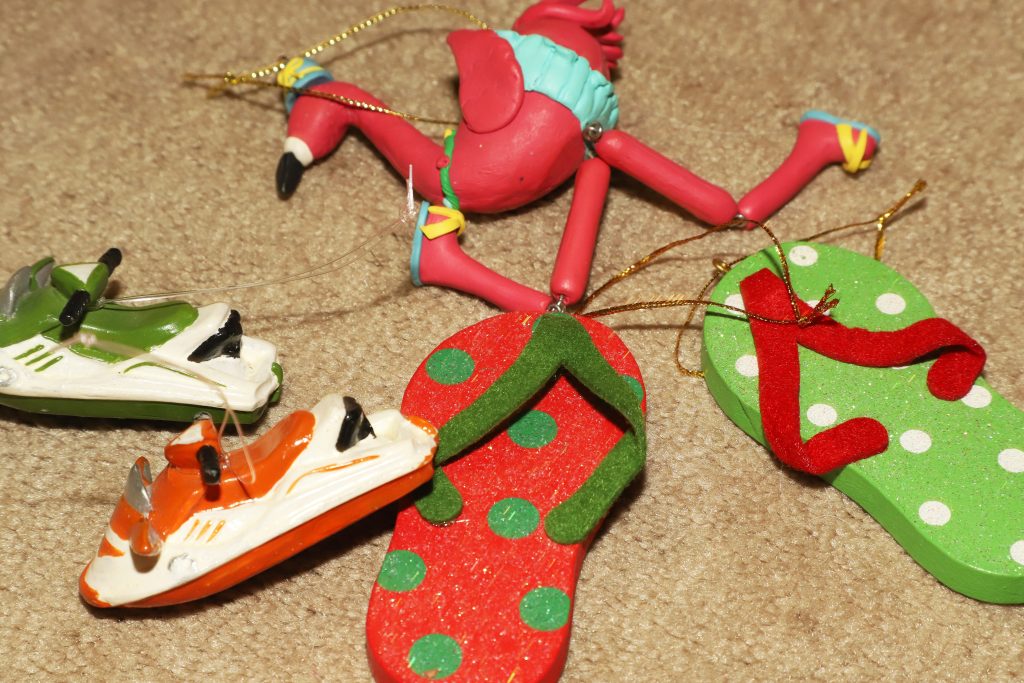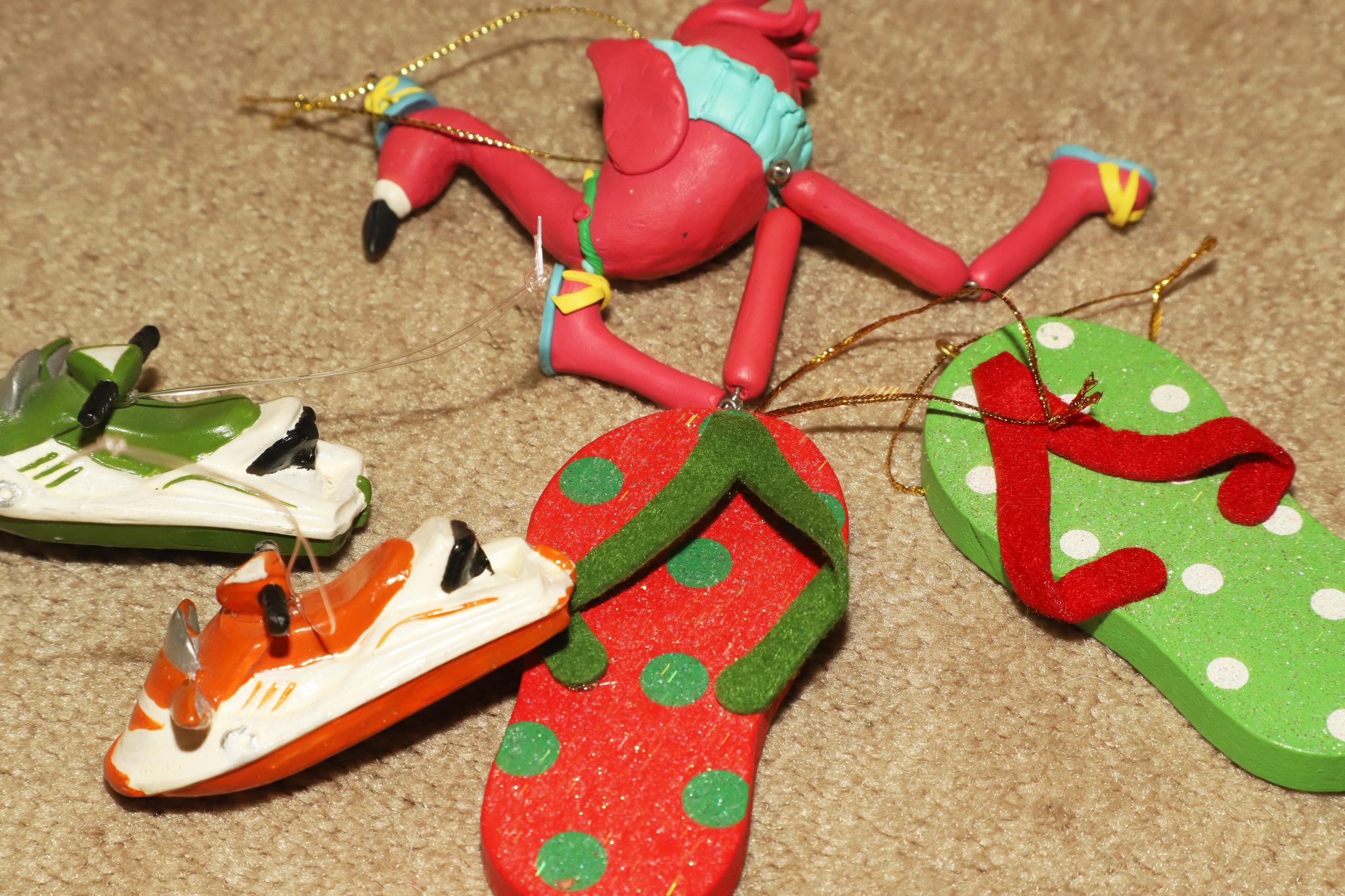 Color is good too! I decided the look of this tree would be white and blue but you can make a bright and colorful beach tree too!
Think summer vacation or kids at the beach theme and add colorful flipflops, fish and animal ornaments along with photos of your family at the beach.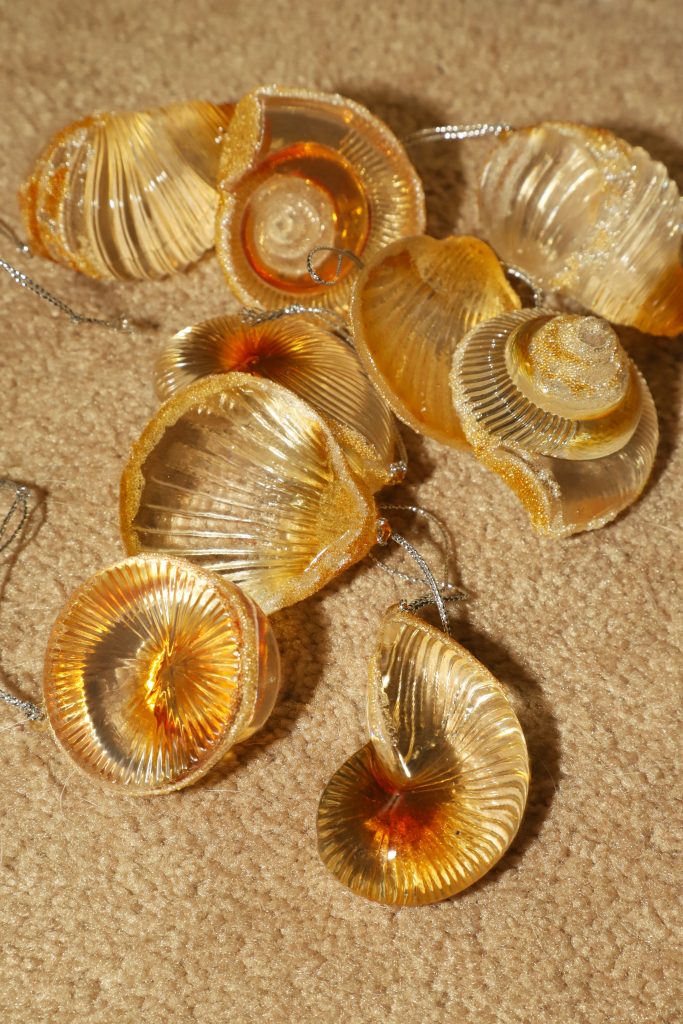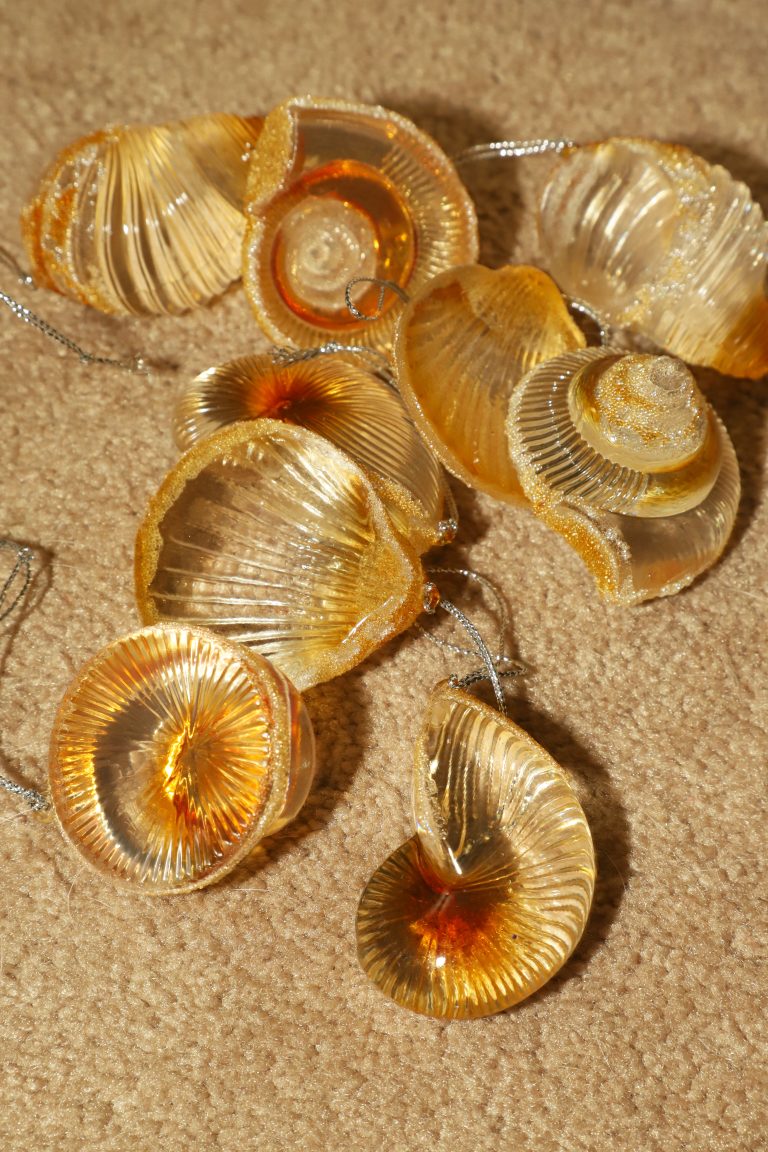 I have a small box of these plastic gold shells that I call my "fillers". They fill in empty spaces, add some color, and are also good for adding to the back of a tree.
Tip: some mini trees will tip over if they are too heavy on the front so be sure to always add ornaments to the back too.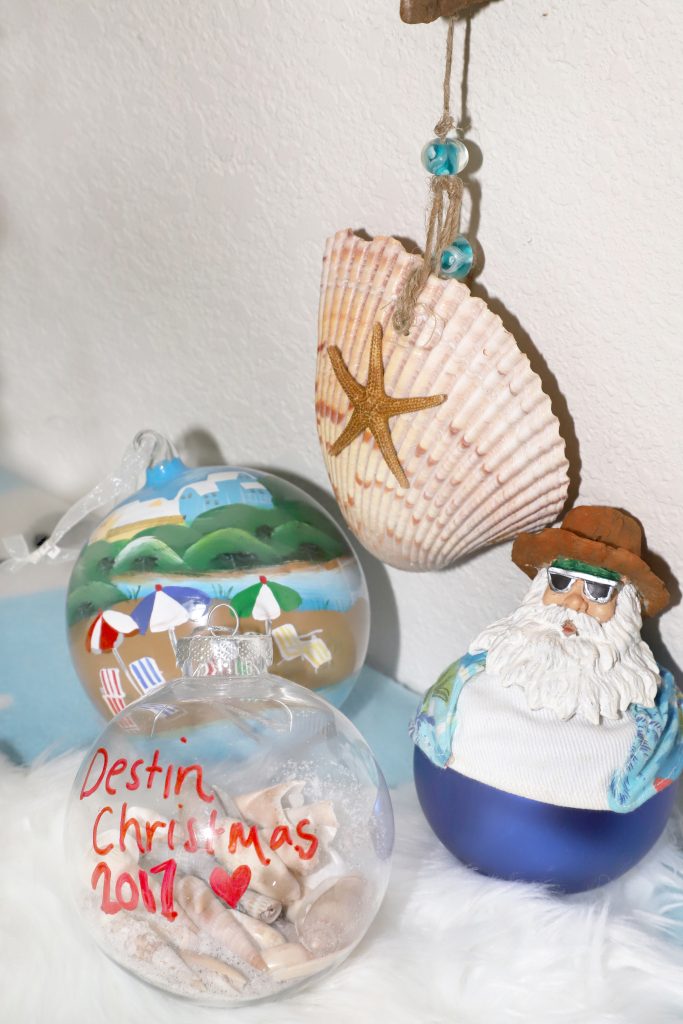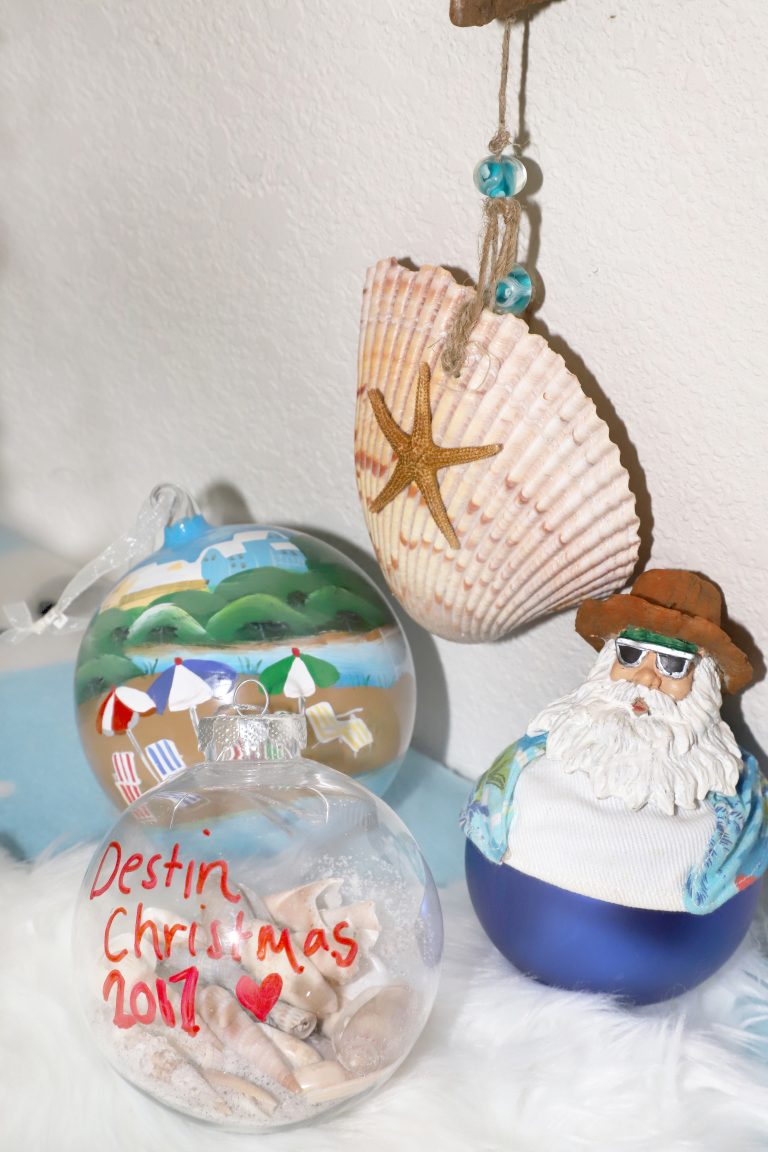 I had other fun beach ornaments that were too big for my little tree but too cute not to display. I added them around the tree as decor. How cute is the beach Santa?!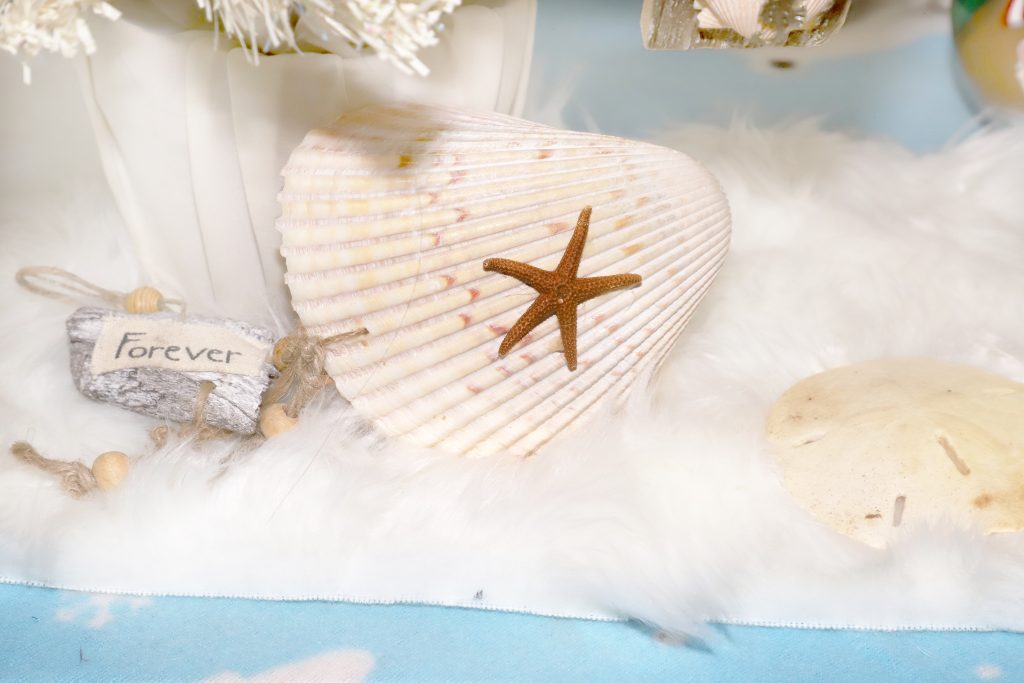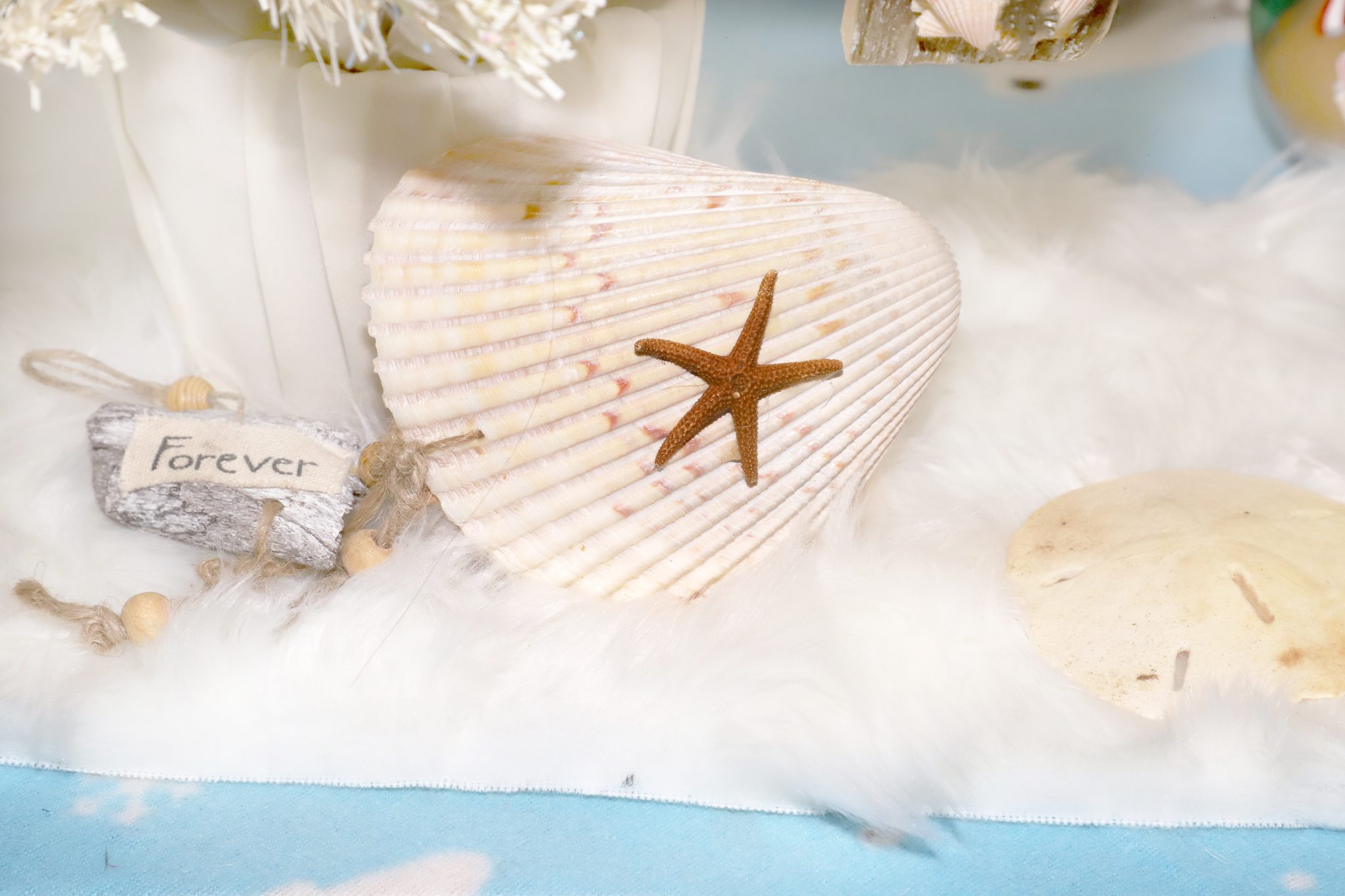 Since the base and tree are white I simply added a few large shells around the bottom. No tree skirt needed!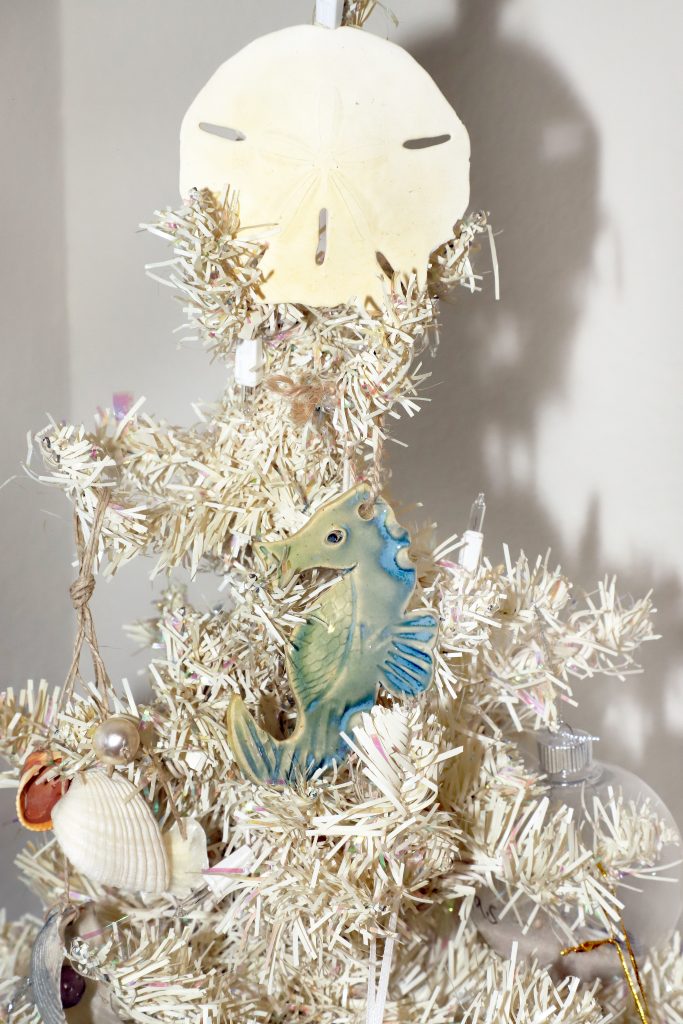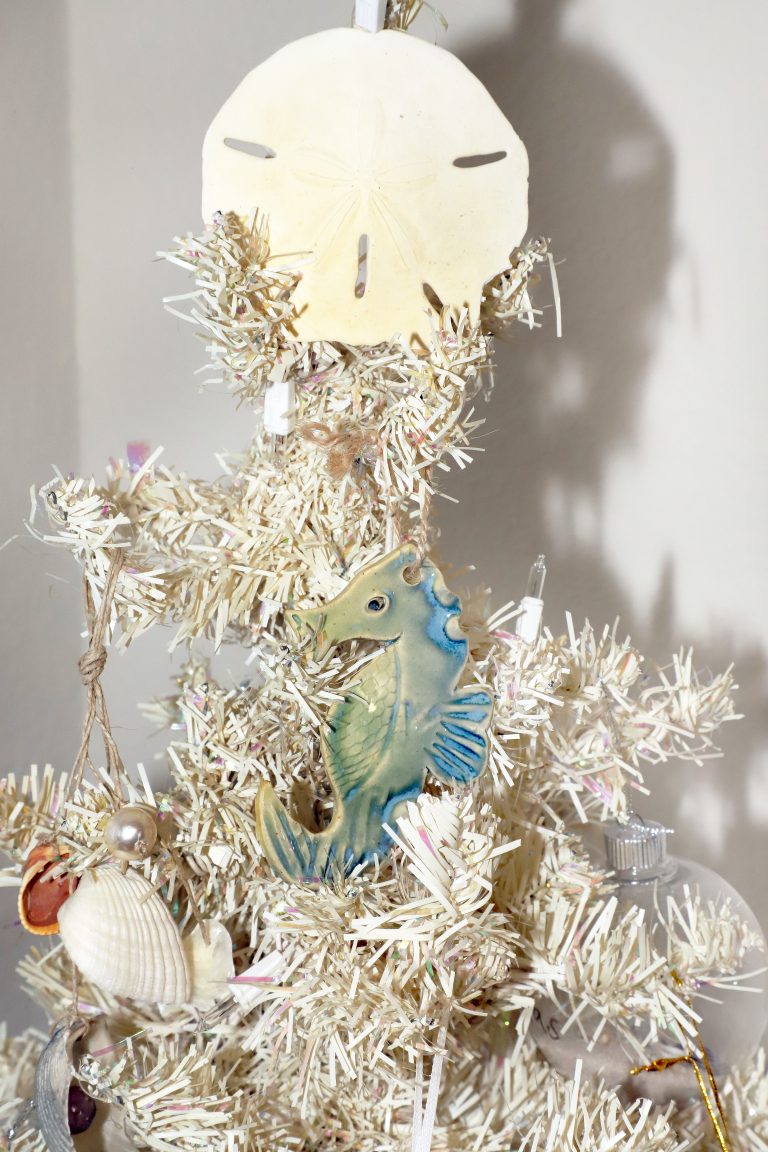 The final touch? A large sand dollar (I found this one while snorkeling) to top the tree. A starfish would also be a nice topper.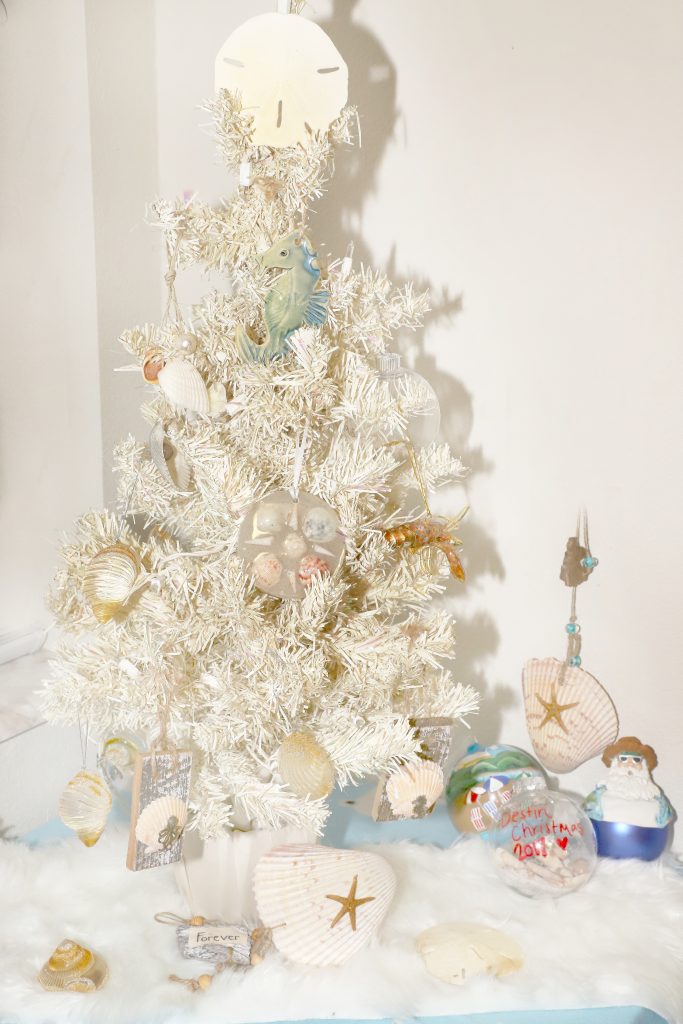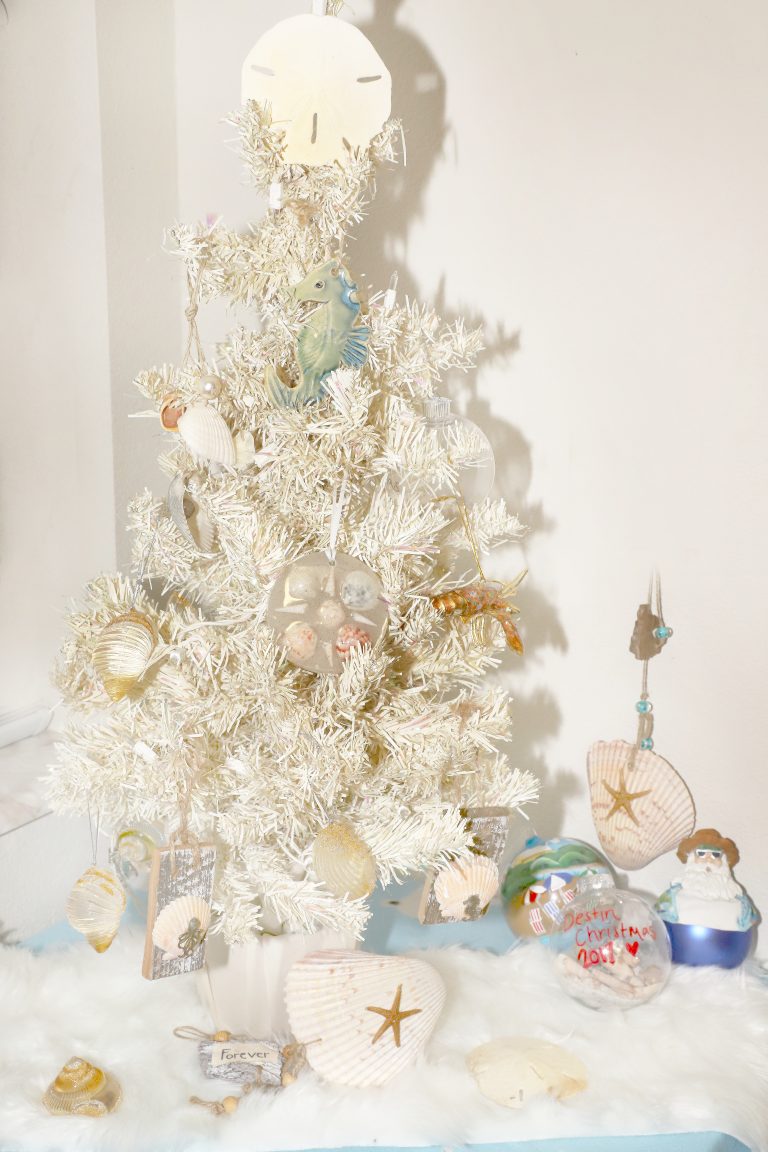 This beach tree brings a smile to my face every time I walk by it!
It represents myself, the Florida girl who loves the beach, and also my kids and the beach trips and memories we have made together!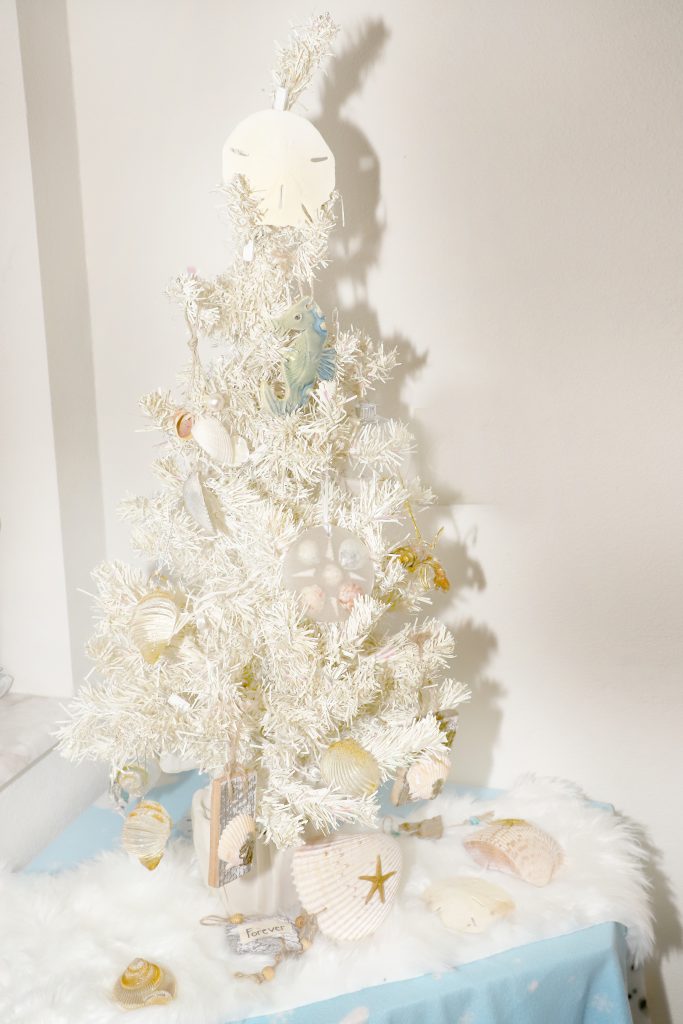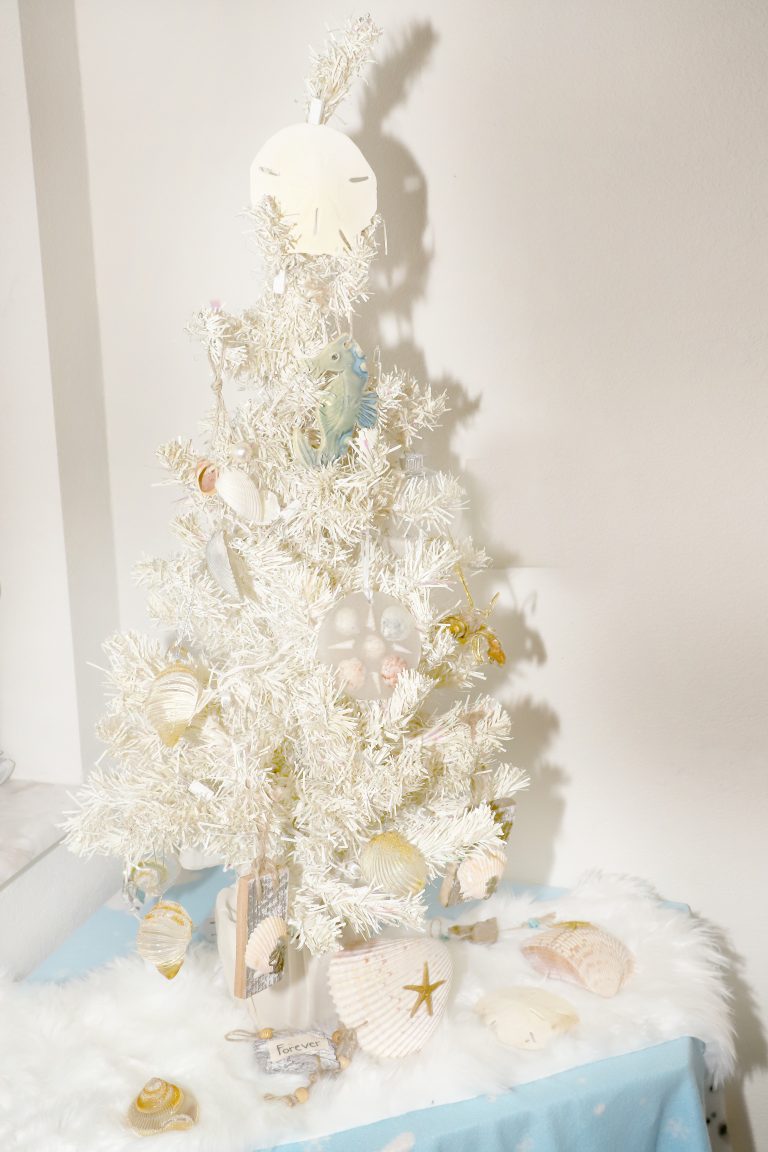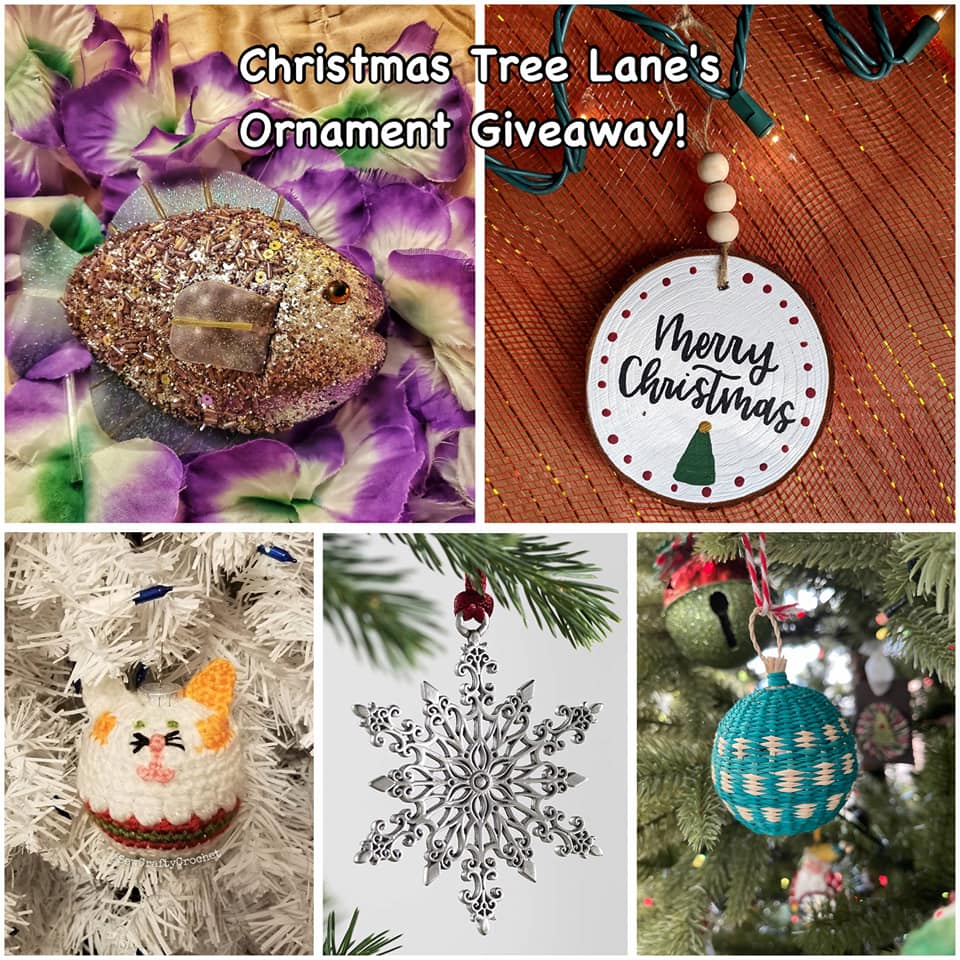 Enter to Win!
I am giving away this festive sequin fish ornament this week!
All you have to do to be entered to win is leave a comment on this post and include your email. I will randomly choose a winner on Friday December 10th.
Be sure to check out the lick up below to see the other Christmas Trees on Parade and enter their giveaways!
You are invited to the Inlinkz link party!