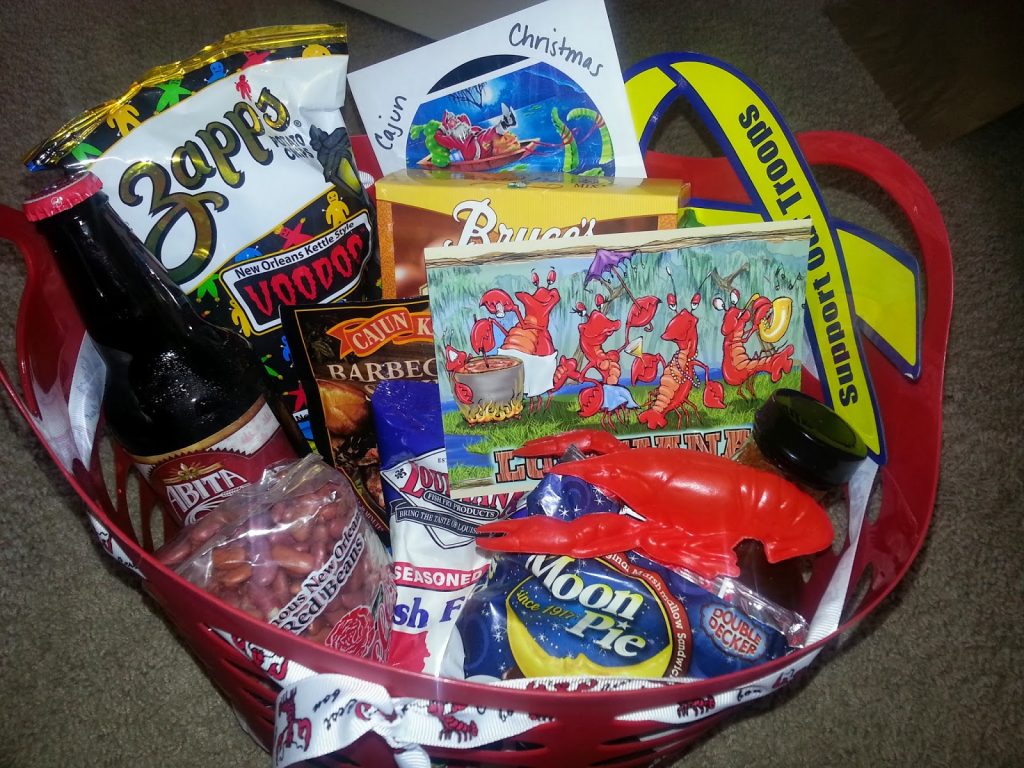 For Christmas every year I try to come up with unique gifts to send to our families. One year I did a donation and card to
Livestrong
for everyone in honor of my father, a cancer survivor. Another year I did a
Fandago
movie gift card and a
Restaurant.com
gift card.
I always also include baked goodies like these:

But this year I created a themed Louisiana gift basket filled with all sorts of food related goodies from the state we live in. I collected specialty items from our commissary on post along with sauces and mixes from our local Wal-Mart. Then when I was driving through Louisiana I stopped at a few specialty stores advertised on billboards and found jams, salsas, postcards, nic-nacs, etc….
The final touches to each basket were postcards with gumbo recipes, a Cajun Christmas CD I burned (with music downloaded from Amazon), a plastic crawfish and crawfish ribbon, and a bag of homemade
New Orleans Pralines.
This gift turned out to be a hit and I loved getting crafty and creative with the basket. I recommend making these themed state baskets for your family and friends for Christmas, birthdays, housewarming, or really just because!
Here's a complete list of all the items included:
Louisiana brand cooking mixes (gumbo, jambalaya, fish fry, cajun seasoning, cobbler mix…). I bought a Christmas gift box filled with 13 different items and I split it up.
Moonpies (I found an 8 pack box at Wal-Mart)
Abita Beer (brewed in LA)
Zapp's Chips (mini bag sampler pack found at a local Winn-Dixie)
Camellia Grill (New Orleans landmark diner) brand kidney beans and black eyed peas (Found at Wal-Mart)
Local brand pepper jelly, BBQ Shrimp Seasoning, Shrimp Bisque, Crawfish Pie, and Bread Pudding Mix
Cafe Du Monde (another New Orleans landmark) coffee and beignet mix.
Cajun Christmas mix CD (I downloaded 5 songs I found on amazon) and googled a Cajun Santa pic to include as a CD cover.
Decorative items such as a plastic crawfish and Louisiana postcards (including a Gumbo recipe postcard) I found at souvenir stores.
Duck Dynasty cups or small souvenirs (found at Wal-Mart).
I like to include one homemade item to go with the theme. For this basket I made my New Orleans Pralines.
I used dollar store baskets, tissue paper, and crawfish ribbon (found on ebay) to display items.
Finally, I included a support your troops yellow ribbon car magnet (found on ebay) in each basket in honor of my hubby who is deployed with the Army.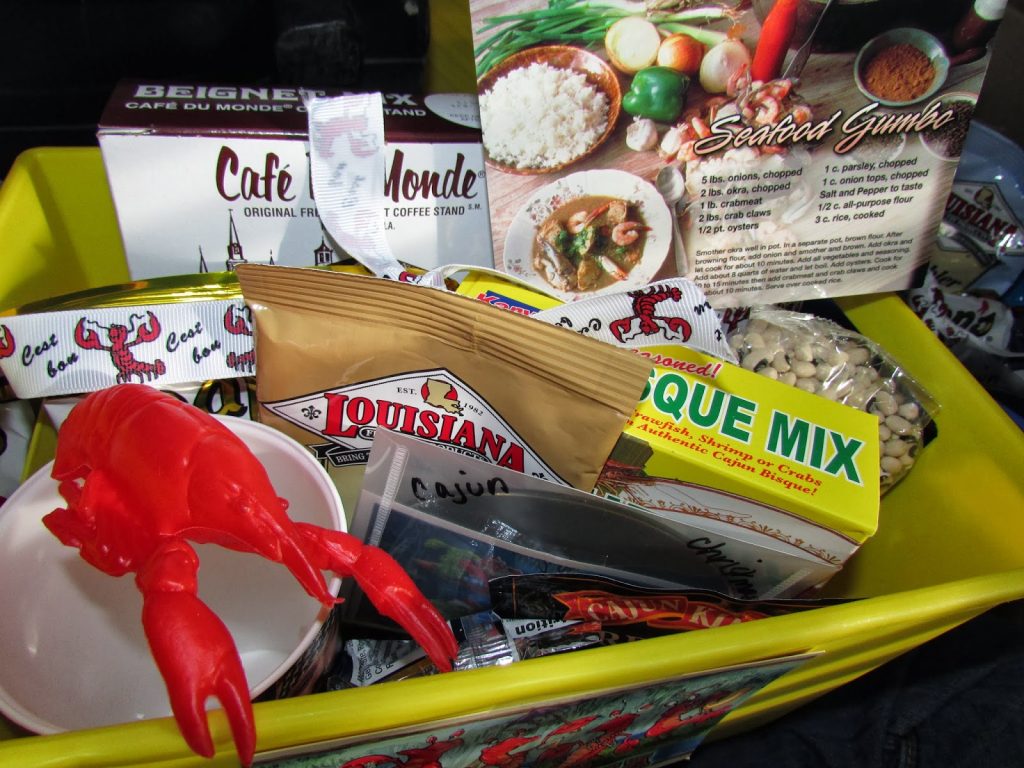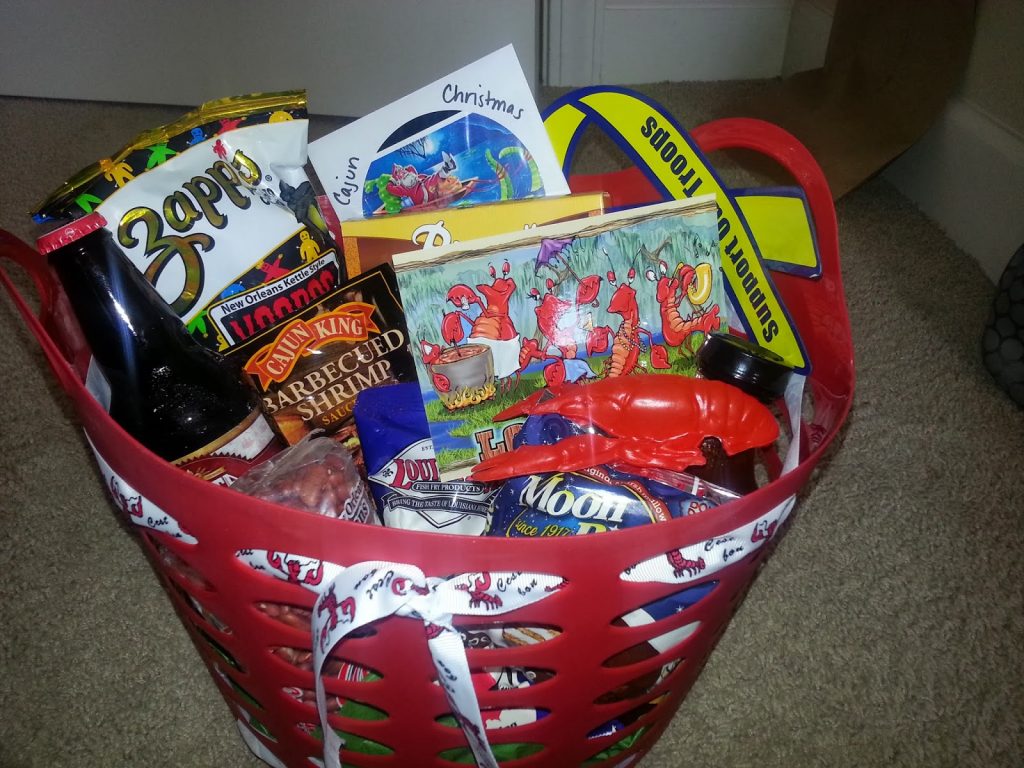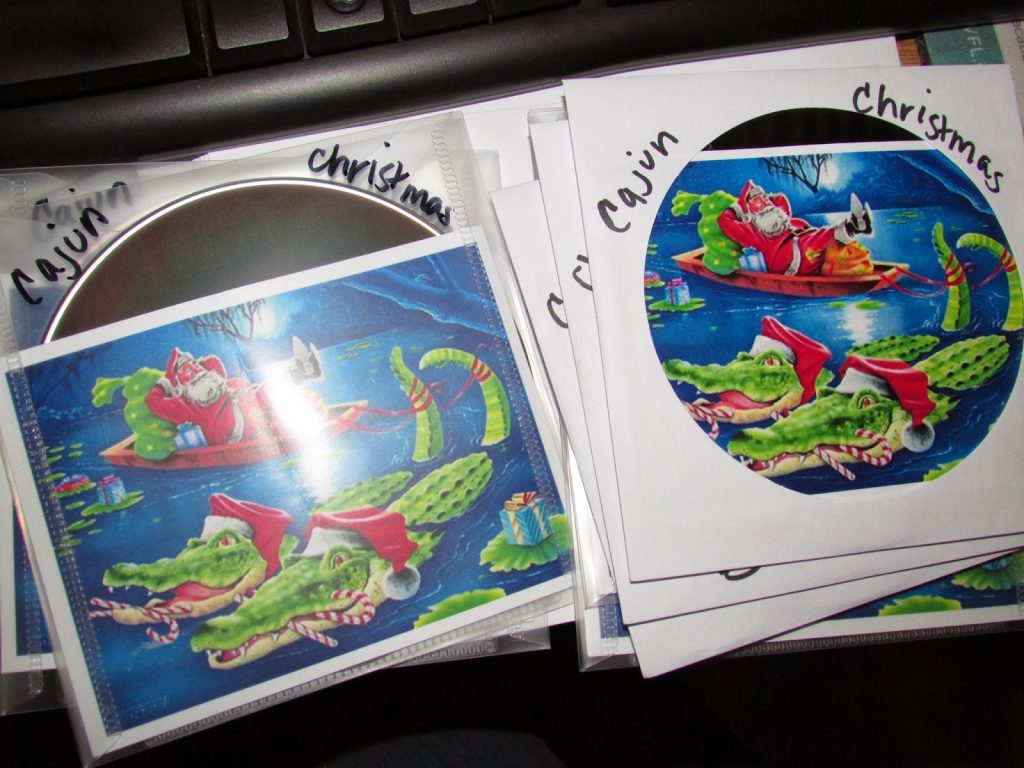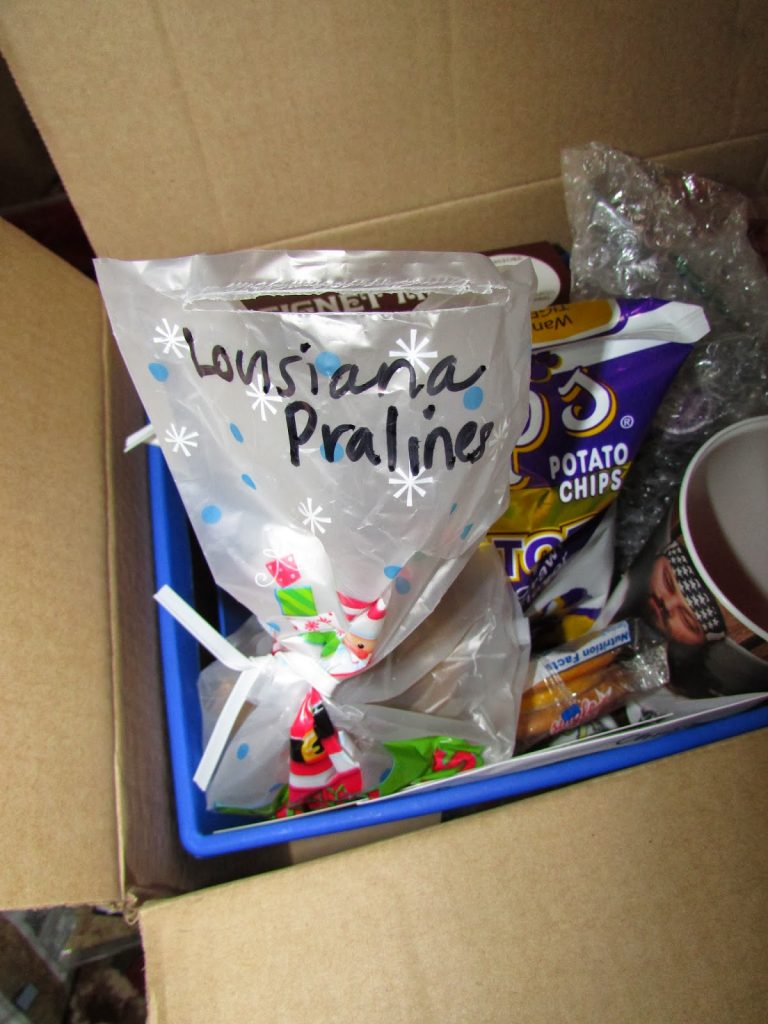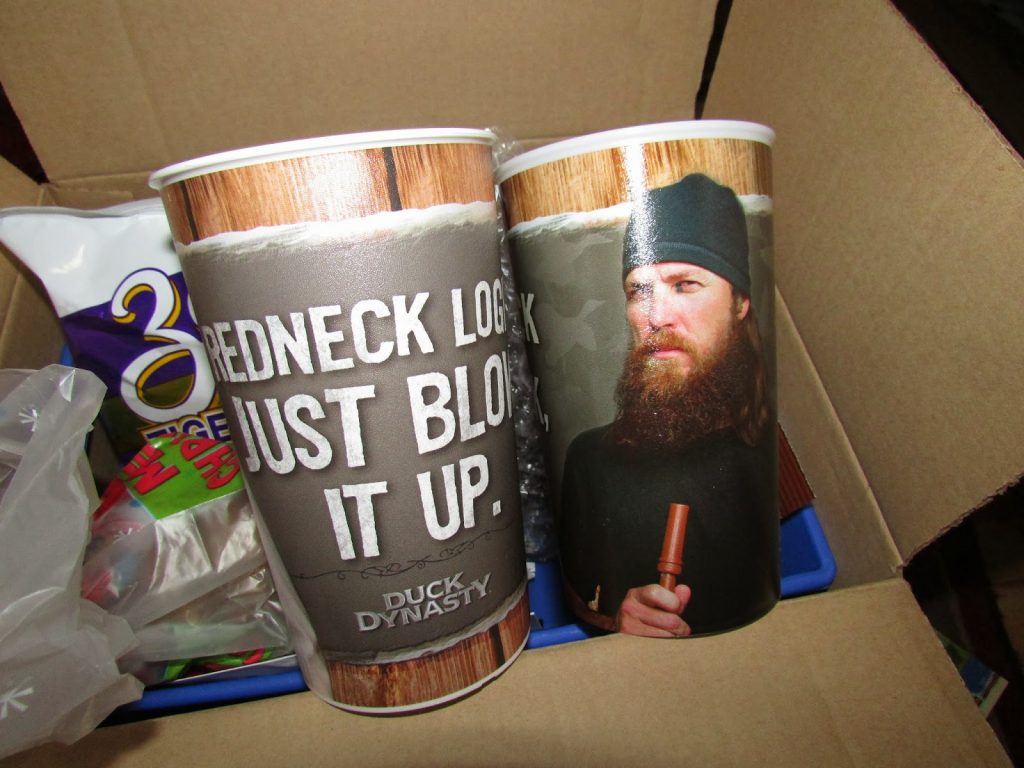 Hope y'all had a very Merry Christmas and a Happy New Year!