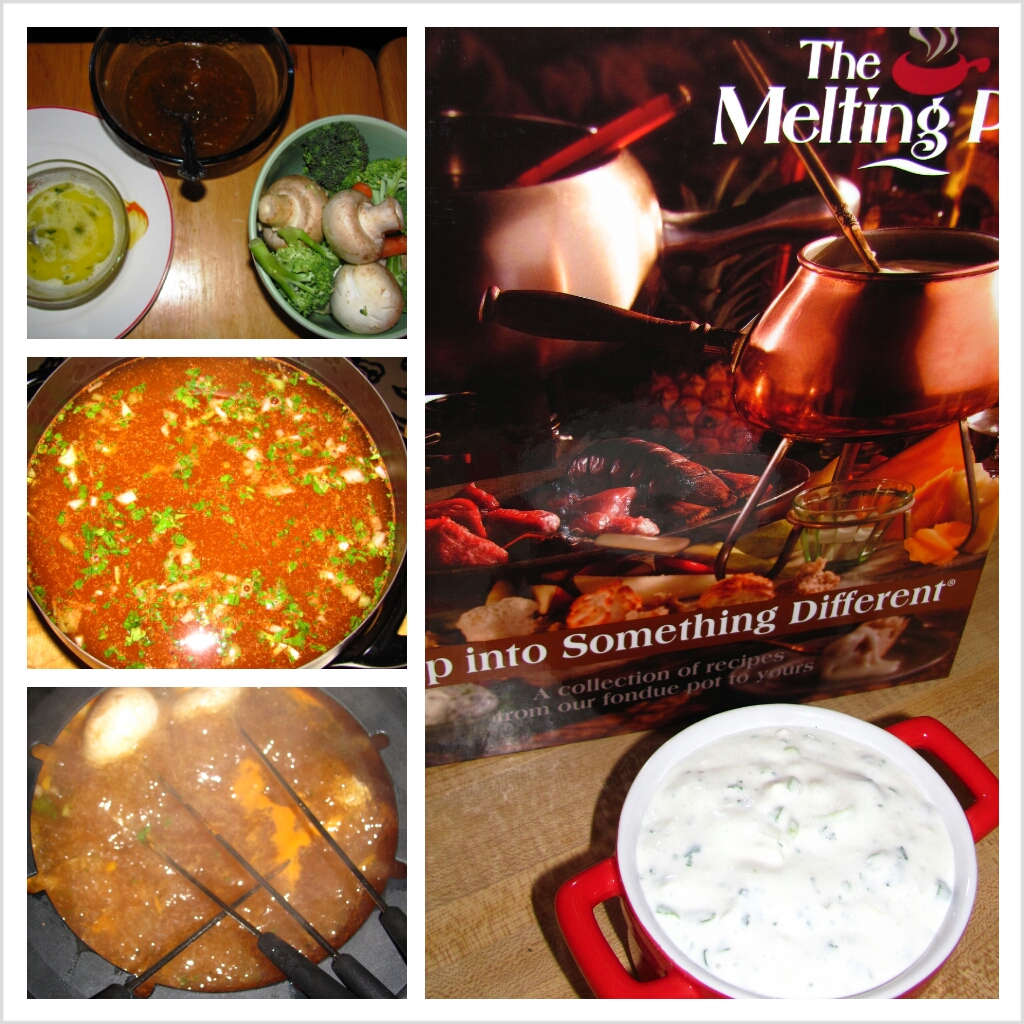 When most people think of fondue, especially at The Melting Pot, they think of gooey cheese or melted chocolate but I enjoy the entrée fondue just as much as those popular choices. The fragrant aroma from the cooking broth along with the tasty meat selections make my mouth water just thinking about them!So here's how it works at The Melting Pot:
You choose a "Cooking Style" such as the traditional Court Bouillon (seasoned vegetable broth) or Coq Au Vin (Burgundy wine infused with mushrooms). See the recipe for the spicy citrus
Voodoo Cooking Style
below.
Next you choose the individual entrée you would like or an entrée combination, such as French Quarter or Pacific Rim. The entrée is served with a unlimited bowl of veggies and an array of sauces. See below for the recipes for my favorite,
Green Goddess
sauce and zippy
Island Sauce
.
The Melting Pot has also recently introduced The Four Course Fondue Experience. With this selection, you get to try everything (who wouldn't love this?!). Perfect for a foodie like me or a special occasion or even if it's your first time trying fondue!
View the entire menu on www.meltingpot.com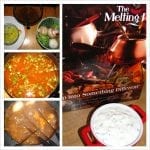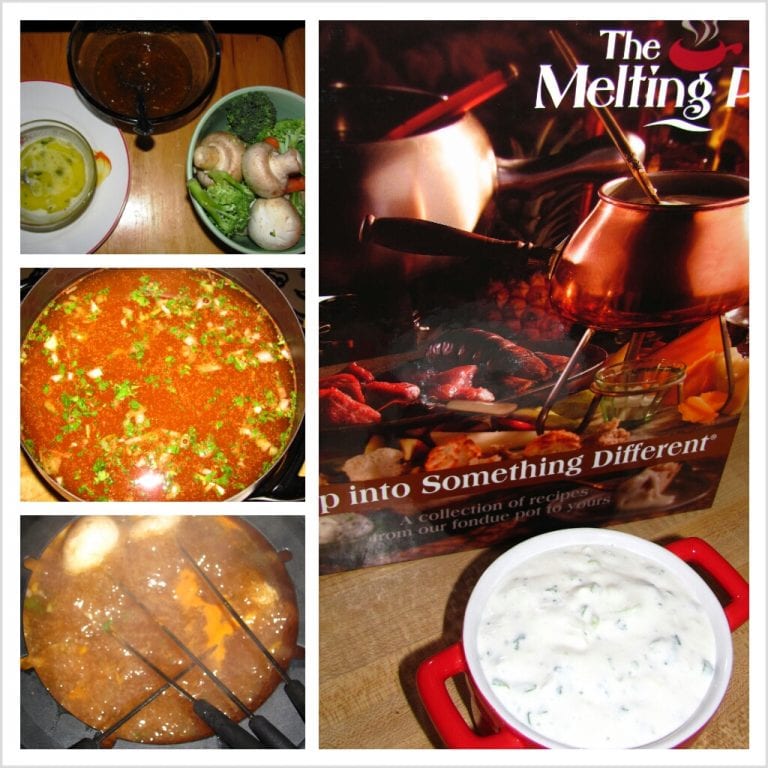 Print Recipe
Ingredients
For Voodoo Cooking Style:
5 1/2

cups

warm water

Juice from 1/2 orange

Juice of 1/4 lime

3

tablespoons

finely chopped onion

1

tablespoon

finely chopped celery

1

tablespoon

finely chopped carrots

1

tablespoon

finely chopped garlic

2

tablespoons

chopped fresh cilantro

2

tablespoons

kosher salt

1

tablespoon

freshly ground pepper

3

tablespoons

blackened seasoning

Paul Prudhommes' Blackened Redfish Magic recommended
For Green Goddess Dipping Sauce:
3/4

cup

cubed softened cream cheese

1/2

cup

milk

1/4

cup

sour cream

1/4

cup

finely chopped fresh parsley

1/4

cup

chopped fresh chives

2

tablespoons

minced white onion
For Island Sauce:
1/2

cup

orange marmalade

Juice of 1/2 lime

1

garlic clove

minced

1

teaspoon

chopped fresh parsley

1

teaspoon

kosher salt

1/2

teaspoon

cayenne pepper

1/2

teaspoon

onion powder

1/4

teaspoon

freshly ground black pepper
Instructions
Voodoo Cooking Style:
Whisk water, orange juice, lime juice, onion, celery, carrot, garlic, cilantro, salt, pepper, and blackened seasoning in a bowl until combined.

Pour into fondue pot and bring to a rapid simmer over medium high heat.

Thread a piece of meat or vegetable on a fondue fork.

Cook in the broth to the desired degree of doneness (usually around 2 minutes for meat).

Serve with your favorite sauce.
Green Goddess:
Whisk the cream cheese, milk, sour cream, parsley, chives, and onion in a bowl until combined.

You may also beat with an electric mixer or a hand-held mixer for 1 or 2 minutes.

Chill, covered, until serving time.

Makes 2 cups
Island Sauce:
Combine the marmalade, lime juice, garlic, parsley, salt, cayenne pepper, onion powder and black pepper in a bowl and whisk until combined.

Makes 3/4 cup
Notes
All recipes from The Melting Pot 'Dip into Something Different' Cookbook.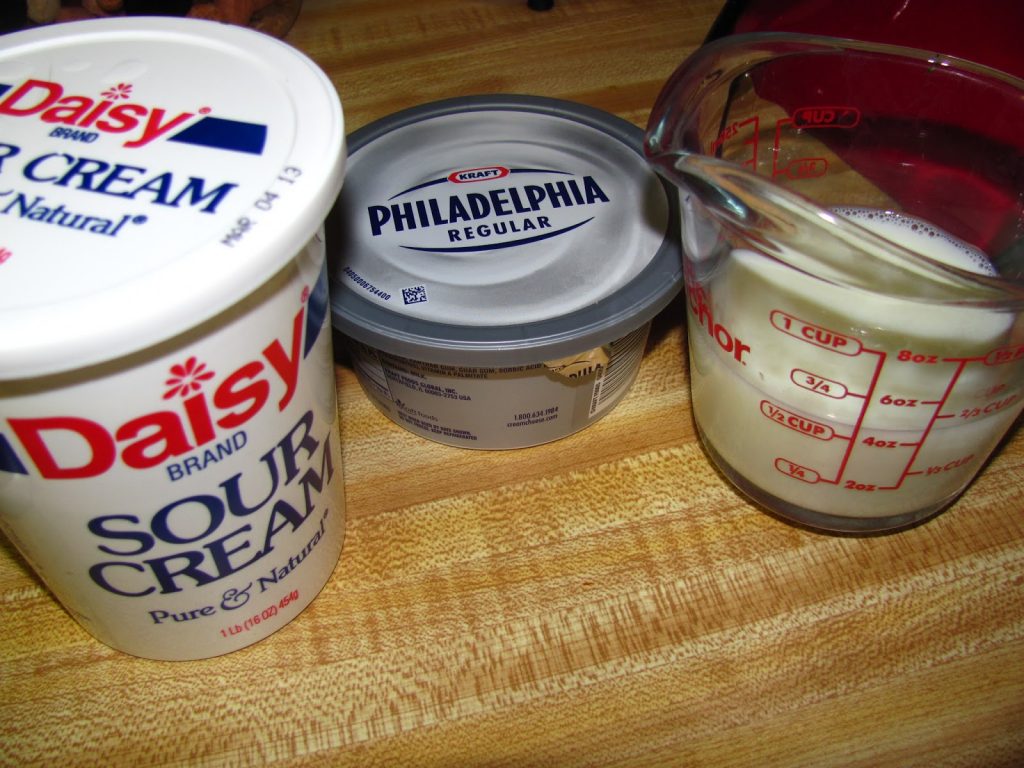 Just a few simple ingredients mixed together create my favorite sauce, Green Goddess.
Creamy and mild, it is fantastic on both vegetables, meat, and seafood!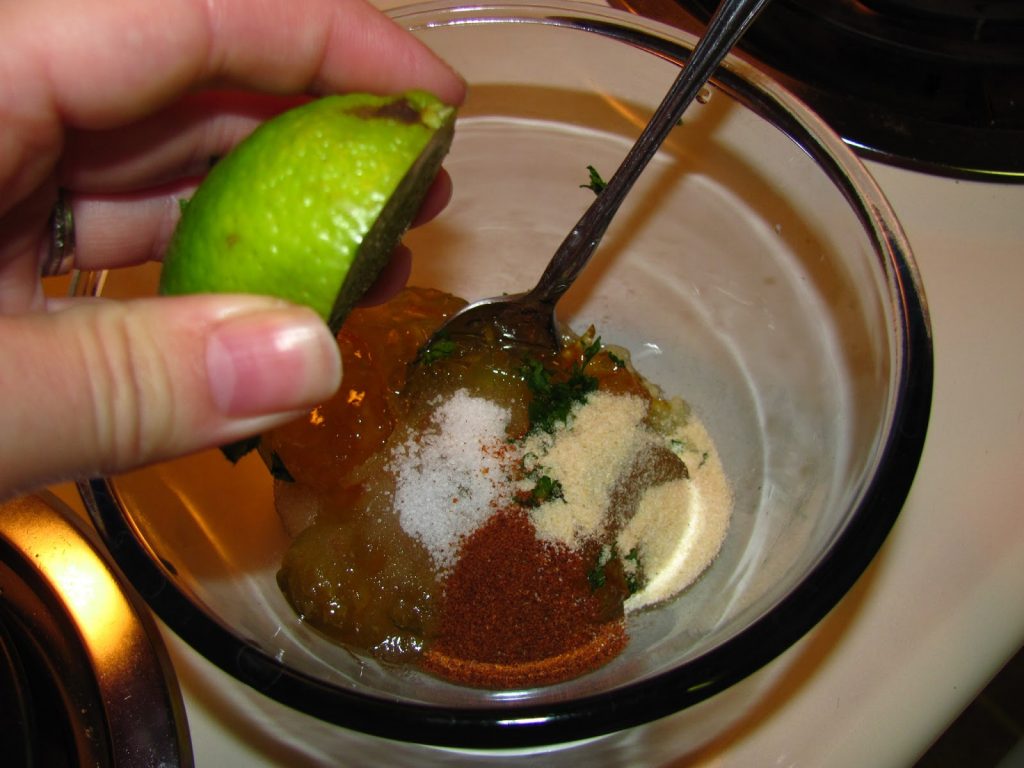 Fresh ingredients and flavorful spices make these homemade sauces
and fragrant broth will make you savor every bite!
A simple garlic herb melted butter sauce and spicy Island Sauce went perfectly with my seafood.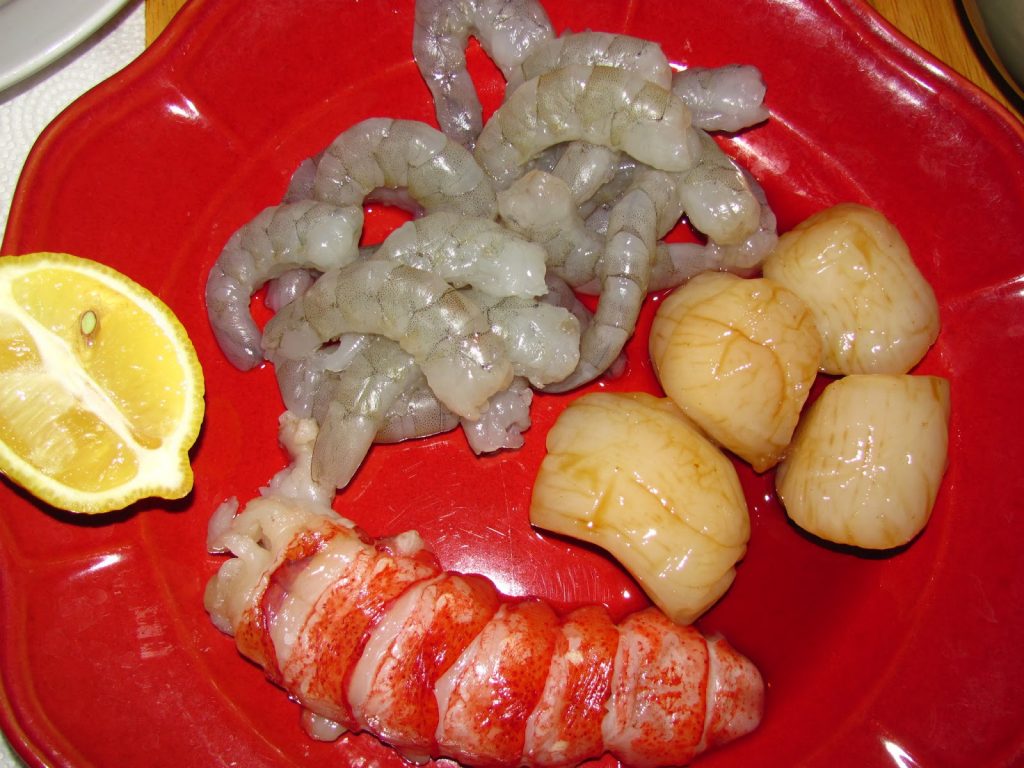 Along with a bowl of veggies for dipping, I served our Voodoo broth with teriyaki marinated jumbo scallops, lobster tail, and local peeled shrimp.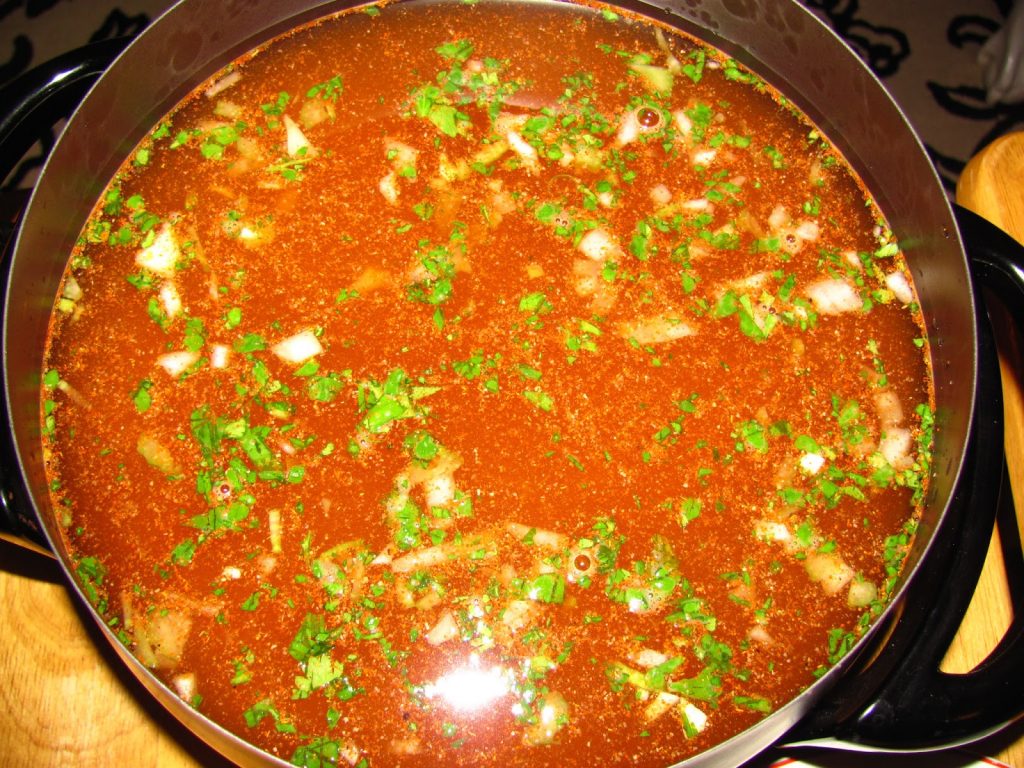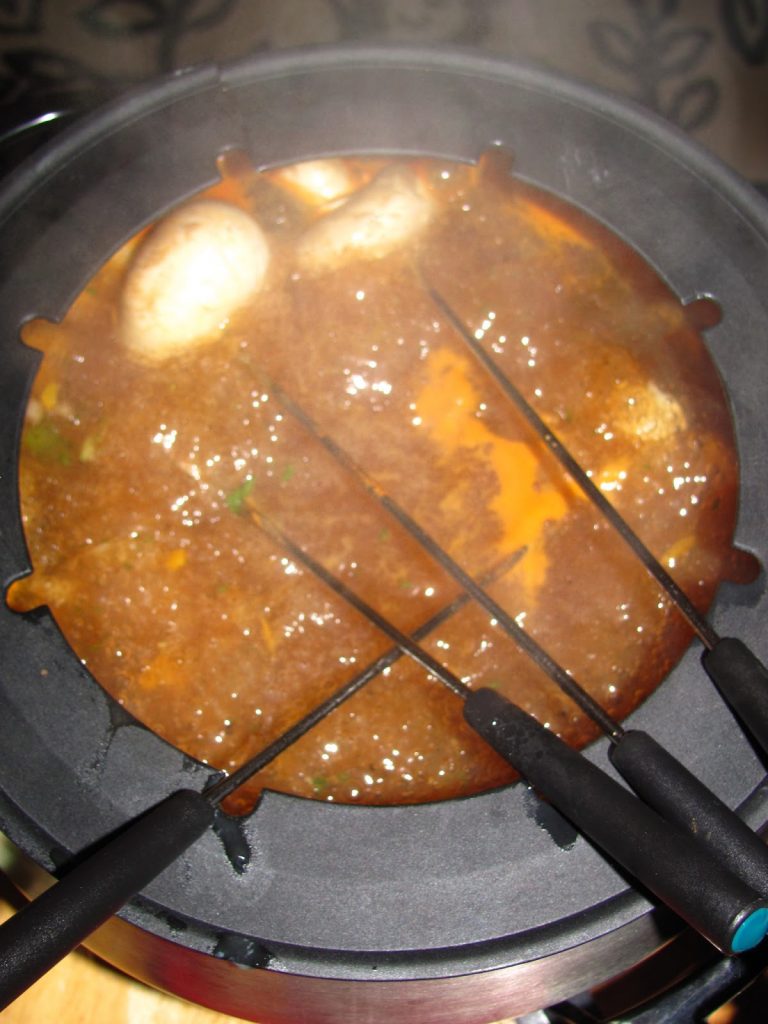 Dinner is served! Bubbling fondue, tasty dippers, and flavorful sauces.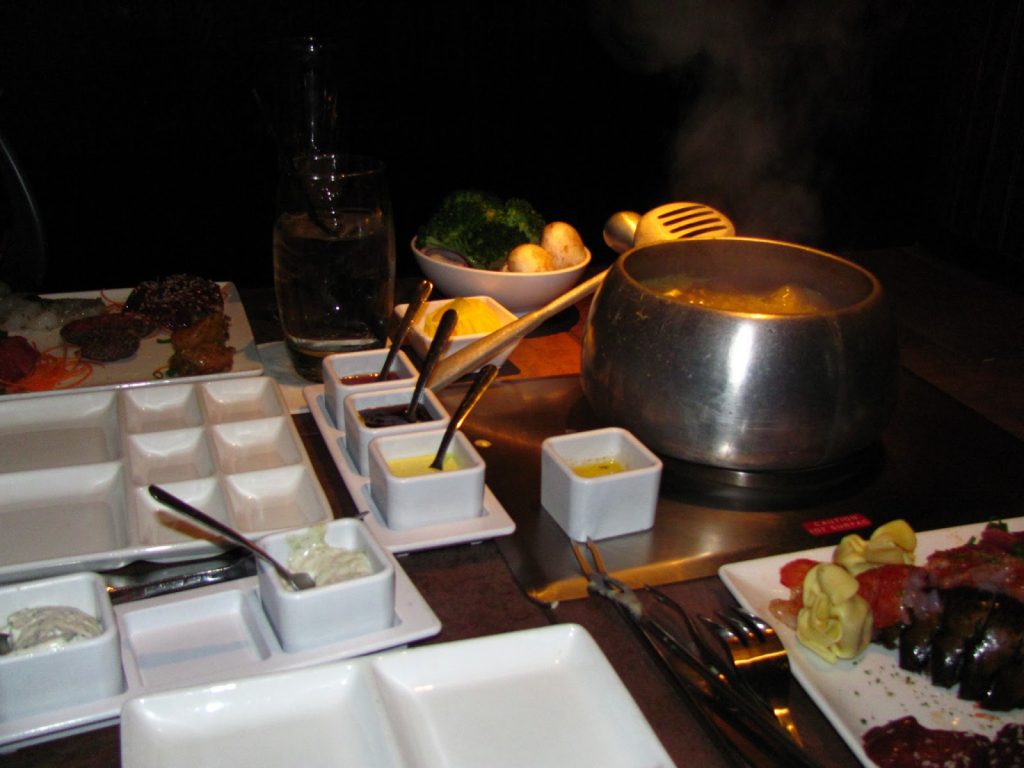 Sauces galore are served with all fondue entrees at The Melting Pot Houston.
Delicious seafood and meat ready to be cooked in our bubbly fondue pot.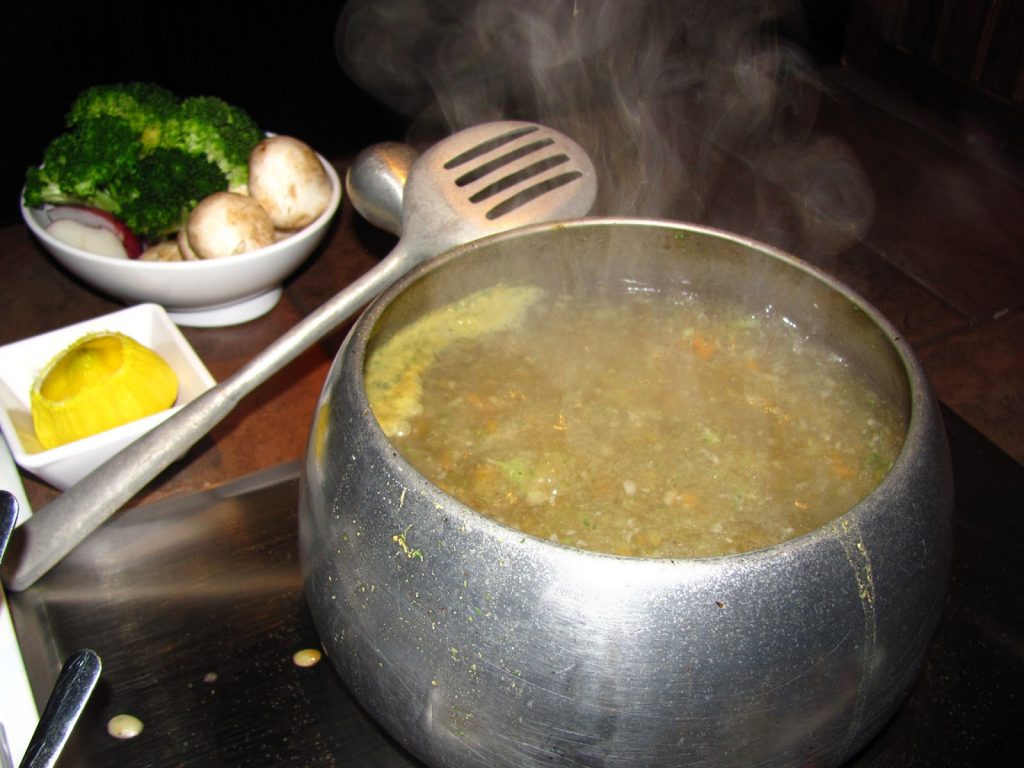 Unlimited veggies and sauces come with every entrée. I seriously could eat here every week!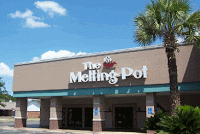 The Melting Pot of Houston
6100 Westheimer Road Houston, TX 77057
(7113) 532-5011