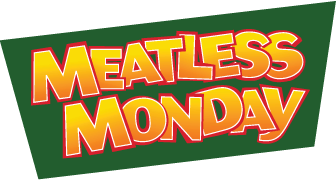 I was one of those funny kids that loved my veggies. Actually I loved any and all food and definitely wasn't a picky eater. If you asked me at age 5 what my favorite foods were I would probably have said artichokes, lobster, and sushi!
A true foodie even as a child! Let's hope Ava follows in my footsteps!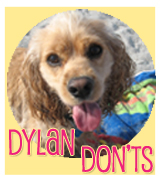 Don't know how to eat an artichoke?
My favorite way to eat an
artichoke
is simply steamed for about 40-60 minutes depending on size with a pinch of sea salt and a squeeze of lemon. Serve with a side of melted butter for dipping. You simply dip each thick leaf in butter and scrap the meat of the artichoke on the bottom of each leaf off with your teeth, discarding the tough exterior leaf. Once you get to the center you scoop out and discard the thin leaves and furry center choke with a spoon and then you have the heart of the
artichoke
. This is what is usually available in cans in the store and served in the more common
Spinach and Artichoke Dip
.
I am still surprised when people do not know what an artichoke is. I am shocked every time I get asked by the grocery store cashier "what vegetable is this?" when she is ringing up my artichokes! So I challenge you, if you have never tried an artichoke, try an artichoke for dinner today! For this recipe I went one step further and stuffed the artichoke with breadcrumbs and cheese and then steamed and baked it. Then I simply eat it the same way as above. It makes a delicious appetizer or even light main entrée for Meatless Monday.

Ingredients:
Makes 2 servings
2 artichokes, rinsed and trimmed
1/2 cup panko bread crumbs
1/2 yellow onion, diced
1 clove garlic, pressed
juice from one lemon
1/2 cup parmesan cheese, shredded
2 heaping tbsp. Philadelphia Cream Cheese Italian Herb cooking crème (or sub cream cheese with additional Italian seasoning)
sea salt/pepper, to taste
olive oil
Optional: melted butter or olive oil for dipping
Stuffing amount and cooking time may vary depending on artichoke size.
Directions:
Rinse artichokes to remove any dirt.

Slice off long stem on the bottom and any smaller leaves so it sits flat. Also remove with a knife or scissors the top tips of the leaves from the top. They are spiny and can poke you so best to cut them off!

Next using a steamer pot or steamer basket in the bottom of a large pot, fill the pot with about 4 inches of water or about 1/4 full.

Place artichokes in the pot, cover, and bring water to a boil.

Steam for 40 minutes or until tender.

Drain well, laying upside down on a paper towel for a few minutes.

Preheat oven to 400 degrees.

Meanwhile, sauté diced onion and garlic in a sauté pan over medium heat with olive oil until softened.

Add cooking cream, breadcrumbs, 1/4 cup parmesan cheese, and salt and pepper to the pan and stir to melt and combine.

Place the artichokes in a large baking dish and spoon in filling to the center and the outside leaves.

Optional: before filling you can remove the inner inedible thin purple leaves and furry choke with a spoon so you have more room to stuff the artichoke!

Top each artichoke with the remaining parmesan cheese.

Bake artichoke for 10 minutes or until cheese is melted and stuffing is golden. Serve warm.

Optional: serve with additional lemon slices and melted butter for dipping.
Rinse the artichoke then cut off the steam and pointy top tips of the leaves,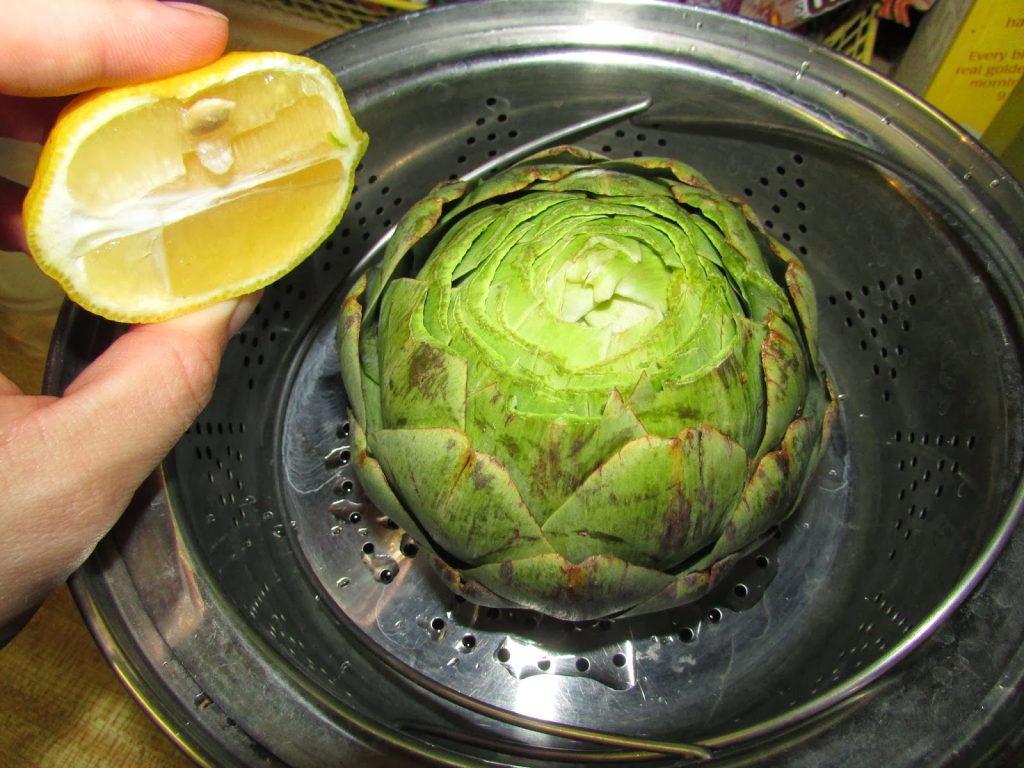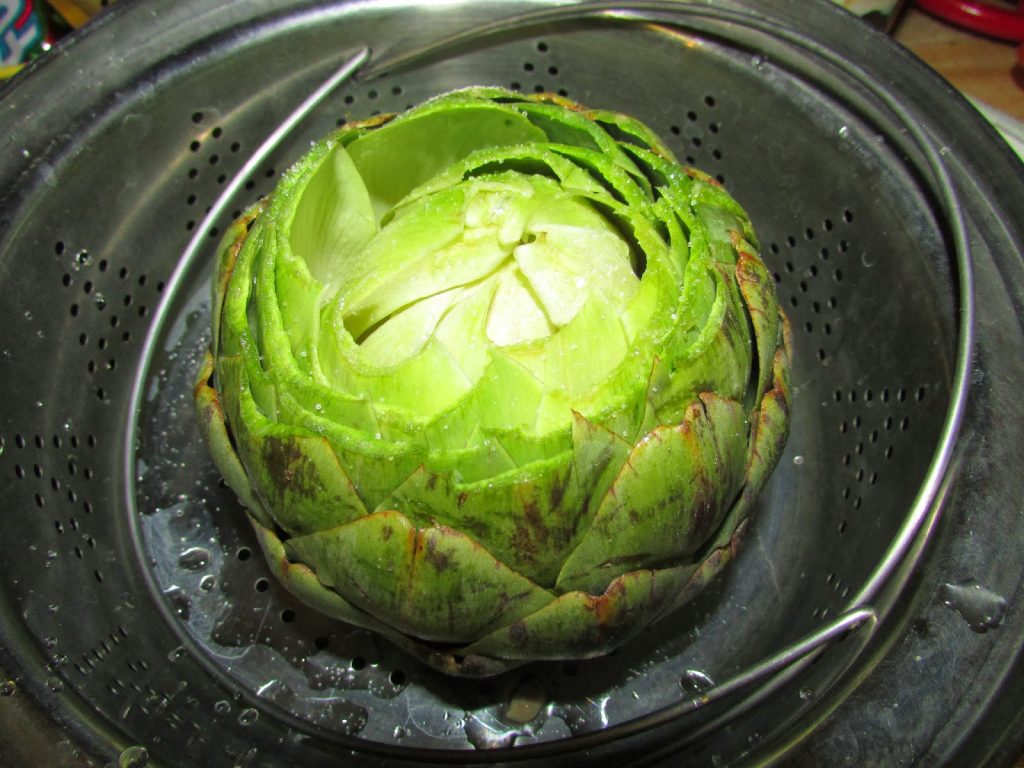 Add a pinch of sea salt and a squeeze from half a lemon to the artichokes, then add to a steam pot filled about 1/4 full of water.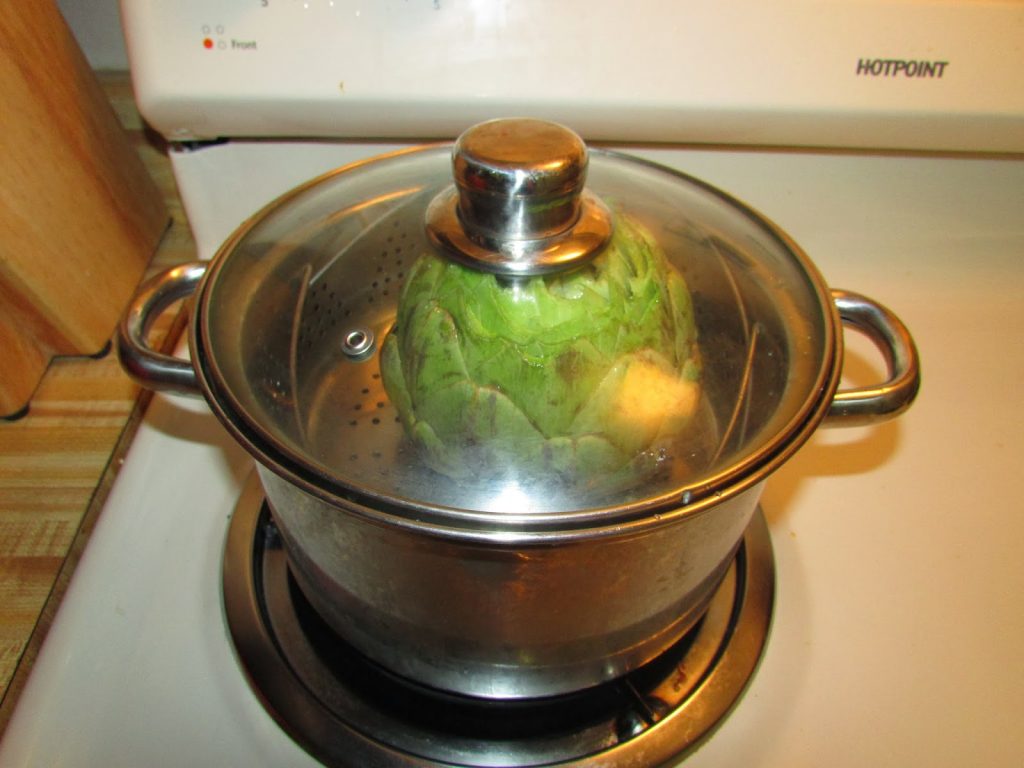 Cover, bring to a boil, and steam for 40 minutes.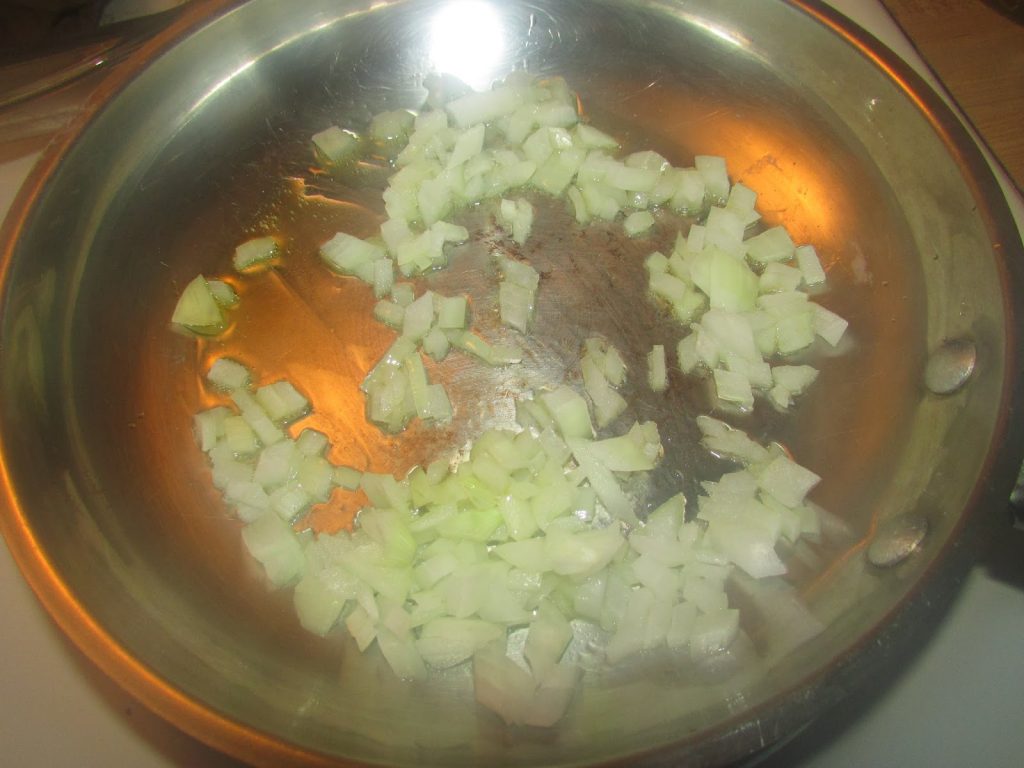 Saute 1/2 diced onion and one clove garlic in a sauté pan with olive oil until softened.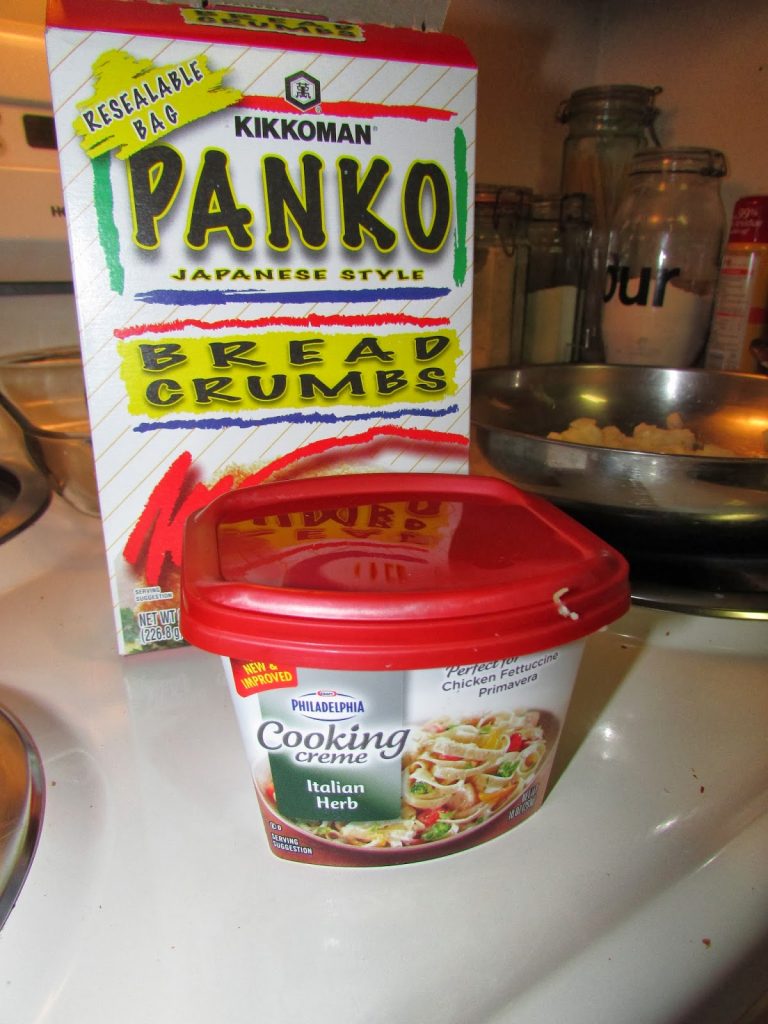 I am a huge fan of Philadelphia Cream Cheese's Italian Herb flavored Cooking Crème. If you can't find it you can substitute softened cream cheese and Italian seasoning.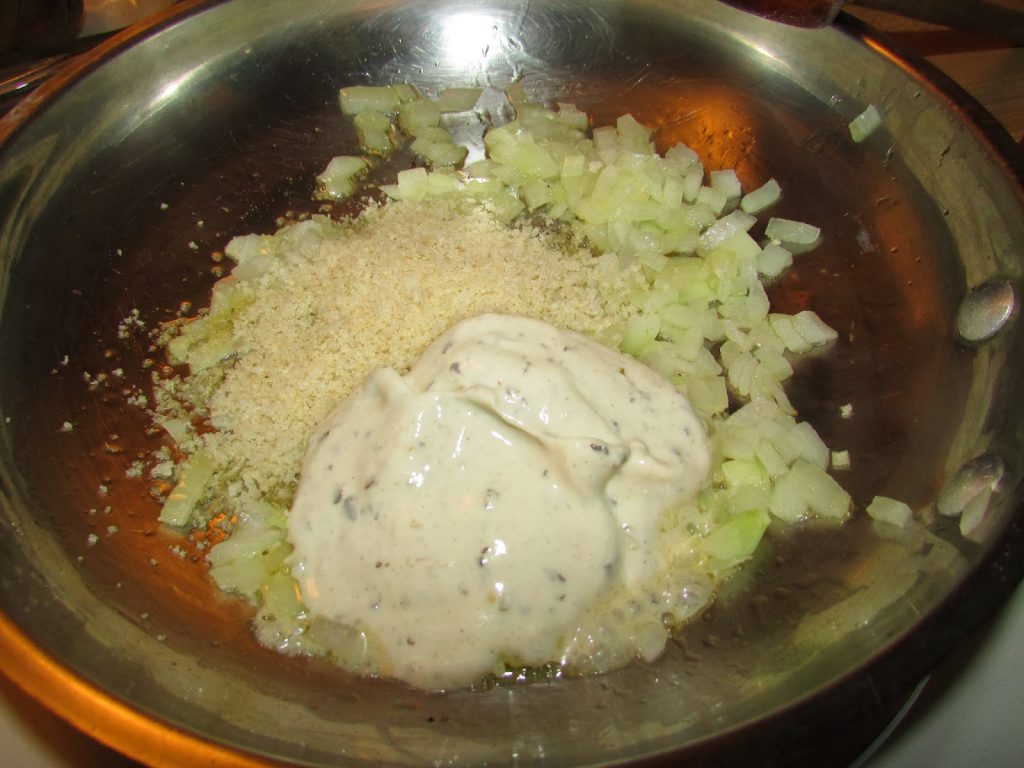 Mix in panko breadcrumbs and cooking crème and season with salt and pepper.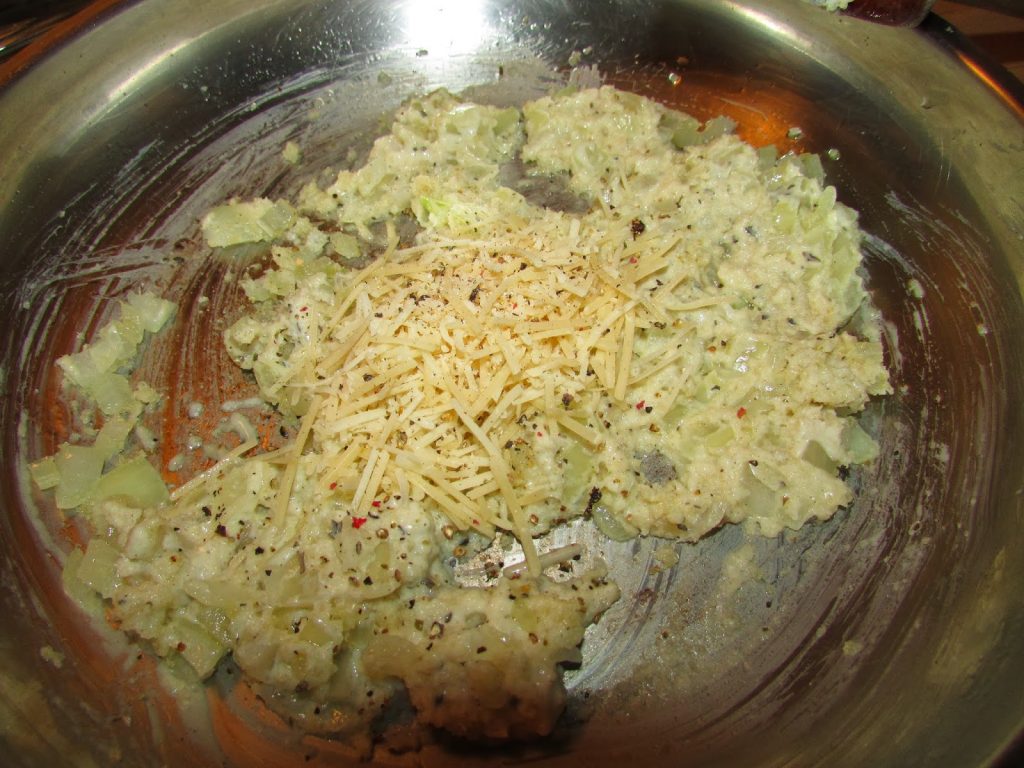 Once that is melted add Parmesan cheese and stir.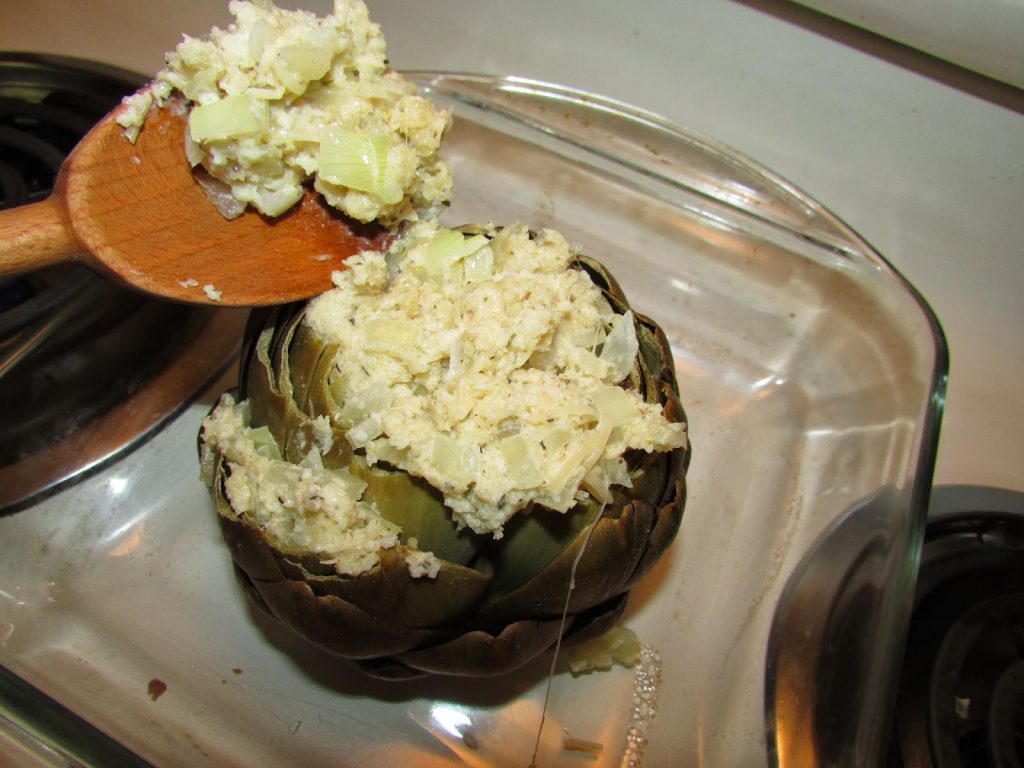 Place the artichoke in a baking dish and spread the leaves and center. Spoon in filling in the outer leaves and the center, stuffing to the top.
Optional: before filling you can remove the inner inedible thin purple leaves and furry choke with a spoon so you have more room to stuff the artichoke!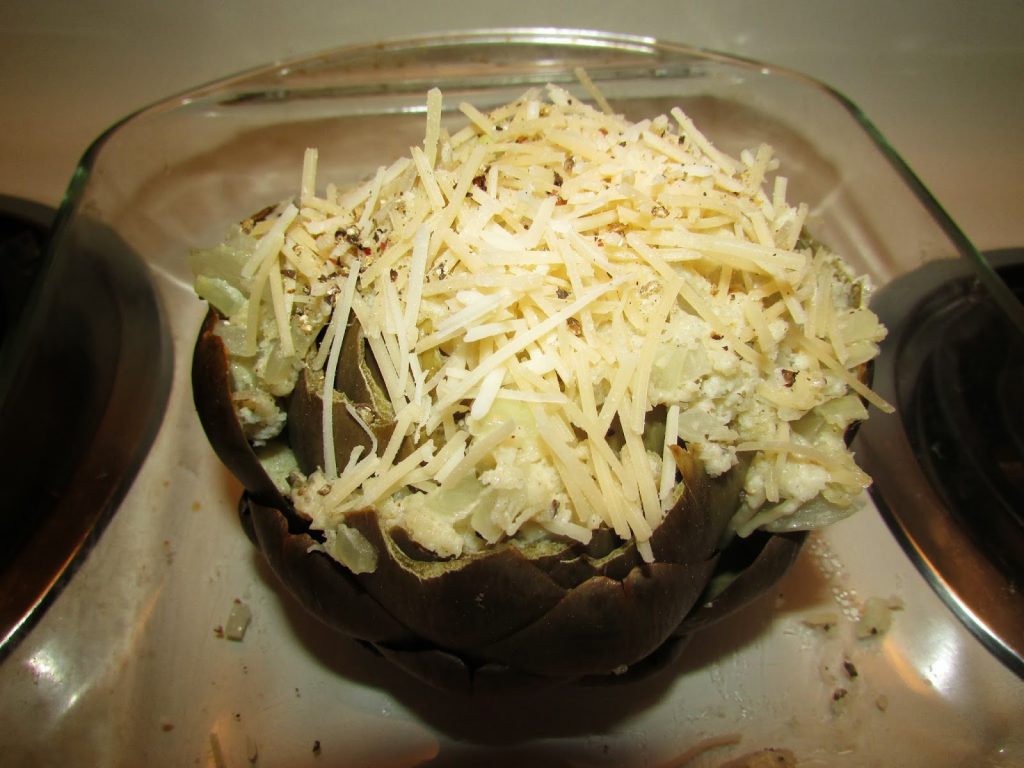 Bake for 10 minutes at 400 degrees until golden.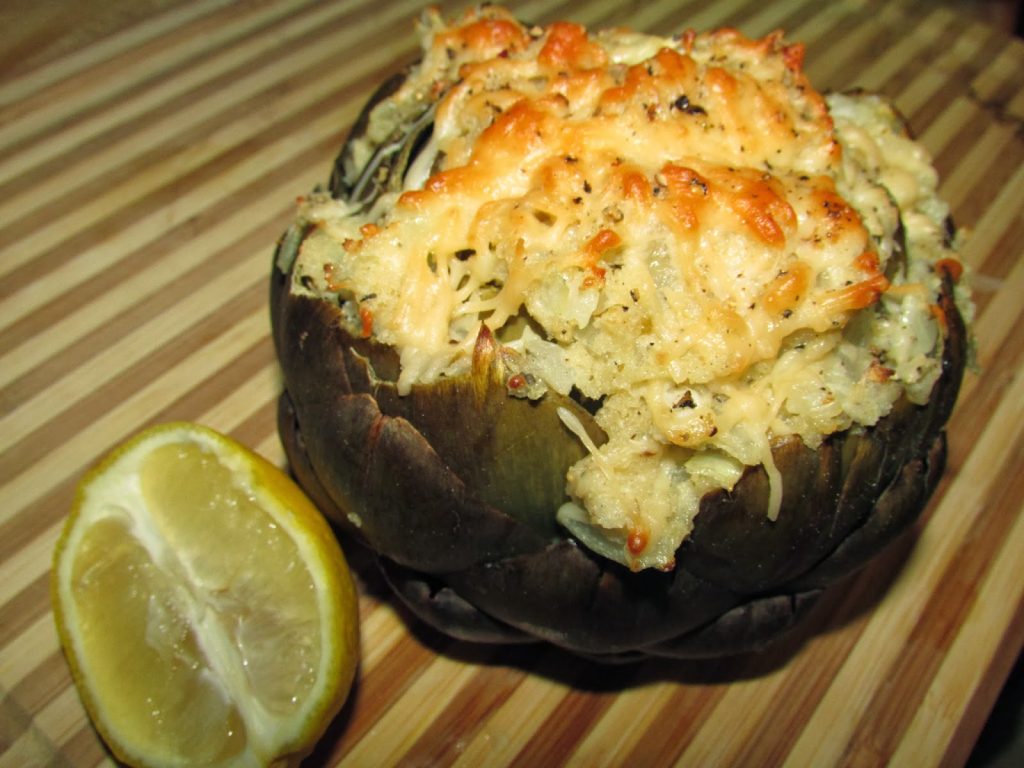 Serve warm with a slice of lemon and melted butter!
Happy Meatless Monday!