I cubed up the cake, filling and all, and tossed it was a few flaky crossiants. Then I made a brown sugar batter and mixed it together. Add chopped, glazed pecans and butter and pop it in the oven to bake to a bubbly golden bread pudding masterpiece. Then it was time to decorate because this is still a King Cake, right? It has to be colorful and over the top! I made a cream cheese glaze, dyed it three different shades of green, yellow, and purple and drizzled it on top. This dessert was a winner!
My poor husband sure did miss out. The whole bread pudding was devoured at the party and he didn't get to try it. Guess that means we have to make another one for Fat Tuesday!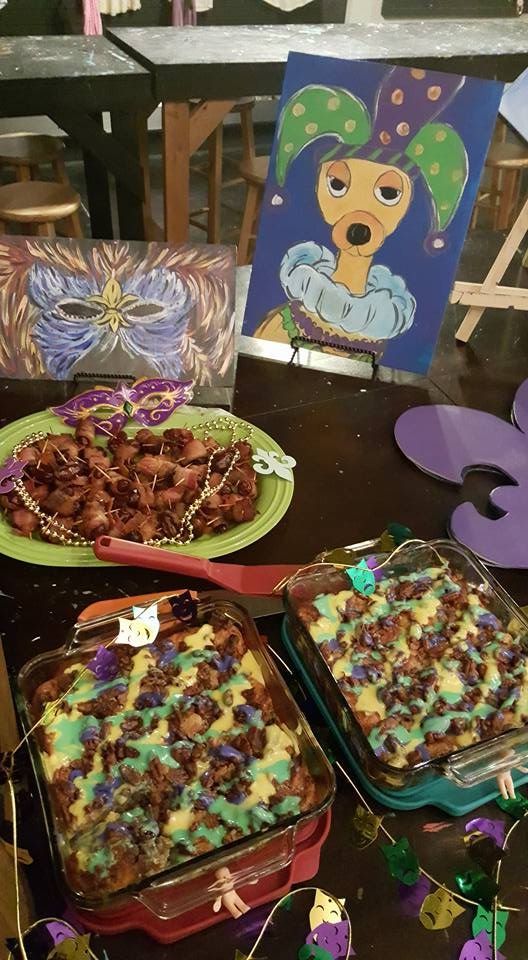 King Cake Bread Pudding and Bacon Wrapped Dates for noshing
on at the Ladies Night Out Paint Party.
Start by cutting up your King Cake, filling, icing, sugar, everything.
Cut into 1 inch cubes.
The King Cake alone didn't quite fill my dish so I decided to cube up
three large croissants and mix those in as well.
I just love flaky croissants and they are the perfect
buttery addition to the bread pudding.
Butter your baking dish, either one 9X13 or two 8X8's.
Add your cubed cake and croissants.
Be sure to toss them together and spread evenly in the dish.
In a large bowl whisk together eggs, milk, brown sugar,
salt, and cinnamon.
Pour over the cubed bread, pressing down. Let sit for 10 minutes.
Now time for the topping!
I skipped a step and bought glazed chopped pecans.
You could use plain chopped pecans instead and add 1/3 cup brown
sugar and a pinch of salt.
In a small bowl combine the bag of glazed pecans with flour and butter.
Mix together, crumbling by hand.
Sprinkle evenly over the top of the bread pudding.
Bake for 40-45 minutes at 350 degrees.
It should be cooked through and lightly browned and toasted.
Set aside to cool slightly.
For the glaze: start with cubed softened cream cheese.
Beat cream cheese on medium-high speed with an electric mixer until fluffy.
Add sugar and beat until combined.
Add salt, lemon juice, and milk; mix on low speed until smooth.
Divide into three bowls and add 2-3 drops of food coloring into each bowl.
You should have one purple, one green, and one yellow.
Using a spoon, drizzle generous lines of all three colored glazes across
the top of the bread pudding.
Slice into squares and serve warm or at room temp.
Whether you like King Cake or not, you need to give this
Even the pickiest of eaters love it!