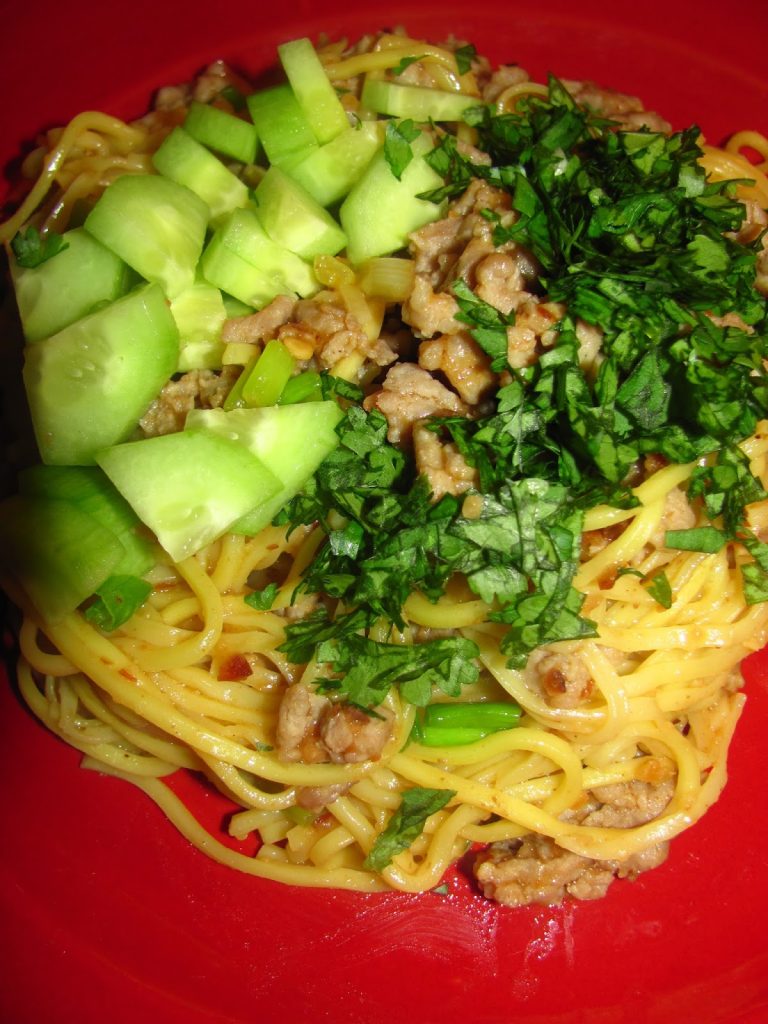 Last week was a busy week so I was unable to post this recipe during my Asian Food Week in honor of my Grandma Kimiyo who passed away two weeks ago. But I just had to share this recipe with you, since it's one of my very favorite restaurant copycat recipes. My Gma was a HUGE fan of PF Chang's and their sister bistro Pei Wei (really my whole family loves them!) and this spicy noodle dish called Dan Dan Noodles is our #1 most ordered item.
Note: PF Changs uses ground chicken in their dish but I like the flavor of ground pork better.
My Mom and Gma dining at PF Chang's one year and PF Chang's and their sister cafe Pei Wei's version of Dan Dan Noodles.


Ingredients:
8-12 oz pkg thin Chinese Egg Noodles
16 oz ground pork

2 tablespoons




canola oil




1/3 cup




dry-roasted peanuts




3 tablespoons




low-sodium soy sauce




1 1/2 tablespoons




sambal oelek (ground fresh chile paste)




1 teaspoon




sugar

2




garlic cloves




1

teaspoon ground ginger




3 tablespoons

lime juice




1/2 cup

sliced green onions

3/4 cup




chopped seeded peeled English cucumber

(about 1/2 a cucumber)

1/4 cup




chopped fresh cilantro

1/2 cup bean sprouts (optional)
salt, to taste

cooking spray
Directions:
Cook noodles in boiling water for 3 minutes.
Drain
in a colander over a bowl, reserving 1 cup cooking liquid. Place
noodles in a large bowl.
Heat oil in a large nonstick skillet over medium-high heat. Add
peanuts to pan; sauté 2 minutes or until fragrant. Remove from heat;
cool slightly.
Combine peanut mixture, soy sauce, sambal oelek, sugar, garlic, and ginger in a mini chopper; process until finely ground.
Cook pork in skillet over medium heat
until no longer pink, stirring to crumble. Drain off excess grease.
Add peanut mixture and 1 cup cooking
liquid to pork; bring to a boil. Season with salt and cook 1 minute, stirring frequently.
Add
pork mixture, juice, and onions to noodles; toss well.
Top each serving with chopped cucumber, cilantro, and bean sprouts.
Recipe adapted from Cooking Light Magazine.

Sambal Oelek can be found in the Asian aisle in most grocery stores.
It is a thick, spicy garlic chili sauce that adds a tasty kick to sauces!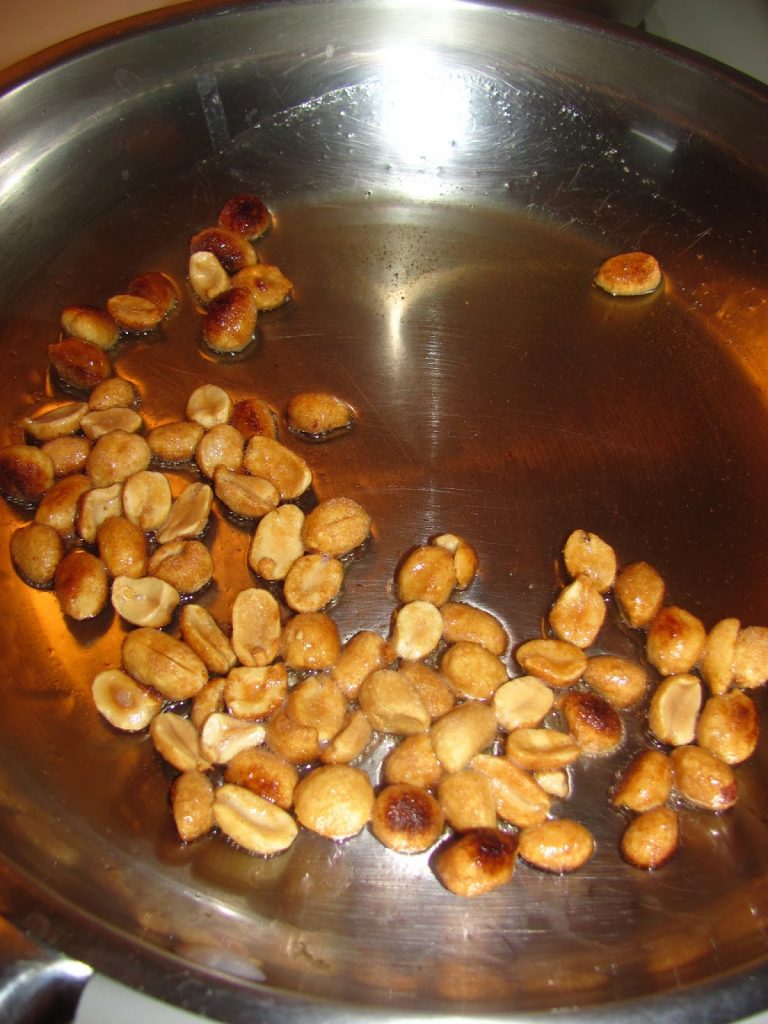 Toast peanuts in canola oil then add peanuts and oil to a mini chopper along with sauce ingredients.
Ground sauce ingredients together until blended but still slightly chunky.
I like to use these style thin egg noodles, found at my local Walmart, for this dish and most of my Asian noodle soups like
Thai Coconut Curry Seafood Soup
It is thin, cooks fast, and has a nice flavor and texture.
Cook the pork until no longer pink, drain, then add
1 cup of reserved cooking liquid from the noodles.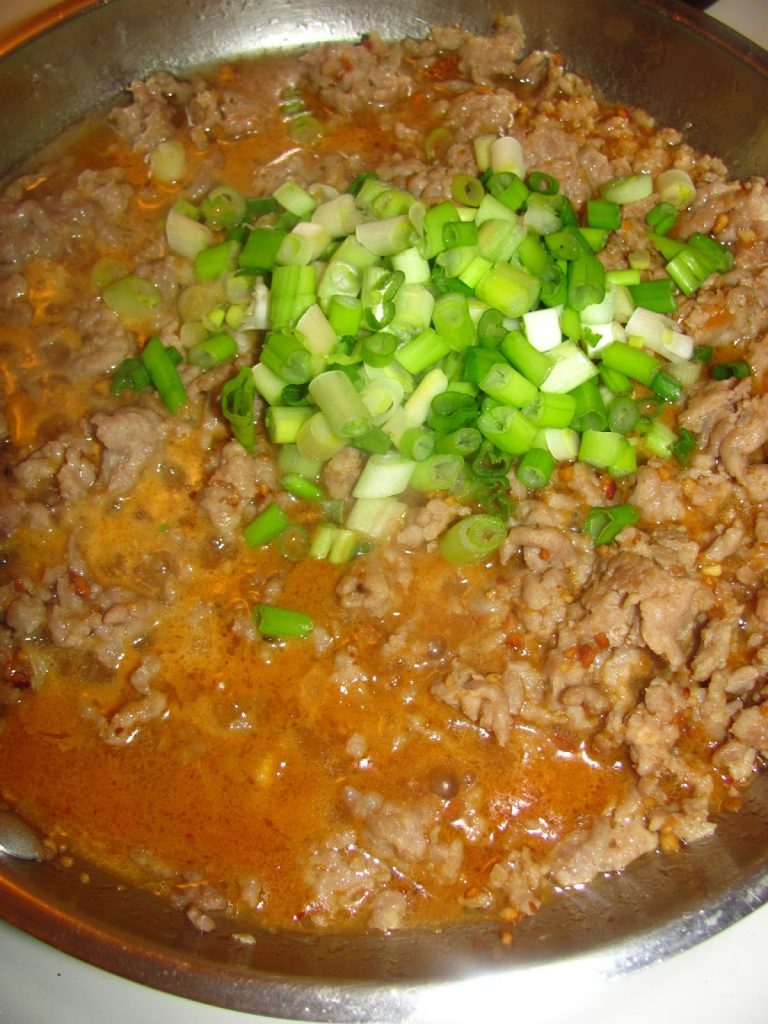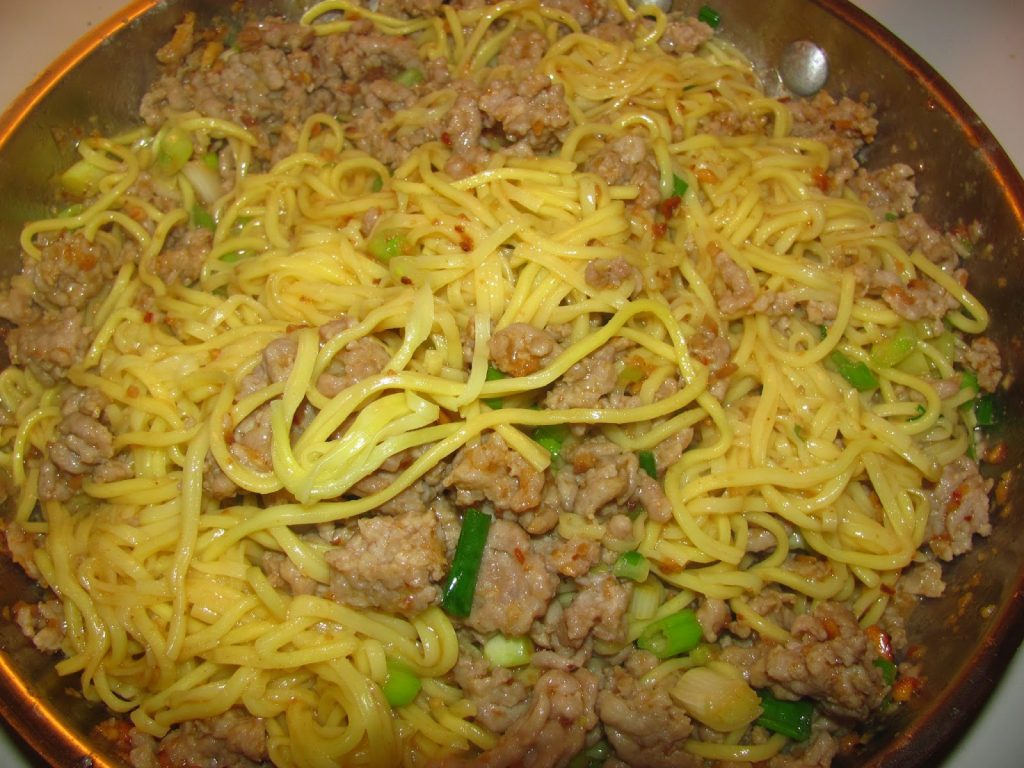 Add peanut mixture, onions, and salt. Then mix in noodles.
Chop your toppings! I like cilantro and English cucumbers (seedless and bigger than regular cucs). You can also add bean sprouts like Pei Wei does.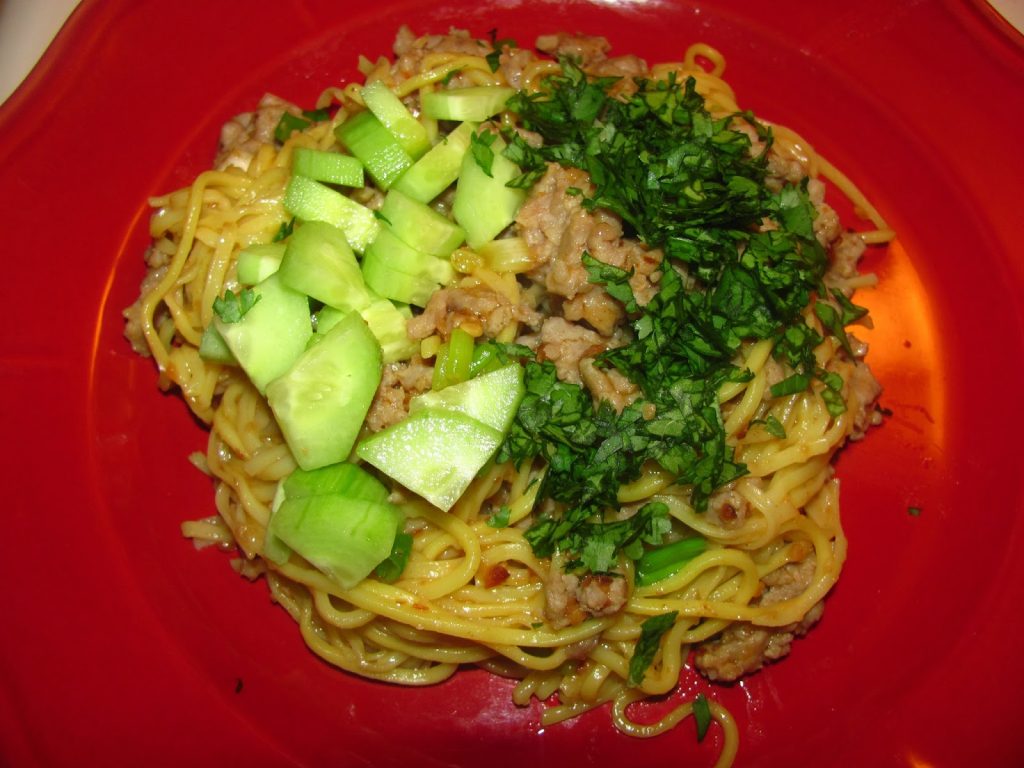 Dinner's served! Is your mouth watering yet?