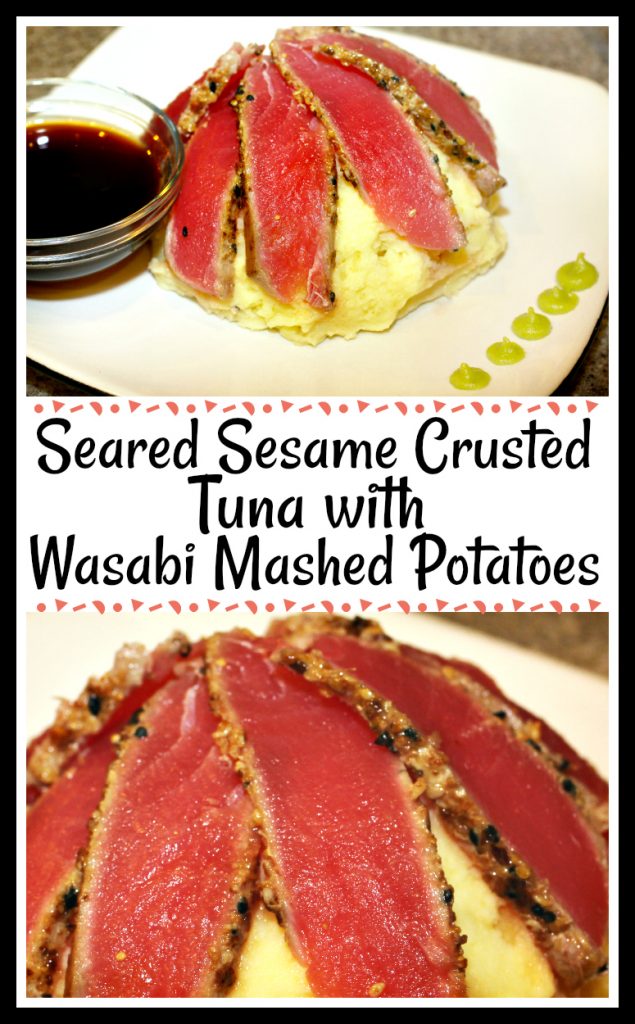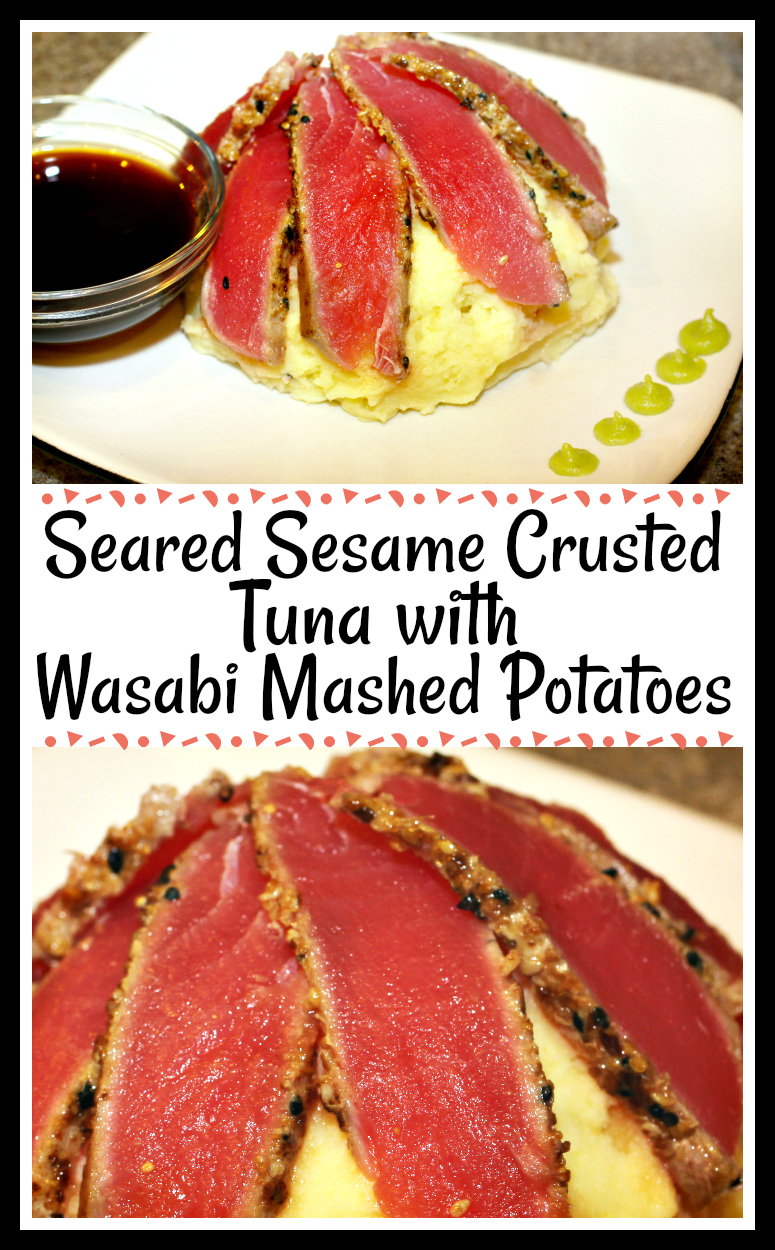 You know when you eat a dish so delicious that you rave about it to your friends and order it every.single.time. you go to the restaurant? Well, this
Seared Sesame Crusted Tuna with Wasabi Mashed Potatoes
is that dish for me. It was on the appetizer menu at my favorite hometown restaurant,
McGuire's Irish Pub
in Pensacola, FL
and I would always order it. The combo of seared rare tuna and spicy potatoes may sound odd, but trust me it is a match made in
foodie heaven
. But, as you may have noticed, I said it "was on the menu". Yes, that's right Mcguire's broke my heart and revamped their menu a while back and the tuna appetizer was
gone.
So I was forced, as any dedicated foodie would, to make the meal at home. Check out my version below of this tasty meal and share what you think in the comments!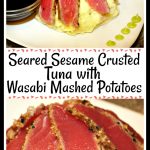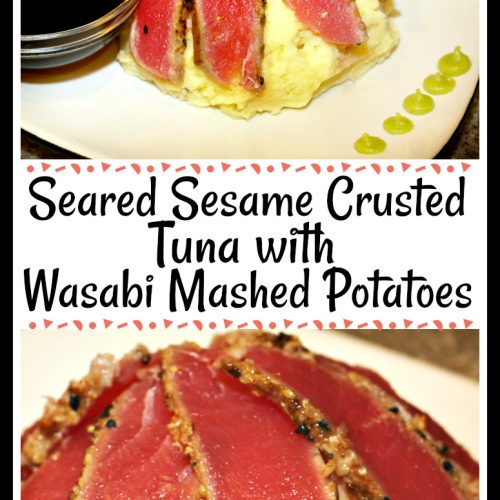 Print Recipe
Seared Sesame Crusted Tuna with Wasabi Mashed Potatoes
Makes 4 appetizer servings
Ingredients
2

Ahi tuna steaks

about 6-8 oz each

5

medium yukon gold potatoes

peeled and cubed

2

ounce

Philadelphia Cream Cheese

softened

2

tbsp

butter

2

tbsp

wasabi paste plus extra for decorating the plates

2

tbsp

toasted sesame seeds

3/4

cup

Ponzu sauce

or citrus flavored soy sauce

1

tbsp

sesame or canola oil
Instructions
Bring a medium pot of water to a boil on the stove.

Add chopped potatoes and boil about 10-15 minutes until cooked through and tender.

Drain potatoes.

Heat a cast iron or heavy bottomed skillet over medium heat.

Pour 1/4 cup ponzu over tuna steaks and let set for about 5 minutes while the pan heats up.

Remove the tuna from the marinade and press sesame seeds onto both sides of the steaks.

Pour sesame oil in hot skillet and swirl to cover the bottom.

Lay tuna steaks in pan and sear for 30 seconds, then flip and sear another 30 seconds.

Remove from pan and let rest for a couple minutes.

Pour the potatoes into a mixing bowl and add butter and cream cheese.

Combine with a mixer (or masher) until incorporated and then add 1-2 tbsp of wasabi paste (or more depending on hot spicy you want it).

Spoon a rounded mound of potatoes on 2 plates.

Slice the rare tuna steaks into thin slices and lay over top of the potatoes.

Dot four wasabi circles on the side of the plate and serve with a side of 1/4 cup ponzu for dipping on each plate.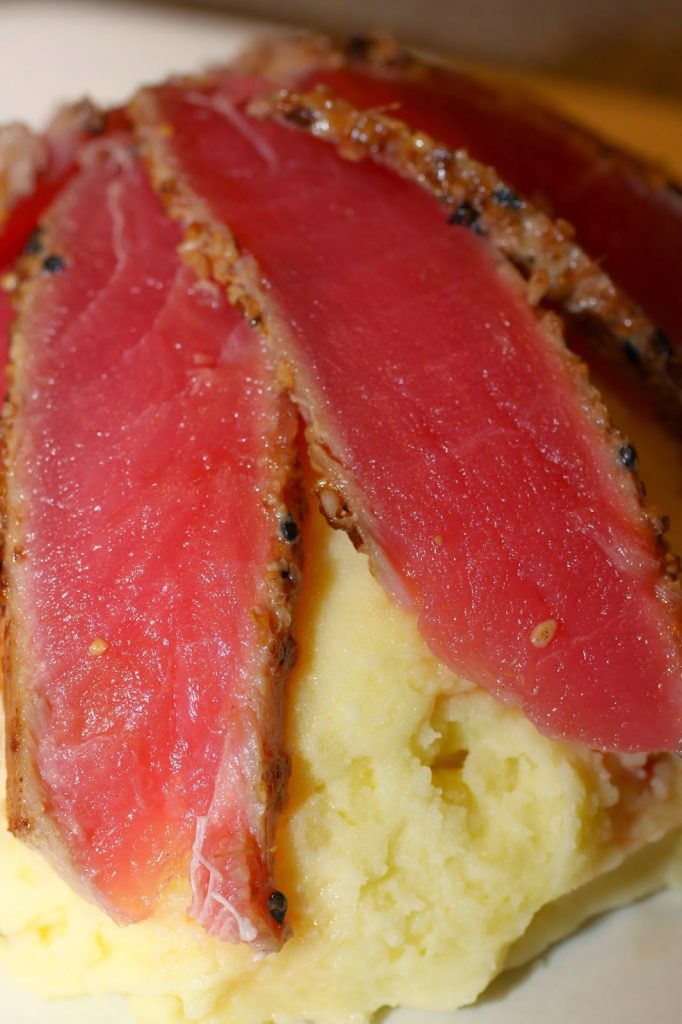 For the tuna: marinade in Ponzu (or substitute soy sauce) then crust with sesame seeds and sear in a hot skillet until just rare.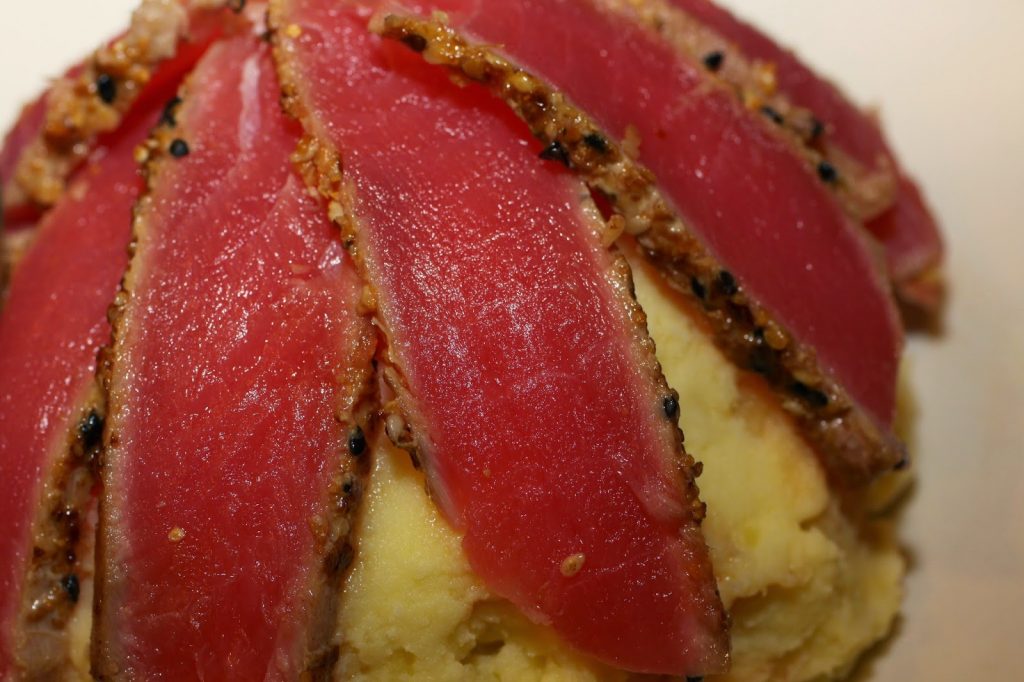 Slice the warm tuna and serve over creamy wasabi mashed potatoes.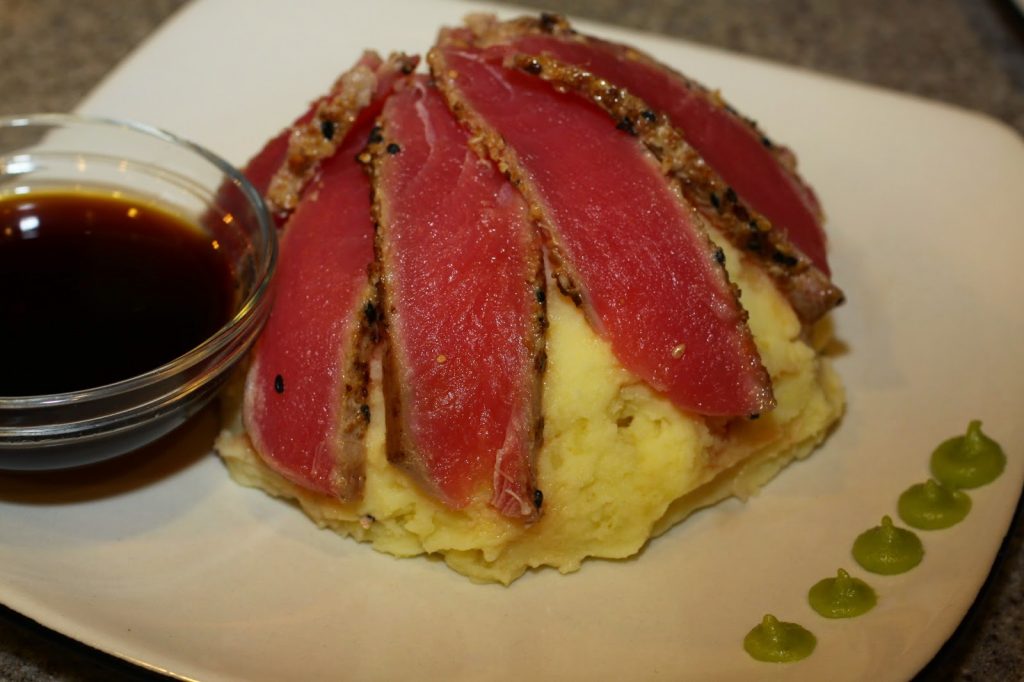 The final touch for this flavor packed appetizer is a side of sauce for dipping and a few dots of wasabi paste.
Each appetizer serves two or add steamed veggies or a ginger salad and serve as a meal!