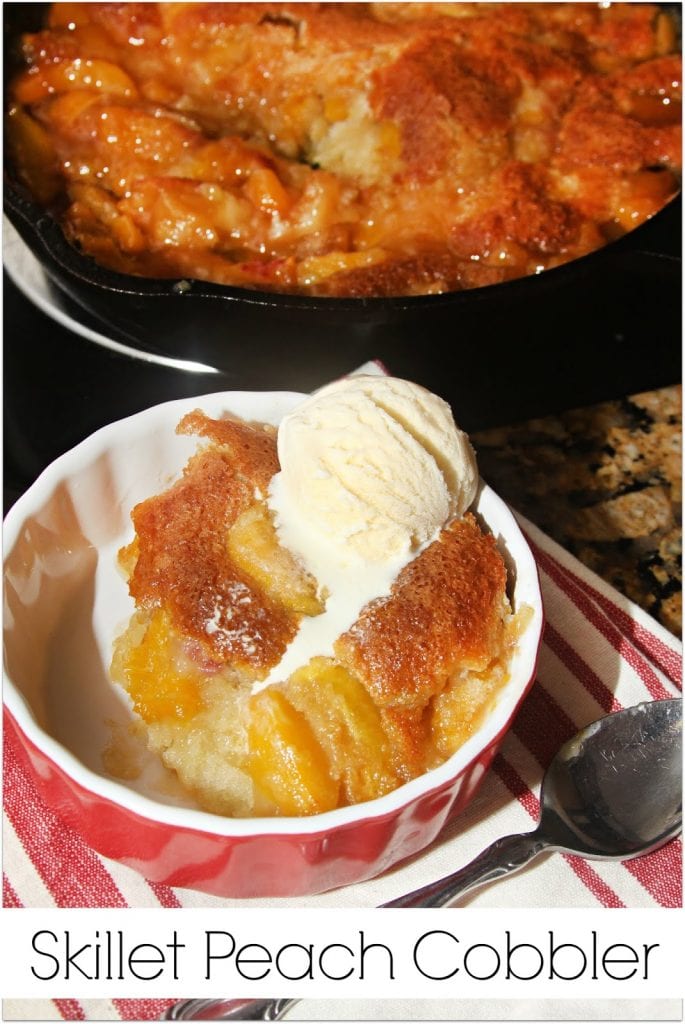 Nothing says Southern to me more than my heavy cast iron skillet. I have created so many yummy dishes and food memories with it and it never disappoints! To start off this special week- both my birthday and CookoutWeek– I wanted to share one of my very favorite desserts. Peach Cobbler is on the menu today after we picked peaches this past weekend in hill country. This simple yet decadent dessert is filled with fresh picked fruit and baked in a cast iron skillet until bubbling.Top with ice cream for a delicious summer treat!
#CookoutWeek 2018 is here!
Here's what one lucky will will receive:
Char-Broil Classic 280 2-Burner Liquid Propane Gas Grill from blog hosts The PinterTest Kitchen. This grill has 280 square inches of cooking space over porcelain-coated grates and two 12-inch side shelves for extra prep space.
A Red KitchenAid Mixer and 5 Flavored Butters from our friends at Chef Shamy. Make the World a Butter Place® with Chef Shamy! The winner will receive Garlic Butter, Cinnamon Brown Sugar Honey Butter, Vanilla Bean Honey Butter, Strawberry Honey Butter, and French Onion Butter with Asiago Cheese to use in your favorite cookout recipes. And if you just can't wait, use 10BUTTER10 starting today to get 10% off your Chef Shamy butter order on Amazon. These butters contain no oil, and the savory butters are perfect for keto recipes.
A Duck Product Pack from our friends at Maple Leaf Farms consisting of 2 pkgs All Natural Boneless Duck Breasts (7.5 oz), 2 pkgs Fully Cooked Roast Half Ducks w/Orange Sauce (14 oz), 1 pkg Duck Bacon (12 oz), and 1 pkg All Natural Duck Legs (16 oz). Maple Leaf Farms is celebrating its 60th anniversary raising White Pekin ducks on local, family-owned farms.
Butter-flavored Organic Coconut Oil from our friends at Barlean's. This dairy free option offers all the healthy benefits of organic coconut oil, with the rich taste of butter. It's great on toast, popcorn, baked potatoes, or cooked vegetables. You can also substitute it 1:1 for butter in baking, cooking, and frying, and of course it is perfect as a butter substitute for all your favorite cookout recipes.
24 Cartons of Vinegar Shots from our friends at Vermont Village. You'll receive 12 cartons of turmeric flavor and 12 cartons of cranberry flavor. Each carton contains 12 individual, 1 fluid ounce vinegar shot pouches! This raw, organic apple cider vinegar has rich flavors from whole foods and is sweetened naturally with honey.
That's a prize pack worth over $750!


Preheat oven to 375 degrees.
Place large cast iron skillet in the oven while it preheats.
I like using brown sugar with my fruit because of the richer molasses flavor.
Once the oven is ready remove the skillet and pour in the peaches, covering the bottom.
Now drizzle with the melted butter.
In a separate large bowl mix together flour, white sugar, baking powder, vanilla, and milk.
Next pour the batter from the large bowl on top of the peach mixture.
Slide the skillet into the center of the oven and bake for 45 minutes at 375 degrees.
It will be golden and bubbly.
My mouth is watering!
To serve scoop into bowls.
Top with ice cream and dig in!
I can't get enough of this summer dessert.
To enter our great giveaway,
follow our sponsors and bloggers on social media by entering your information below: