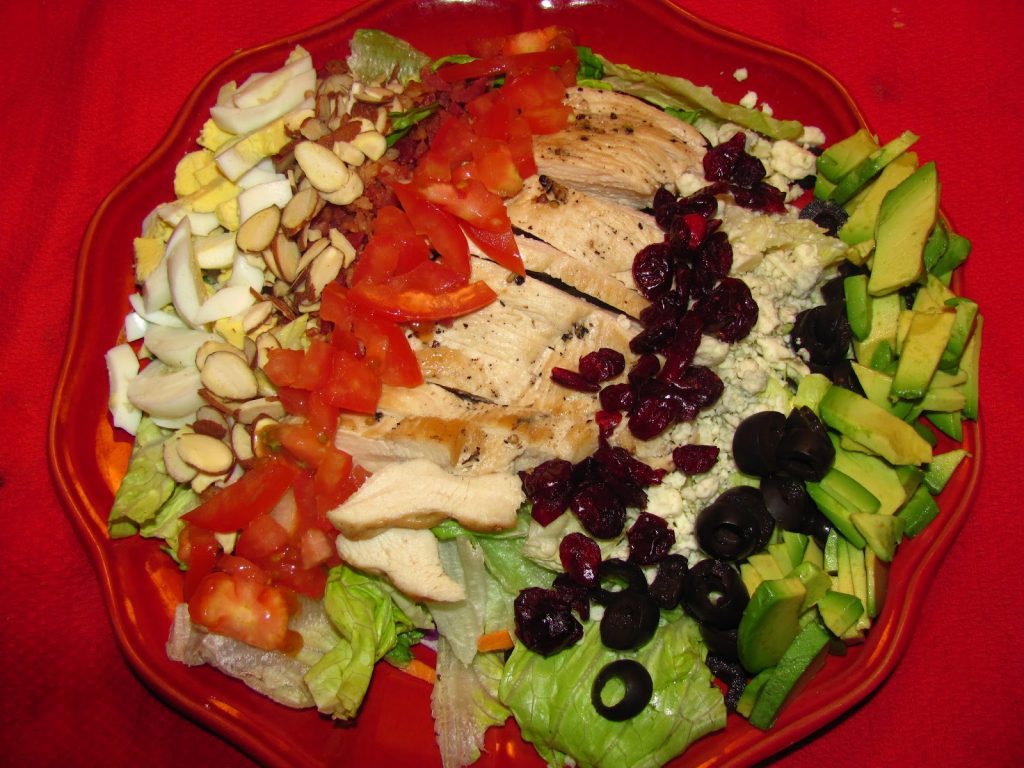 In my house we love having big hearty salads for dinner. Cobb Salad is one of my favorites, since I am a huge fan of bacon (on anything) and blue cheese.
This easy recipe is for my signature
Chicken Cobb Salad
, loaded with ingredients and packed with flavor but still good for you too! Try adding your own twist to this recipe like substituting grilled shrimp for the chicken and adding different toppings like toasted pecans or shredded cheddar.
Ingredients:
Makes 4 servings
4 boneless and skinless chicken breasts, cooked, seasoned, and sliced
one bag lettuce salad mix, approx 6-8 oz
2 avocados, diced
1 tomato, diced
4 slices bacon, cooked and diced
2 eggs, boiled, peeled, and diced
can of sliced black olives, 1-2 oz drained
4 tablespoons dried cranberries
4 tablespoons sliced almonds. I like honey roasted
1/3 cup blue cheese crumbles
dressing of your choice
Directions:
To assemble salad start with 4 plates of lettuce salad mix.
Top with rows of each additional topping.
Add extra toppings if you'd like, like cucumber, shredded cheese, or croutons.
Last, add a side of a dressing of your choice (my fave is honey mustard!) and enjoy!