These roasted pumpkin seeds are made two ways: savory with Bacon Salt and sweet with Cinnamon Sugar. Both are crunchy, packed with flavor, and the perfect fall snack!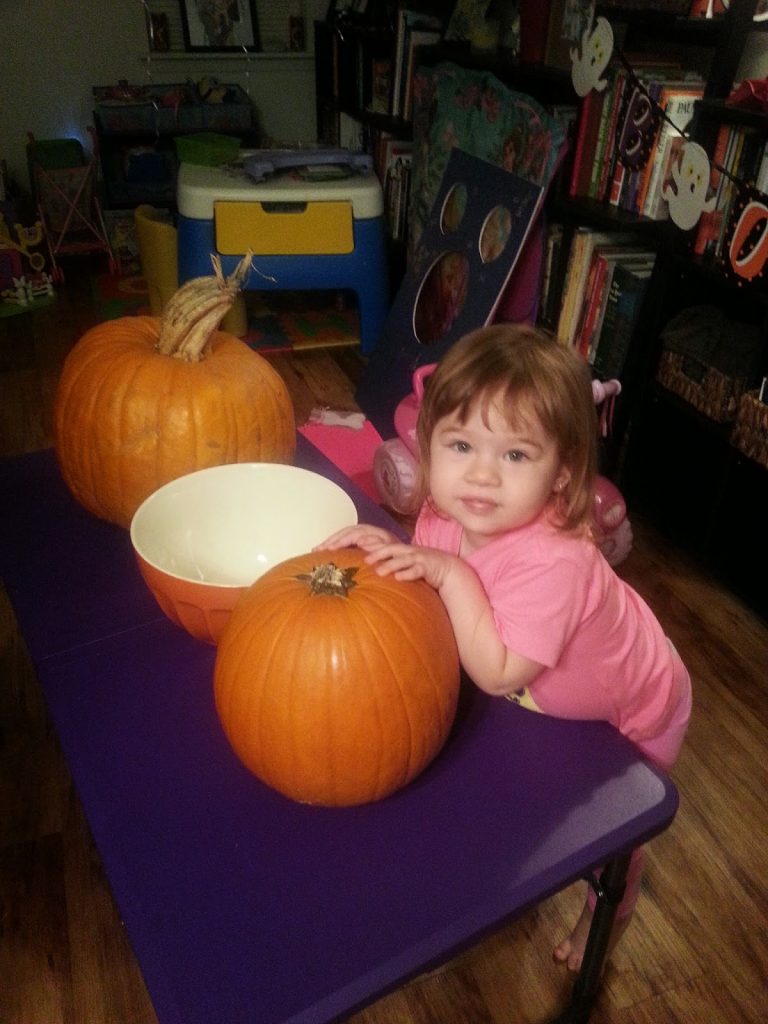 Ava's ready to carve pumpkins with Daddy!

Ingredients:
Cleaned pumpkin seeds (from a medium-large size pumpkin)
Olive oil, for tossing
Bacon Salt (we found ours at World Market but you can also find on Amazon)
Cinnamon-Sugar (I love my grinder from Trader Joe's)
Directions:
Preheat oven to 350 degrees.
Remove seeds from pumpkin and separate any "pumpkin guts", as my husband calls them, from the bowl of seeds. I then put seeds in a strainer and rinse to clean them again.
Pat dry with paper towels then spread seeds out on a lined baking sheet.
Toss seeds with a small amount of olive oil to coat (1-2 tsp).
Since I did two flavors I added a crumbled aluminum foil strip in the middle of the pan to separate the flavors.
Then sprinkle on your seasonings. I used savory Bacon Salt and sweet Cinnamon Sugar. Toss to coat then pop in the oven for 20-30 minutes.
Stir every 10 minutes and add additional seasoning if you would like.
If you like your seeds somewhat soft and chewy bake for 20 minutes. If you like crispy, crunchy seeds (we do!) bake for 30 minutes.
Remove from over, cool slightly and serve or store in a sealed container for snacking later on!
"Pumpkin guts" -she's not sure what she thinks about it!
Cut open the pumpkin and scoop out the seeds with a large spoon.
Separate the "pumpkin guts" from the seeds.
She liked to watch but didn't want to get her hands dirty and help!
Rinse the seeds to remove any pumpkin and pat dry.
Spread out on a lined baking sheet and toss with olive oil (1 -2 tsp).
Since I did two flavors I made an aluminum foil "wall" to separate them.
Season liberally with your favorite spices.
I used Bacon Salt and Cinnamon Sugar (another favorite is Worcestershire sauce and garlic!).
Bake at 350 degrees for 20-30 minutes (depending on how crispy you like them).
Stir every 10 minutes and add more seasoning if you'd like.
Sweet cinnamon sugar pumpkin seeds.
Savory Bacon Salt pumpkin seeds.
Remove from the oven, let cool slightly and serve. Store in a sealed container.
The perfect fall snack!
Isn't he awesome?! Ava loves him! Great job Ashton!
My pumpkin this year was Minnie Mouse (Ava's 2nd bday theme was Minnie and we are going to Disney next month!). I just painted the pumpkin red and black, added white craft dot stickers, then hot glued card stock ears. I found the free printable bow through Pinterest.
Ghost banana to start our Halloween day!
For Halloween Ava and I both went as minions and enjoyed trick or treating on Main St.
She loves Halloween as much as her Mama!
Love my wreath (sign from Hobby Lobby and wreath is WalMart)!
We ended our night with "It's the Great Pumpkin, Charlie Brown".
Happy Halloween 2014!