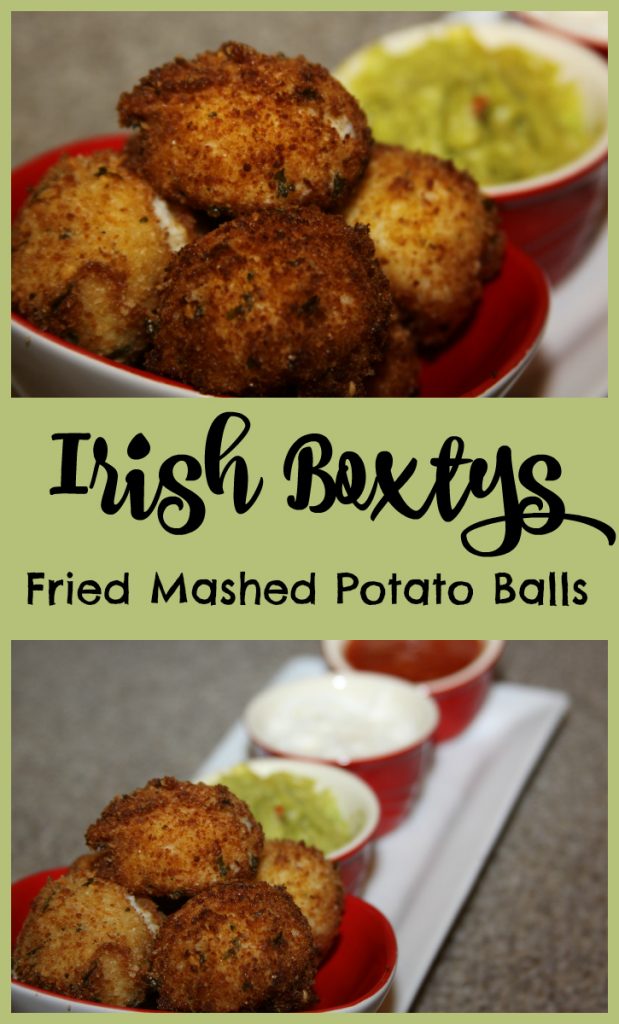 An old Irish favorite, "Boxty on the griddle, boxty in the pan; if you can't make a boxty, you'll never get a man."
-McGuires Irish Pub
I was so excited for this week b/c I knew I wanted to make one of my favorite appetizers, Irish Boxtys. In college I waited tables at a world famous (seriously!) Irish pub and steakhouse in Pensacola, FL called McGuire's.
To this day I still think Mcguire's has the best burgers, prime rib, and pork chops that I have EVER had. Oh, and their Frozen Irish Coffee is AH-MAZING! Man, now I wish I was back home!
Anyway, they have an appetizer called Irish Boxtys that are garlic mashed potatoes rolled in seasoned bread crumbs and flash fried then served with dipping sauces.
I recreated this easy dish for St Patty's Day~
check out the recipe below!
Ingredients:
16 oz garlic mashed potatoes
1 egg, beaten
1 cup seasoned bread crumbs
vegetable or canola oil for frying
guacamole, salsa, and horseradish sauce for dipping
Using a small ice cream scoop, section out mashed potatoes into balls on a large plate.
Place the plate in the freezer for 30 minutes so they will be easier to handle.
Heat oil in a small saucepan over med-high.
Place beaten egg in one bowl and seasoned bread crumbs in another.
Dip potatoes in egg then bread crumb mixture then place in hot oil.
Optional: You can mix shredded cheddar cheese in with the mashed potatoes
and then scoop into balls and freeze.
Fry for just 30 seconds to a minute, until crispy brown.
Drain on a paper towel and serve warm.
Serve with salsa, guacamole,
and horseradish cream (sour cream, Worcestershire, and horseradish)
McGuire's Irish Boxty's~ you've got to try these!