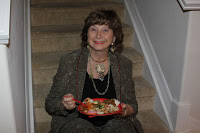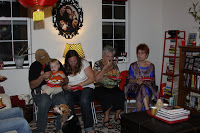 Ms. Virginia
Susan & Gary Russ & Fatima
My beautiful Mom
The youngest guest, Oliver with his Momma Ellen. Nancy in her gorgeous blue outfit!
Aunt Candie trying the Thai Soup

Me & Grandma!
Susan, Gary, and Jerry Russ & Doug
Rita & Ninette
Me with Fatima and Russ and their gifts!
Tom with my puppy, Dylan Nancy, me, and Susan
Grandma and Jerry My Momma!
Aunt Candie, Grandma, and Mom Me and Jonathan
The three of us with our origami

The Food:
Lots of food for all our hungry guests!
Nothing better than a table full of food! Hot Green Tea
Ginger Mango Mocktail!
Mix chilled Mango Puree and Ginger Ale together for this delicious sweet drink!
Inari (Tofu Sushi) Japanese Fish Cakes and Pickle with Edamame
and Annie Chun's Shiitake Soy Ginger Sauce
Annie Chun's Seaweed Snacks Kung Pao Chicken
in Wasabi and Sesame with Annie Chun's Kung Pao Sauce
Chicken Pad Thai with Pork Pot Stickers with
Annie Chun's Pad Thai Sauce Annie Chun's Shiitake Soy Sauce
Korean Kimchi
Grandma's Asian Cabbage Salad
Thai Coconut Curry Seafood Soup
Wasabi Seared Scallop Sushi
Check out my cooking video here:
Mom's Beef Yellow Curry Chicken Pad Thai
Mom's Korean BBQ Pork Buns with toppings and Annie Chun's Korean BBQ Sauce.
Check out the recipe in my previous blog post!
Korean Bibimbop with Rice made with Annie Chun's Gochujang Sauce and White Rice
3 TBSP Onion (julienne)
3 TBSP Carrot (julienne)
3 TBSP Spinach/zucchini (julienne)
3 TBSP Shiitake mushroom (sliced), option
3 TBSP Bean Sprout (option)
1 TBSP Canola oil
1 tsp sesame oil
1 TBSP Annie Chun's Gochujang sauce
1 package of Annie Chun's Sticky White Rice
Salt/Pepper to taste
Select at least three vegetables and stir-fry with canola oil and add salt & pepper to taste.
Stir fry the vegetables for about 3-4 minutes and then add the sesame oil and mix in thoroughly.
Put vegetables over warmed up Annie Chun's rice in a bowl and add the Gochujang sauce on top.
Stir all the different ingredients together in the bowl and enjoy.
Japanese Mochi Cakes in Peanut, Green Tea, Sesame, and Red Bean.
My Coconut Black Pearl Rice with Bananas Dessert using
Annie Chun's Black Pearl Rice mixed with coconut milk.
Good Luck Fortune Cookies for everyone!
Sushi Set Oriental Candy
Gift bags with fortune cookies, chopsticks with holders, coupons, and an Annie Chun product!
Origami cranes bring good fortune! Find out how to make them here:
My Zoris (Japanese flip flops) and my kimono
What a great party and fun experience!
Thanks Annie Chun!
Happy Cooking!
Nicole