My Annie Chun Party last night was a hit! Here are two fun videos I made before the party with the help of my Mom & Grandma. Enjoy!
Like my videos? Follow me on YouTube. User name: Beagledogphotos
Seared Scallop Sushi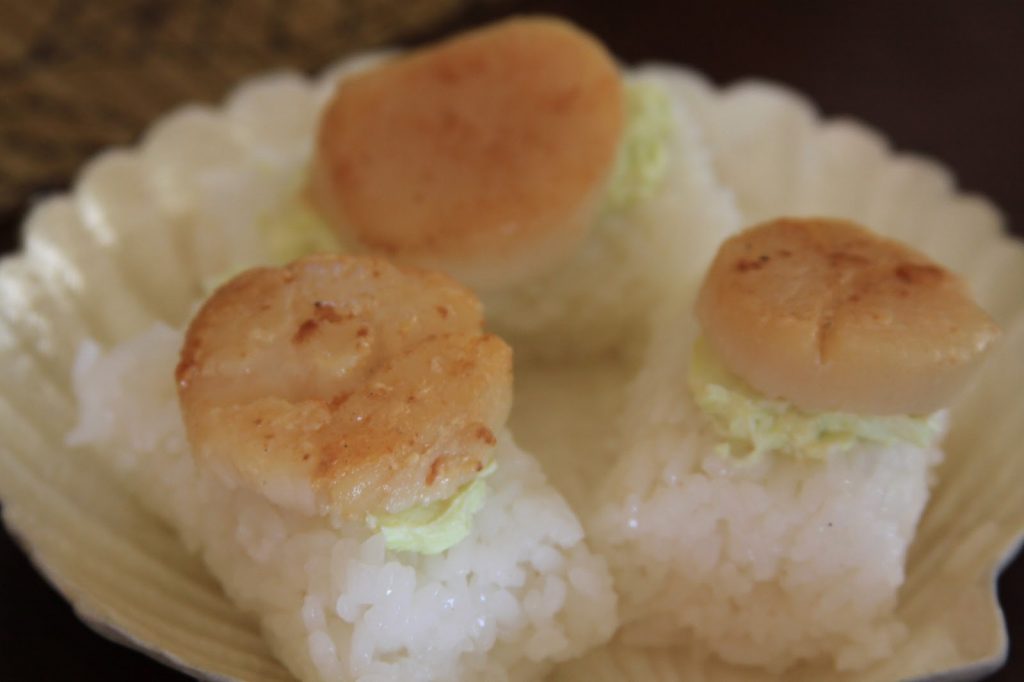 Ingredients
5

jumbo sea scallops

2/3 cup

sushi rice (or save time and buy Annie Chun's Microwaveable Sticky Rice)

3/4 cup

cold water

1 tablespoon

rice vinegar

1 teaspoon

sugar

1 pinch

salt

1 teaspoon

wasabi paste

2 ounces

Philadelphia cream cheese

1

salt/pepper to taste

1 tablespoon

olive oil
Directions
Mix rice and water and bring to a boil.
Cover and turn down and let simmer for 10 minutes.
Take off heat and let sit for 15 minutes.
Put cooked rice in a bowl.
Mix sugar, salt, and rice vinegar and pour over sushi rice.
Chop rice (do not mix) with a wooden spatula or spoon until the seasoning is mixed in.
If possible use a hand fan to cool rice and chop until glossy and sticky (30 seconds to 1 minute).
Next, mix the wasabi paste with the cream cheese in a small bowl. Place in refrigerator until ready to use.
Heat your cast iron (or heavy skillet) until smoking hot (about med high heat).
Add olive oil to pan and swirl to spread evenly.
Take the scallops out of the refrigerator and pat dry. Season with salt and pepper.
Sear scallops in the hot pan until they have a caramelized crust on each side (about 3 minutes per side).
Wet hands and take a scoop of rice and spread in sushi press (if you don
Press rice and then spread in sushi mat and roll tightly.
After unrolling you should have a long "tube" of sticky rice.
Using a sharp knife cut rice tube into 4 sushi rolls (shape with hands if needed).
Place rolls on a separate plate. Then repeat with the shaping until you
Spread wasabi cream cheese on top of each sushi roll.
Slice each scallop in half and place caramelized side face up on top of each sushi roll.
Serve with cucumber salad and miso soup for a healthy dinner for two!
Nicole