Before having both my daughters at our base hospital, BJACH, I made a goodie filled gift basket and thank you card for the nurses and doctors who would be taking care of my family and I. It's a simple gesture that means so much.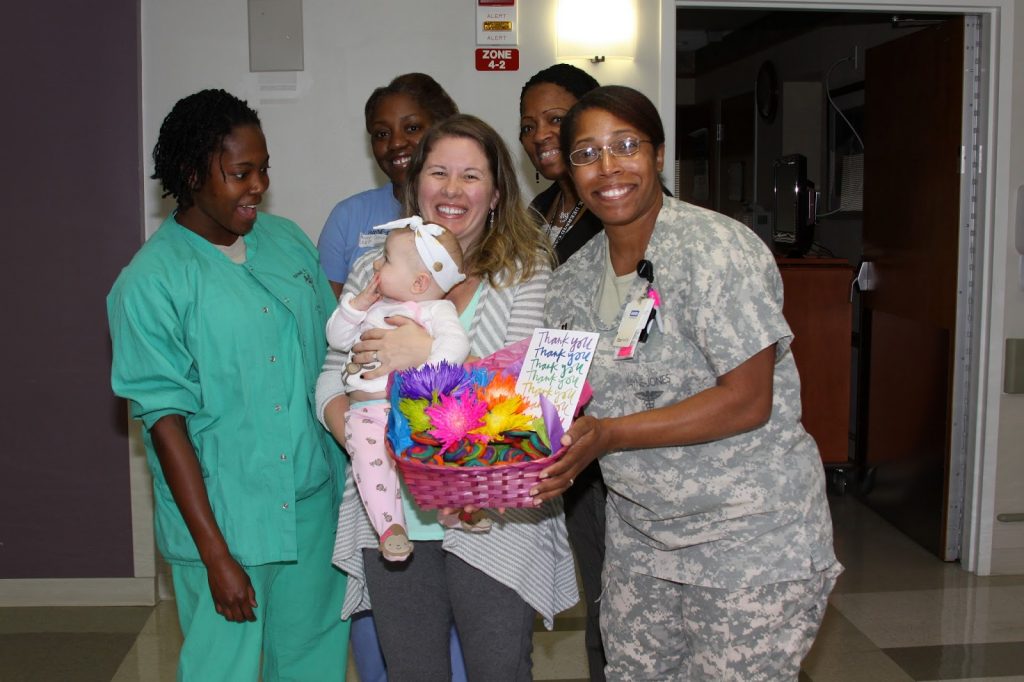 Stella and I presenting our nurses with a Rainbow of Gratitude Basket.
Nurses leave a deep, long-lasting impression on moms and form an important bond that transcends the hospital experience. Because of the nurses they trust, new moms can rest assured that everything is going to be okay.
My nurses held my hands, made me laugh and relax during the most difficult time of my labor, and were there when both my babies entered this world! I will always be grateful for their knowledge, patience, kindness, and understanding during both my hospital stays.
In my hospital bag: I made onesies with the girls' names on them and brought fabric markers for my nurses, doctors, and visiting family to sign. It makes a wonderful memento to hang in their room!
Pampers knows the essential role nurses play during the first few minutes, hours and days between newborns and their parents and they want to thank them!
Nurse nominations can be submitted between November 9th and December 14th.
Three finalists, one in each category (Labor & Delivery, Neonatal Intensive Care Unit and Postpartum), will be announced in March and the grand prize honoree will be announced in May.
The three finalists will be honored with short documentary videos showcasing their unique and inspirational nursing stories.
Each of the three finalists will receive a one-year membership to the Association of Women's Health, Obstetric and Neonatal Nurses (AWHONN), attendance at the 2016 AWHONN Convention, Procter & Gamble care packages, and more.
In honor of these nurse winners, three Pampers Swaddlers scholarships will be made available to help nurses from underrepresented groups complete their studies toward a Master of Science in Nursing degree.
my favorite nurse at our local hospital, BJACH, on Ft Polk.
She is the lactation consultant and has supported and encouraged throughout both my pregnancies and with both my girls. Without her, I would have been clueless about breastfeeding and most likely given up during the difficult first weeks. I owe her so much! she is not just my favorite nurse but also a wonderful friend. Thank You Mrs. Marilyn!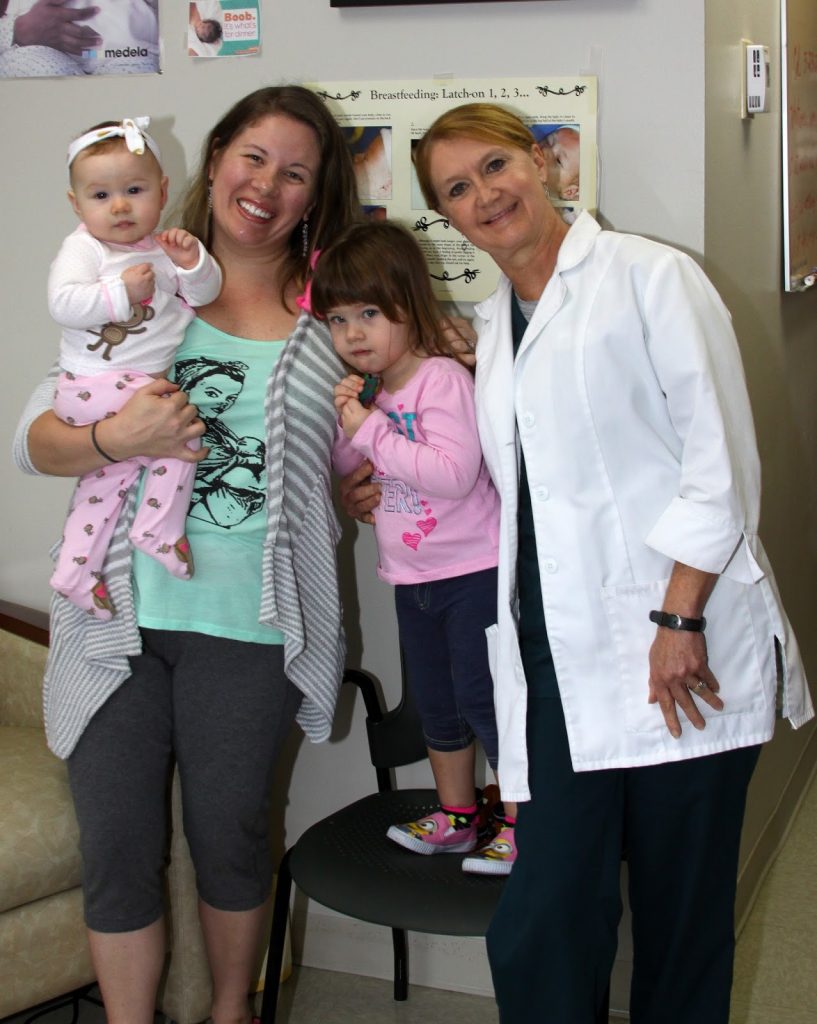 Stella, me, Ava, and my favorite nurse Mrs Marilyn.
The Pampers #ThankYouNurses Twitter Party
November 19 from 8-9pmCST
Prizes will include:
Prize 1: $50 AMEX plus diapers and wipes
Prize 2: $75 AMEX plus diapers and wipes
Prize 3: $125 AMEX plus diapers and wipes
Grand Prize: $350 AMEX plus diapers and wipes
RSVP: diapers and wipes
I found this cookie mix at Kroger in the Halloween clearance. I used the directions from the box to make the swirl cookies but I used my own rainbow icing colors.
In a large bowl combine cookie mix, butter, egg, and flour.
Stir until a dough forms.
It may appear dry at first but after 30 seconds it should come together.
Divide dough into five equal pieces and place into individual bowls.
Use a spoon or your finger to make a small indentation on top of each piece.
Add food coloring, about 10 drops each, into the indentation of each dough.
Use a different color for each bowl.
I decided to use icing food coloring,
which is thicker and brighter than traditional food coloring.
These can be found in the baking/craft aisle.
Thoroughly stir coloring into the dough until it becomes a solid color.
Wrap bowls with plastic wrap and refrigerate for at least an hour.
Remove from fridge and roll small 1/2 tsp size balls of dough from each bowl.
Position all 5 colored balls together and squeeze together.
Roll the dough into a rope about 8-10 inches long.
Coil the rope into a spiral shape, slightly twisting as you wind it around the center.
Repeat steps for the remaining dough.
Preheat oven to 350 degrees.
Place cookies 2 inches apart on a lined cookie sheet.
While the first batch bakes, place the remaining cookie dough in the fridge
so it does not become too soft.
Bake for 8-10 minutes.
Cool slightly then remove from cooking sheet to cool completely.
Store in a covered container.