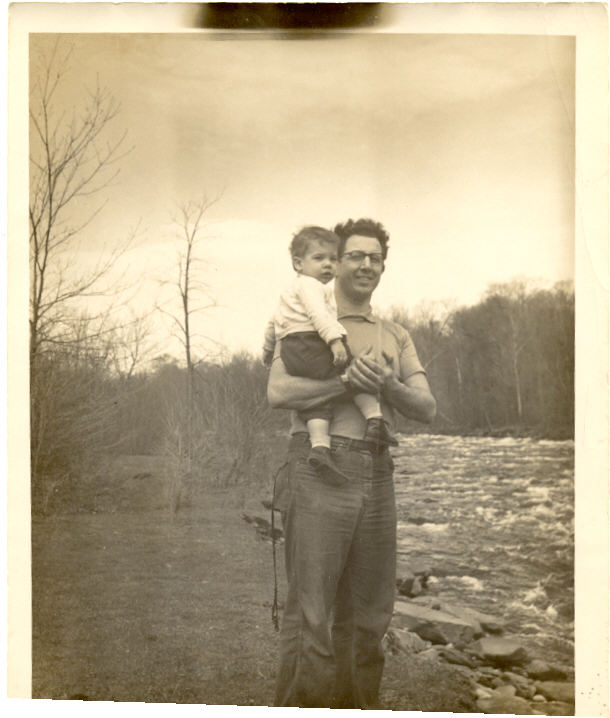 Grandpa Al and my Dad circa the 1950s.
My Dad and me circa forever ago!
Assunta Cantisano made the voyage from Italy to America with a little something extra up her sleeve, her family's recipe for tomato sauce– a secret and sublime combination of vine-ripened tomatoes, fresh basil, fennel, garlic and ground pepper, meticulously writing down every detail and hiding it for safe passage. It survived the long journey and even during the Great Depression Assunta was able to keep her family's heritage, tradition, and memories alive. She made and sold the sauce herself and it was loved by everyone who tried it. Today Ragú pasta sauce has been on shelves over 80 years and is still America's number one!


I used a package of five Sweet Italian Sausages for this recipe.
Remove sausage from the casings and crumble in a skillet.
Cook over medium heat until browned.
Remove to a paper towel lined plate to drain.
Now add diced onion to the hot skillet.
You can use the sausage drippings to saute them or drain and add olive oil.
Cook until softened, about 5 minutes then add garlic.
Cook for about 2 minutes or until browned then remove from heat.
Meanwhile, bring a large pot of salted water to a boil.
Add lasagna sheets and cook until done about 8 minutes or according to the package directions.
Spray a baking sheet with cooking spray.
Drain the pasta and lay each sheet flat on a baking sheet (or you can use a cutting board/s) to cool.
Then cut each sheet in half lengthwise.
In a food processor or blender add 3/4 of the sausage (about 3 of the 5 links worth), the ricotta cheese, and the onion and garlic mixture. Season with salt and pepper.
Pulse until creamy.
You want a smooth texture so stir and blend again if needed to remove any chunks.
Add 1/2 the jar of Ragù pasta sauce to the bottom of a
9X13 baking dish, spreading to cover.
Add a large spoonful of the sausage mixture on the end of each half lasagna sheet.
Roll up and place the rigatoni seam side down in rows
in the baking dish.
You should be able to fit about 18-20 in your dish.
Stir together the remaining sausage crumbles and the remaining
Ragù pasta sauce in a bowl.
Pour on top of the rigatoni, spreading to cover.
Add all the shredded mozzarella cheese on top, covering the pasta.
Cover with aluminum foil and bake for 15 minutes.
Remove the foil and bake for an additional 5 minutes.
Until the cheese is melted all over.