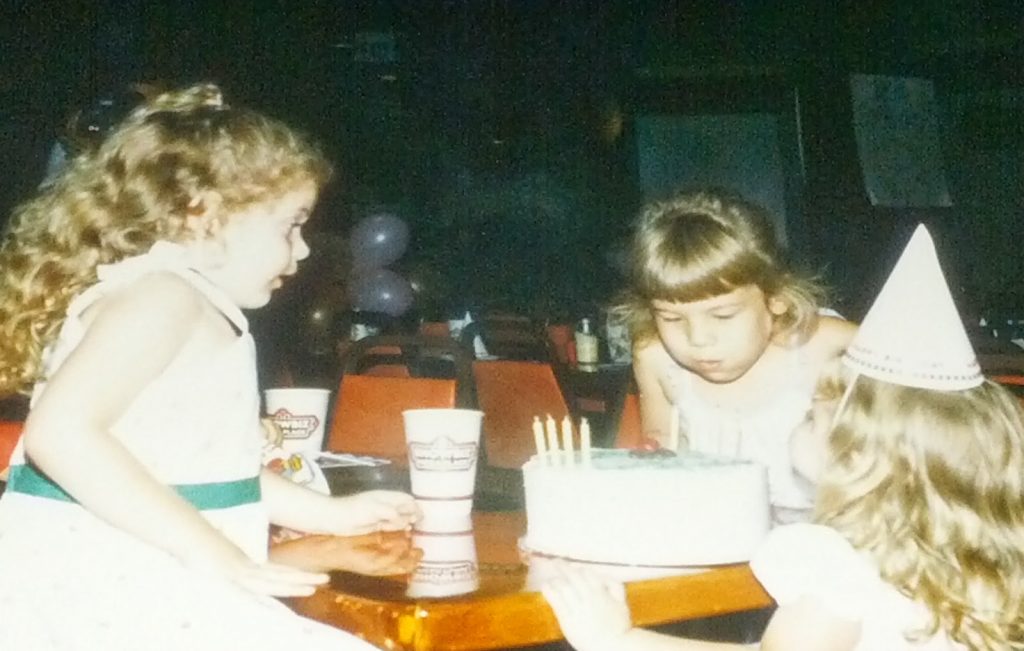 That's little Nicole in the middle circa late 80s on my birthday! You bet I ate at Red Lobster that night!

I started our meal with a virgin Berry Mango Daiquiri and Ava had Pink Lemonade. Festive drinks for Valentine's! Also how adorable is the heart in my drink!
Hot, fluffy, and tasty and, of course, Ava dug right in!
The stuffed mushrooms were hot and bubbly and covered in gooey cheese. Doesn't get much better than that! Check out those big chunks of seafood baked in!
Coconut Fried Lobster Tail.
Lobster and Shrimp Bake with Macadamia Nuts.
She liked the Lobster but Ava's favorite food of the night? Broccoli!
She may be cute but she sure is messy!
Atleast she ate most of the food she crushed on the table!
Oven Baked Coconut Shrimp with Pina Colada Dipping Sauce
Simply mix all three ingredients together for the pina colada sauce then refrigerate so it can chill and the flavors can blend. Absolutely delicious with seafood!
Preheat oven to 375 degrees. Line a baking sheet with aluminium foil and coat with non stick spray.
Rinse shrimp, pat dry. Make sure they are deveined and peeled with the tail on. To butterfly: using a small knife cut down the middle (where you would have deveined the shrimp) and spread the shrimp out.
Make a breading station with three bowls: one with shredded coconut and panko, one with flour, and one with pina colada mix and water.
Dip shrimp in pina colada mix, then flour, then back in pina colada mix, and then coconut panko. Let excess drip off and then lay each shrimp on the lined baking sheet.
Coat shrimp with cooking spray. Bake for 10 minutes at 375 degrees.
Turn over shrimp and bake for an additional 10 minutes so the shrimp is golden on both sides.
Two great meals, one out and one at home, that you will love!
Need some tips?