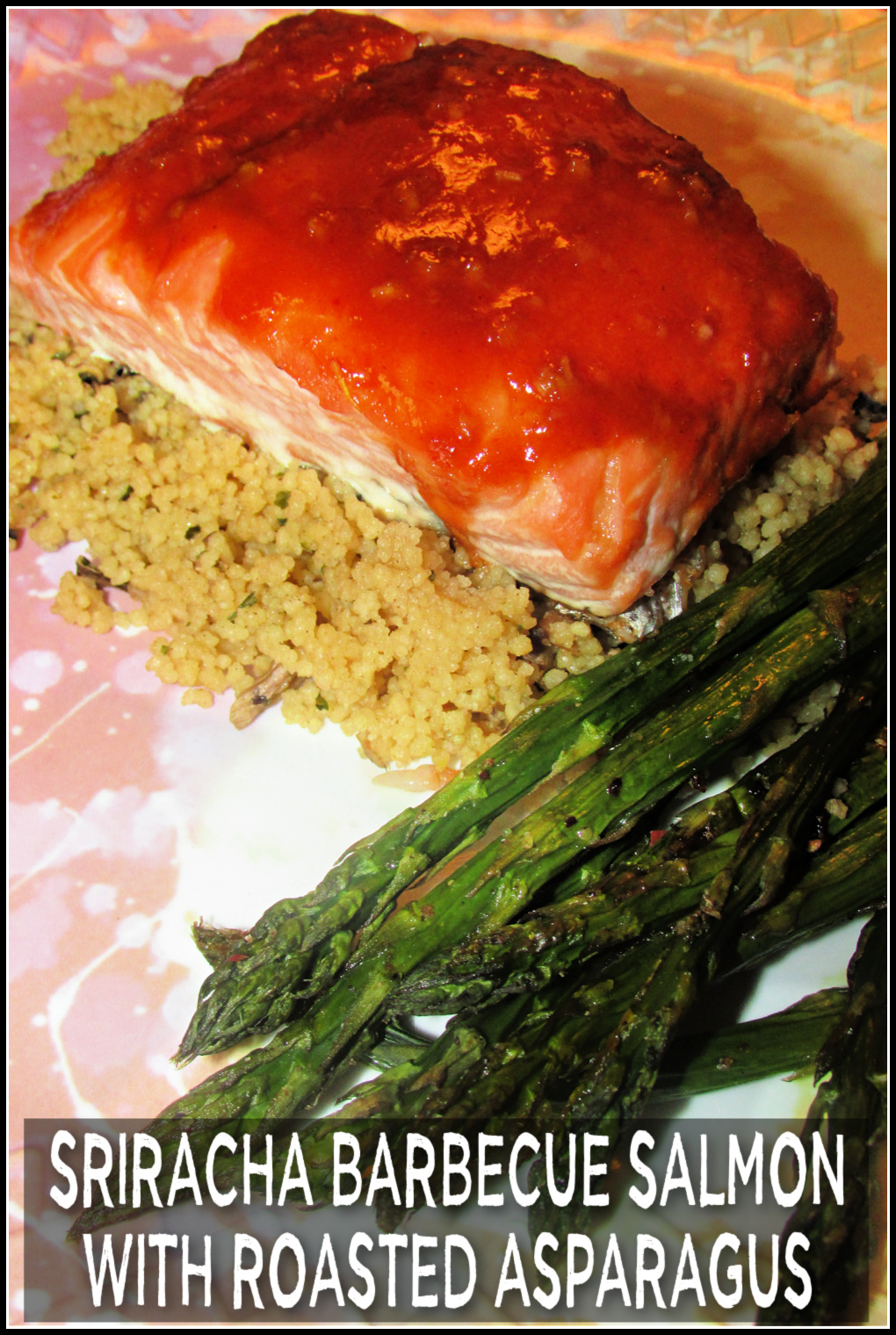 Salmon is a favorite in our house, especially with my daughter Ava. I came up with this BBQ recipe the other night when I wanted to do something different than my usual Brown Sugar Salmon. It's my kind of recipe: fast, simple, and full of flavor! Use the Sriracha to your taste (or omit it all together as I did for Ava).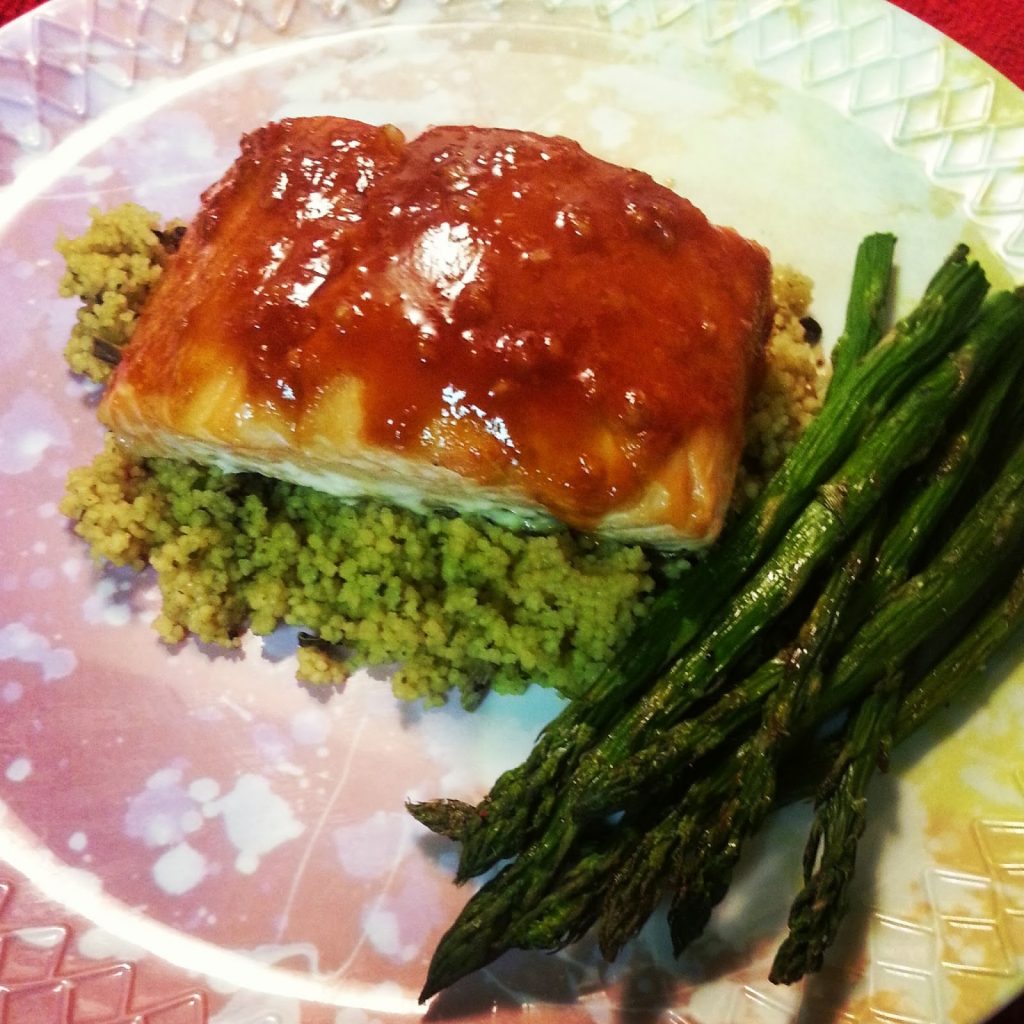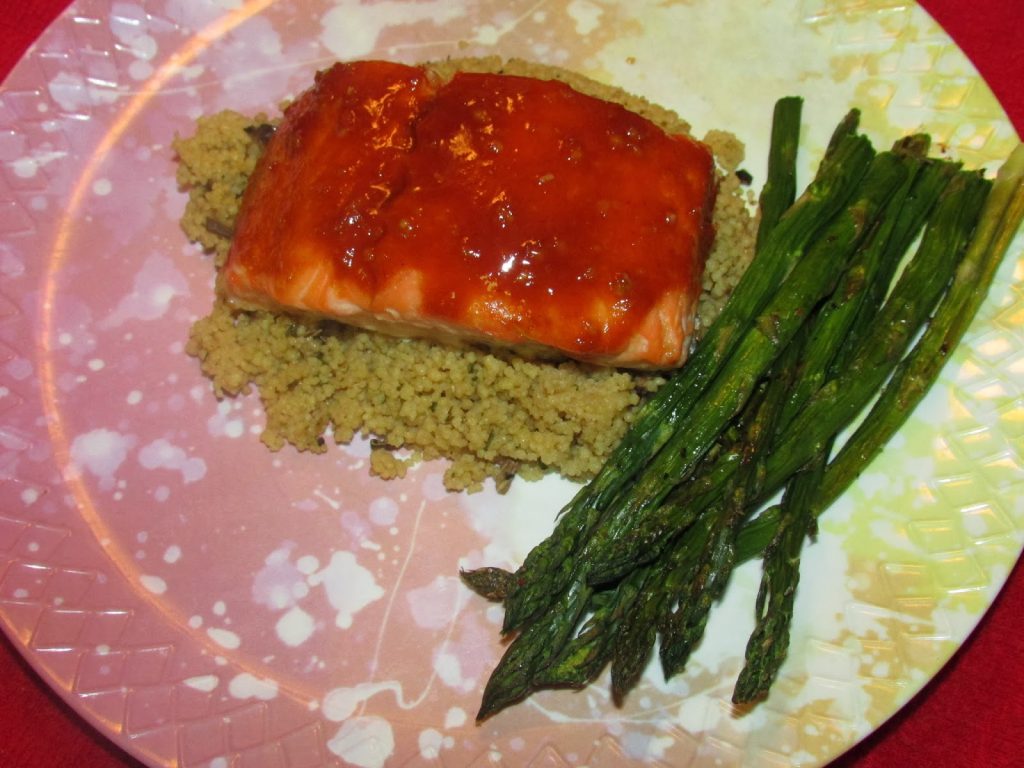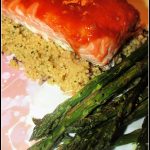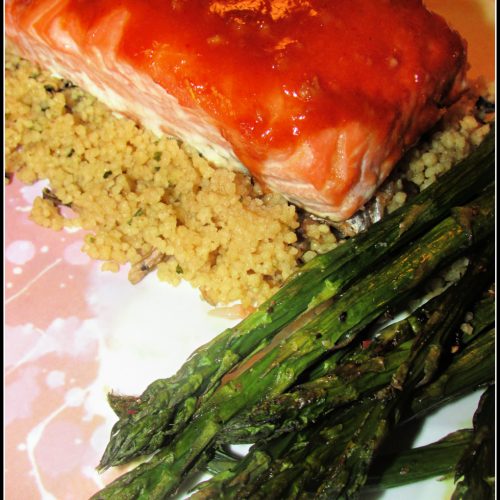 Print Recipe
Sriracha Barbecue Salmon with Roasted Asparagus
Makes 2 servings
Ingredients
For the Barbecue:
1

tablespoon

sesame oil

1

garlic clove

pressed

1

teaspoon

fresh ginger paste

1

tablespoon

lime juice

1

tablespoon

soy sauce

1

tablespoon

ketchup

1

teaspoon

dark brown sugar

1

teaspoon

or more to taste Sriracha hot sauce

2

6-ounce salmon fillets

1

bunch asparagus

tough ends removed

olive oil

sea salt/cracked black pepper

to taste
Instructions
Preheat oven to 350 degrees.

Rinse salmon, pat dry, and place in a baking dish.

In a food processor, mix together sesame oil, garlic, ginger, lime juice, brown sugar, soy sauce, ketchup, and Sriracha.

Pour sauce over salmon filets.

Spread asparagus on a baking sheet and drizzle with olive oil. Season with salt and pepper. *Or use lemon pepper and add fresh lemon zest after roasting.

Bake both asparagus and salmon for 20-25 min. Salmon should flake easily with a fork and be cooked through (or to your desired doneness).

Serve warm with a side of mushroom couscous.
Notes
Barbecue recipe adapted from Cooking Light.

Clean asparagus and trim tough ends. Season with salt and pepper and drizzle and toss with olive oil. Bake with salmon in a 350 degree oven for 20-25 minutes.
Optional: Lemon Asparagus- *Use lemon pepper instead of black pepper and add fresh lemon zest after roasting.
I ordered 1lb of salmon at the seafood department and once I was home I cut it into 4 filets. Since it's just my daughter and I, I freeze half for later. Rinse salmon and pat dry. Remove any stray scales or visible bones. Place in an 8X8 baking dish.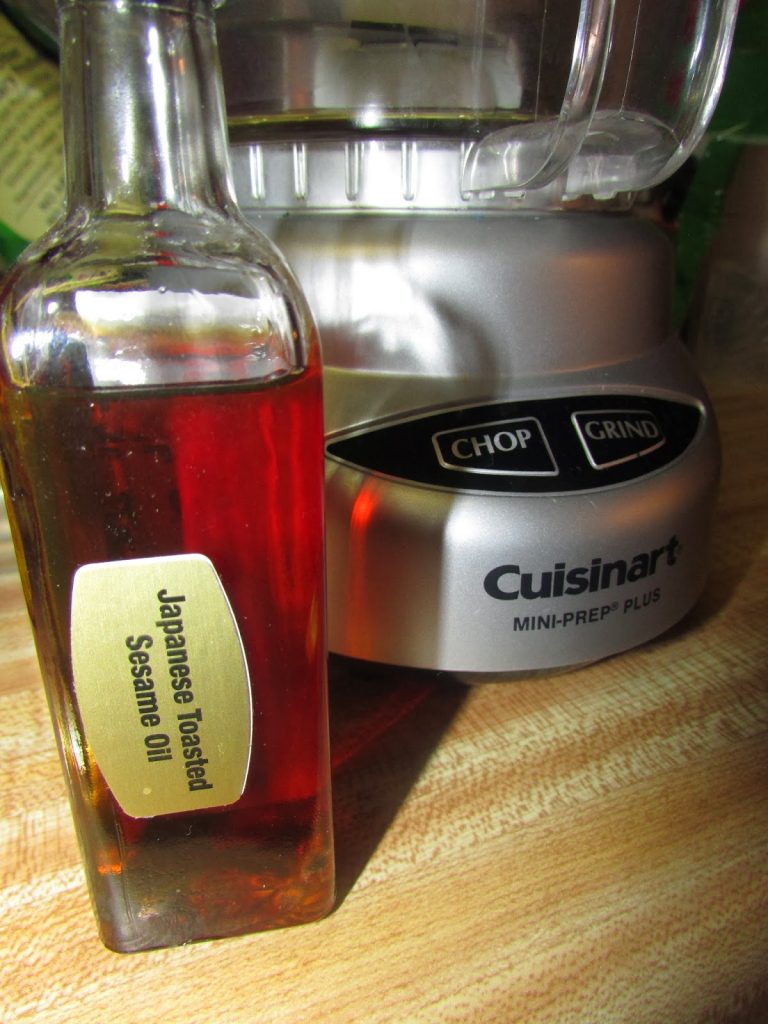 I used my favorite Sesame oil for the sauce and then mixed in all other ingredients.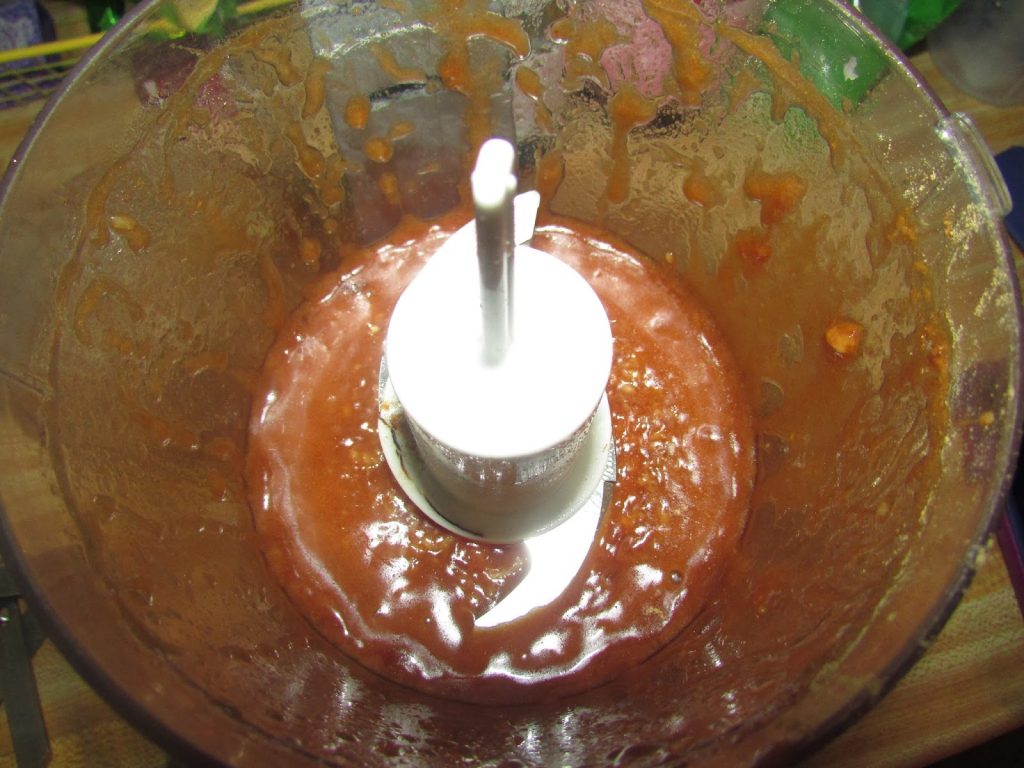 Pulse a few times in a food processor until combined. Taste and add more Sriracha for more heat.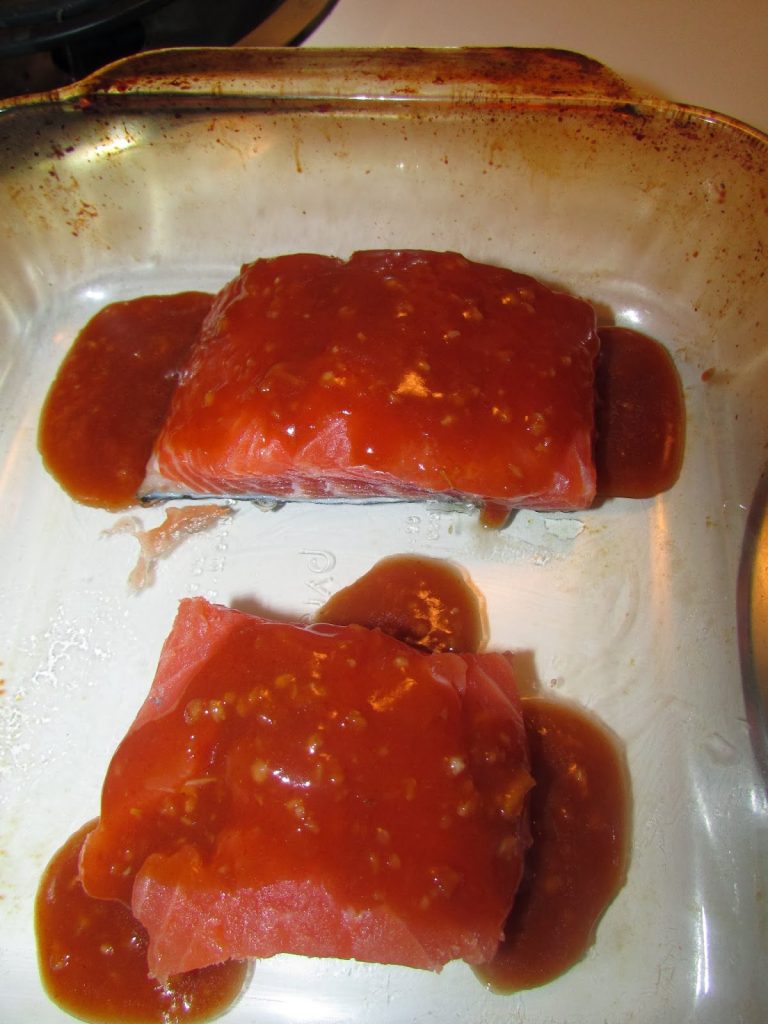 Drizzle liberally with sauce and bake at 350 degrees for approx. 20 minutes.
Salmon is done when it flakes easily with a fork and it is cooked through.
Serve with roasted asparagus and a side of mushroom couscous.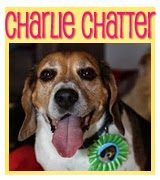 I am not a fan of
strong fishy flavors so I remove the skin on the bottom of the salmon before serving. Simply use a spatula or fork and gently lift skin and it should slide right off.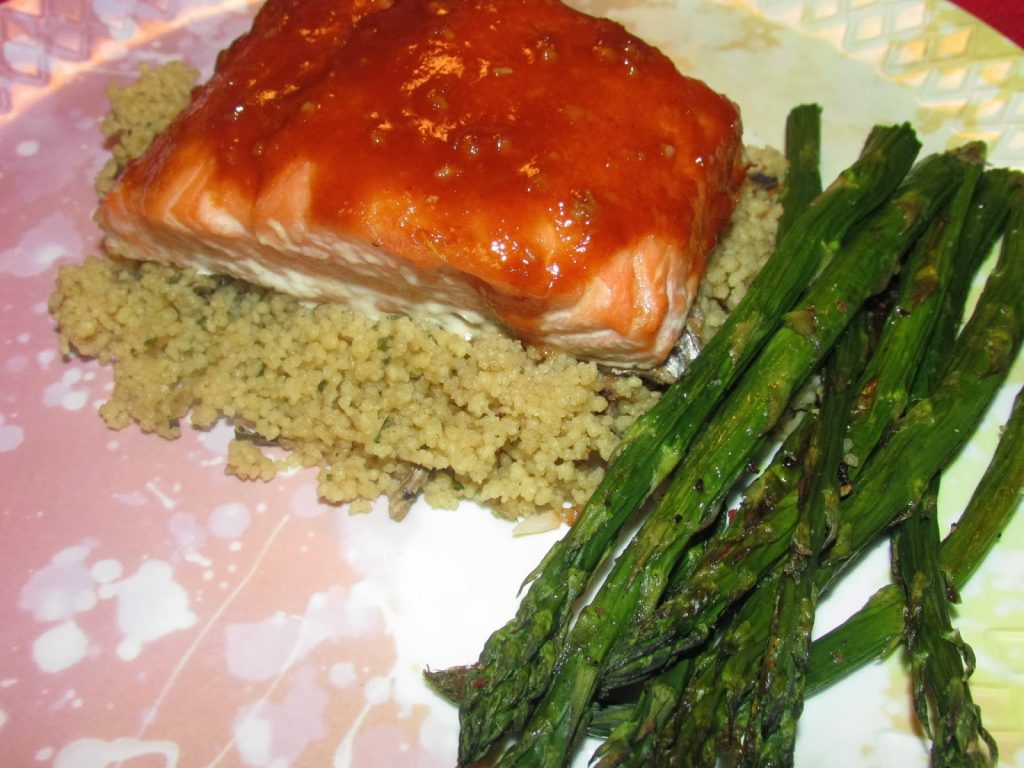 Sriracha BBQ Salmon with Roasted Asparagus and Mushroom Couscous
Dinner is served….and boy is it delicious!