That's right cooking friends! It's voting time again! I would really appreciate your voting support daily through June 6th!
Here you will log on to your Facebook account and "like" Rudi's and then you just have to click "Vote For This Recipe" on my (Recipe #41)!
Scroll down to see my recipe and cooking video~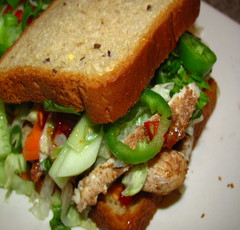 I love sandwiches and I love Asian flavors so I created this fresh, healthy, & spicy Five Spice Chicken Banh Mi on Rudi's hearty MultiGrain Gluten Free Bread. It's great for summer and it's loaded with crunchy veggies and mouth-watering flavors!
Five Spice Chicken Banh Mi
2 servings
Ingredients:
4 slices Rudi's MultiGrain Gluten Free Bread, toasted
2 boneless skinless chicken breasts
1/2 cup shredded lettuce
1/4 cup shredded carrots
1 1/2 tbsp rice vinegar
1/4 cup sweet red chili sauce
1/2 jalapeno, seeded & sliced thin
1 small red sweet salad pepper, seeded & sliced thin
1 tbsp olive oil
2 tbsp Chinese 5 Spice powder
2 tbsp light mayo
1 tbsp sriracha hot sauce
1/4 cup cilantro, chopped
1/2 English cucumber, sliced
2 tbsp green onions, chopped
Preparation Instructions:
Heat olive oil in skillet over med heat. Season chicken liberally with five spice powder and add to pan and cook until cooked through and juicy. Remove from heat, let cool slightly then slice into bite size strips. Toast 4 slices of Rudi's Multigrain Gluten Free bread. Mix mayo and sriracha in a bowl and then spread of inside of toasted bread slices. Split the chicken between two bread slices, piling on top. Then toss lettuce and carrots in a bowl with rice vinegar and add on top of chicken. Next add jalapeno, cucumber, cilantro, red pepper, and green onions. Top with a drizzle of sweet chili sauce. You may cut in half and secure with toothpicks if needed. Enjoy your delicious meal!
Happy Cooking!
~Nicole