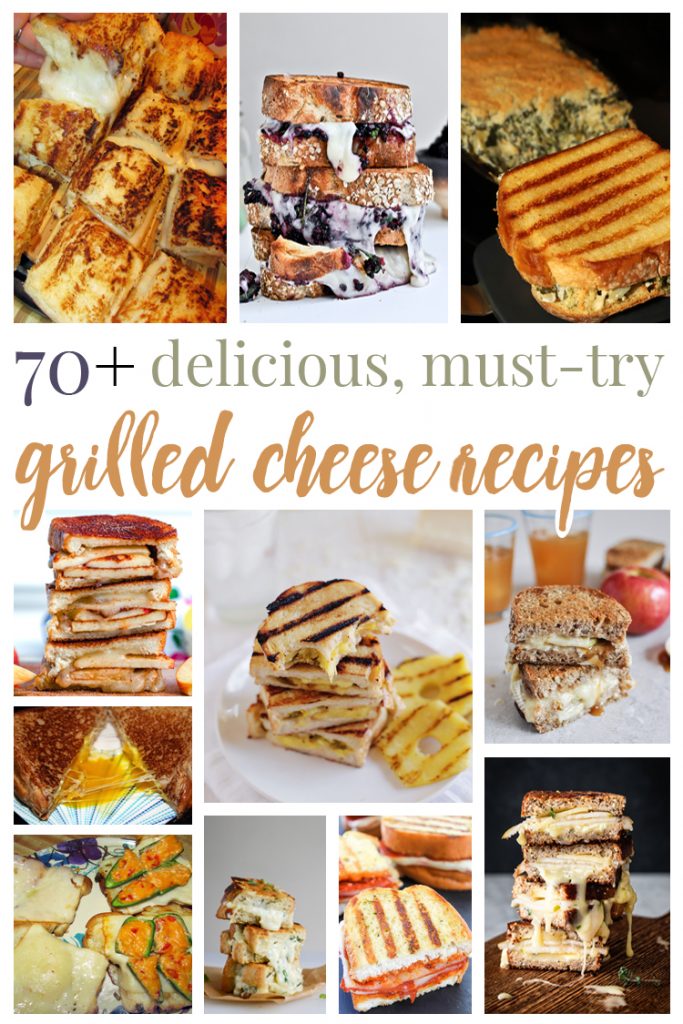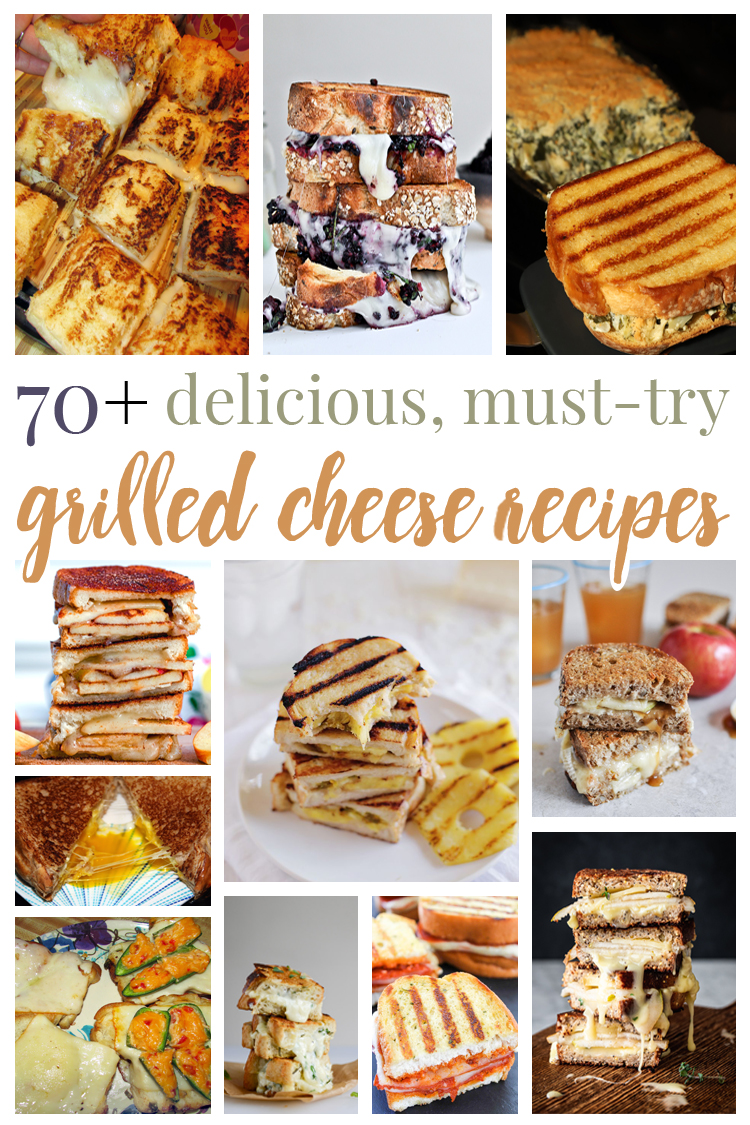 Happy Grilled Cheese Day!
One of my family's go to easy meals are grilled cheese sandwiches so today I'm sharing
over 70 of the best savory grilled cheese recipes for you to try and enjoy with your family at home.
Scroll down to check out all the recipes and photos below!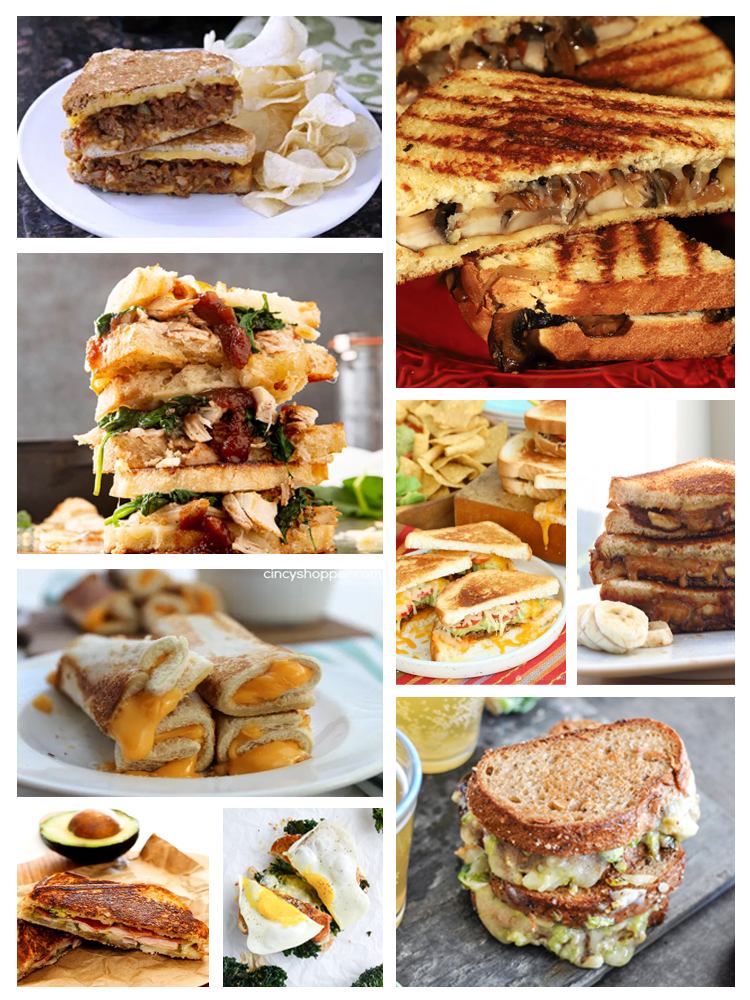 2. Grilled Fontina + Blackberry Basil Smash Sandwiches – How Sweet Eats
3. Sloppy Burger Grilled Cheese – Snappy Gourmet
4. Grilled Cheese Roll-Ups – Cincy Shopper
5. Nutella Cookie Butter Banana Grilled Cheese – Joyous Apron
6. Pepperoni Pizza Grilled Cheese – Baking Beauty
7. Taco Stuffed Grilled Cheese Sandwich – Love Bakes Good Cakes
8. Monte Cristo Grilled Cheese Sandwich – Dinner Mom
9. Herbed Pepperoni Grilled Cheese Sandwich – Lady Behind the Curtain
10. White Pizza Grilled Cheese – How Sweet Eats
11. Italian Grilled Cheese Sandwich – A Night Owl Blog
12. Gourmet Triple Grilled Cheese Sandwiches – Around My Family Table
13. Cobb Grilled Cheese – Foodiecrush
14. Sweet Heat Grilled Cheese Sandwiches – A Beautiful Mess
15. Spicy Mini Meatball Grilled Cheese – How Sweet Eats
16. Jalapeno Popper Grilled Cheese Sandwich – Spabettie
17. Grilled Cheese Roll Ups With Tomato Soup Dipping Sauce – Chocolate Moosey

19. Strawberry Chicken Salad Grilled Cheese – Snappy Gourmet
20. Monterey Grilled Cheese – Food Folks and Fun
21. Five Ingredient Grilled Cheese & Tomato Naan with Sun Dried Tomato Pesto – Mashup Mom
22. Crispy Kale Grilled Cheese with Fried Eggs – How Sweet Eats
23. Buffalo Chicken Grilled Cheese – We Are Not Martha
24. Grilled Cheese in Air Fryer – The Typical Mom
26. Breakfast Bacon and Egg Grilled Cheese Sandwich – Serena Bakes Simply from Scratch
27. Grilled Cream Cheese Sandwich with Mix Veggies – Veg Recipes of India
28. Grilled Ham and Cheese Sandwich – Kids Activities Blog
29. BBQ Pulled Pork and Smoked Gouda Grilled Cheese –
30. Roasted Strawberry, Brie + Chocolate Grilled Cheese – How Sweet Eats
31. Hawaiian Pizza Grilled Cheese Sandwich – Love Bakes Good Cakes
32. Pesto Grilled Cheese – Beyond the Chicken Coop
33. Prosciutto, Raspberry and Brie Grilled Cheese – Pumpkin 'n Spice
34. Leggo my Eggo Grilled Cheese Sandwich – Stockpiling Moms
35. Keto Cauliflower Grilled Cheese – Oh So Foodie
36. Caramel Apple Grilled Cheese – How Sweet Eats
37. Cinnamon Sugar Brie and Apple Grilled Cheese – We Are Not Martha
38. Grown-Up Grilled Cheese Sandwiches with Apple Butter – That Susan Williams
39. The Almost-Perfect Grilled Cheese Sandwich – Chocolates and Chai
40. Brie and Prosciutto Panini Sandwiches – What A Girl Eats
41. Bacon & Jalapeño Pimento Grilled Cheese Sandwich – Drugstore Divas
42. Crockpot Pulled Pork + Beer Cheese Grilled Cheese Sandwiches – How Sweet Eats
43. Buffalo Shrimp Grilled Cheese – Snappy Gourmet
44. Balsamic Brussels Sprouts Grilled Cheese – How Sweet Eats
45. Irish Apple Pie Twice-Grilled Cheese Sandwich – The Good Hearted Woman
46. Caramelized Fennel, Onion & Kale Toasted Cheese Sandwich – Platter Talk
47. Air Fryer Grilled Cheese Sandwich – Nourish Plate
48. Grilled Cheese with Tomato, Avocado, Bacon, and Arugula – Good Life Eats
49. Apple Butter Turkey Spinach Grilled Cheese – Basil and Bubbly
51. Caprese Grilled Cheese – Fantabulosity
52. Cauliflower Grilled Cheese With Fig Jam & Cheddar – Swirls of Flavor
53. Tomato, Avocado and Mozzarella Grilled Cheese – Pumpkin 'n Spice
54. Grilled Goat Cheese Sandwich with Pesto & Arugula – Erhardt's Eat
55. Pizza Grilled Cheese – Easy Budget Recipes
56. Triple Grilled Cheese – Culinary Ginger
57. Best Ever Air Fryer Grilled Cheese – Recipes from a Pantry
58. Asparagus and Lobster Grilled Cheese – Simple Bites
59. Grilled Mozzarella Cheese and Red Pepper Sandwiches – Christina's Cucina
60. Pesto, Provolone, & Avocado Grilled Cheese – Frugal Nutrition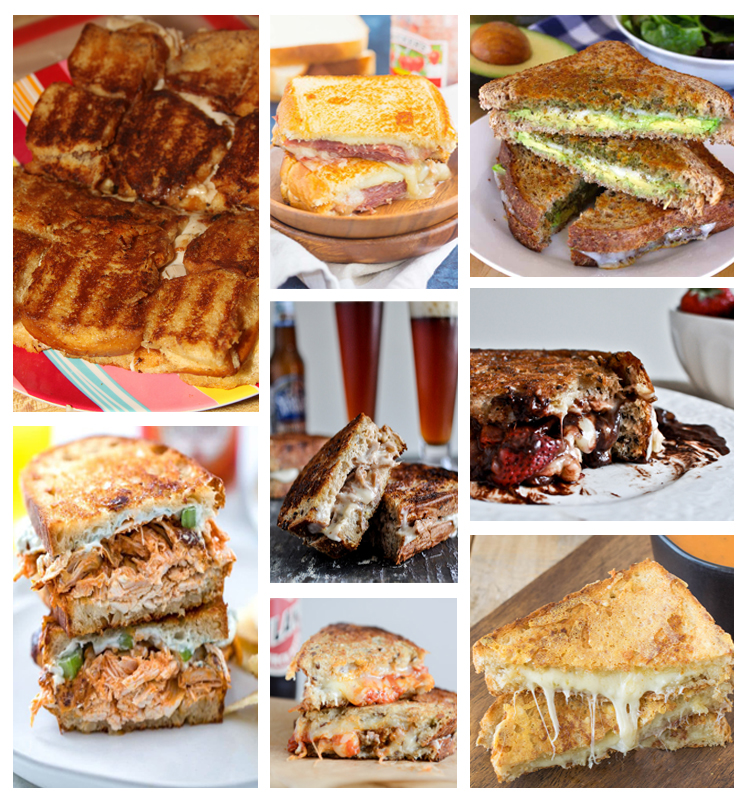 62. Best Ever Gourmet Grilled Cheese with Two Cheeses and Roasted Garlic Artisan Bread – Mommy Kat and Kids
63. Brie & Pear Grilled Cheese Sandwich – Le Petit Eats
64. Healthy Vegan Grilled Cheese Sandwich – Nutriciously
65. Fried Egg Grilled Cheese Sandwich – Great Grub Delicious Treats
66. Sloppy Joe Grilled Cheese – Dinner then Dessert
67. Gourmet Grilled Cheese with Salmon – Dizzy Busy and Hungry
68. Bacon, Egg & Hash Brown Grilled Cheese Sandwich – Brown Eyed Baker
69. Trainwreck Grilled Cheese – Olivia's Cuisine
70. Hawaiian Pizza Grilled Cheese – The Cookie Rookie
71. Bacon, Pear, and Fig Grilled Cheese – Savory Experiments
72. Strawberry Moscato Gourmet Grilled Cheese – Food Meanderings