It's that time again y'all: Meatless Monday!
This week I am cooking up one of my fave foods, avocados.
But instead of the traditional way of just slicing and serving I fill the sliced avocado with cheese and broil it! Seriously is your *mind blown*?! Broiling avocado?! It takes literally a couple minutes and you have a soft, cheesy, crunchy entree that is meat free and absolutely delicious! I served my avocados with couscous filled with sauteed mushrooms and onions and roasted asparagus.


Ingredients:
Makes 2 servings
2 large Hass avocados, ripe
1/3 Parmesan cheese, grated
1/4 cup seasoned panko breadcrumbs
lemon juice
olive oil
1 cup chicken broth
1/2 cup couscous
4oz mushrooms, diced
1/2 small yellow onion, diced
bunch of asparagus, bottoms trimmed
lemon pepper seasoning, to taste
salt/pepper, to taste
Directions:
Preheat oven to 350 degrees.
Spread asparagus in an even layer on a baking sheet.
Toss with olive oil, sea salt, and lemon pepper.
Roast for 15-20 minutes until fork tender.
Bring broth to a boil, add couscous and 2 tsp olive oil. Remove from heat and cover for 5 minutes.
Meanwhile, heat a skillet over medium, add a swirl of olive oil, and add diced onions and mushrooms. Cook until softened, about 5 minutes. Season with salt and pepper.
Stir mushroom mixture into couscous and add a tbsp of lemon juice.
Once asparagus are cooked, remove from oven and turn temperature up to broil.
Slice avocados open. Make slits throughout so the avocado cooks.
Squeeze a little lemon juice, just a few drops, on each avocado slice.
Toss the panko and Parmesan in a bowl and pat it all over the avocado slice.
Drizzle with olive oil, place on a baking sheet, and broil for 1-3 minutes depending on size of the avocado. Keep an eye on it and when it browns take it out! Mine took about 1 min 15 seconds.
Serve 2 avocados slices with a large scoop of couscous and half the asparagus. Add more lemon juice to the avocado and asparagus if you would like.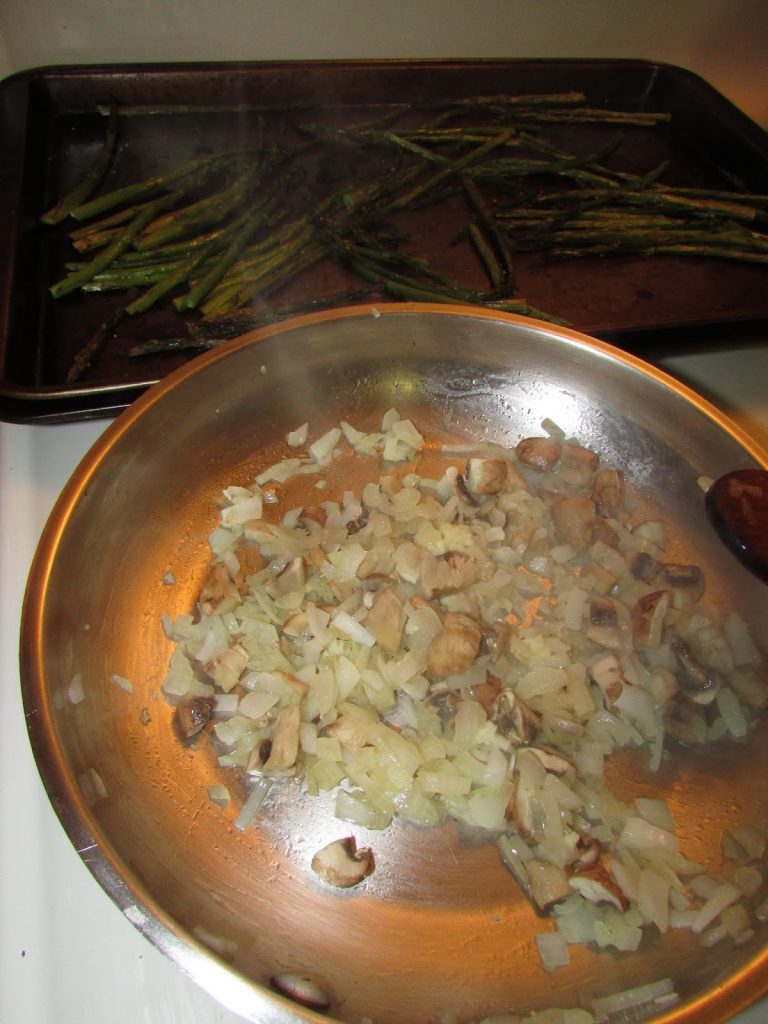 Cook the onions and mushrooms and roast the asparagus.
Cook the couscous, add the onions and mushrooms, and finally add a couple tsps of lemon juice.
Add lemon juice, fill each avocado with seasoned panko and parmesan, and drizzle with olive oil.
Broil for 1-2 minutes until melted and golden.