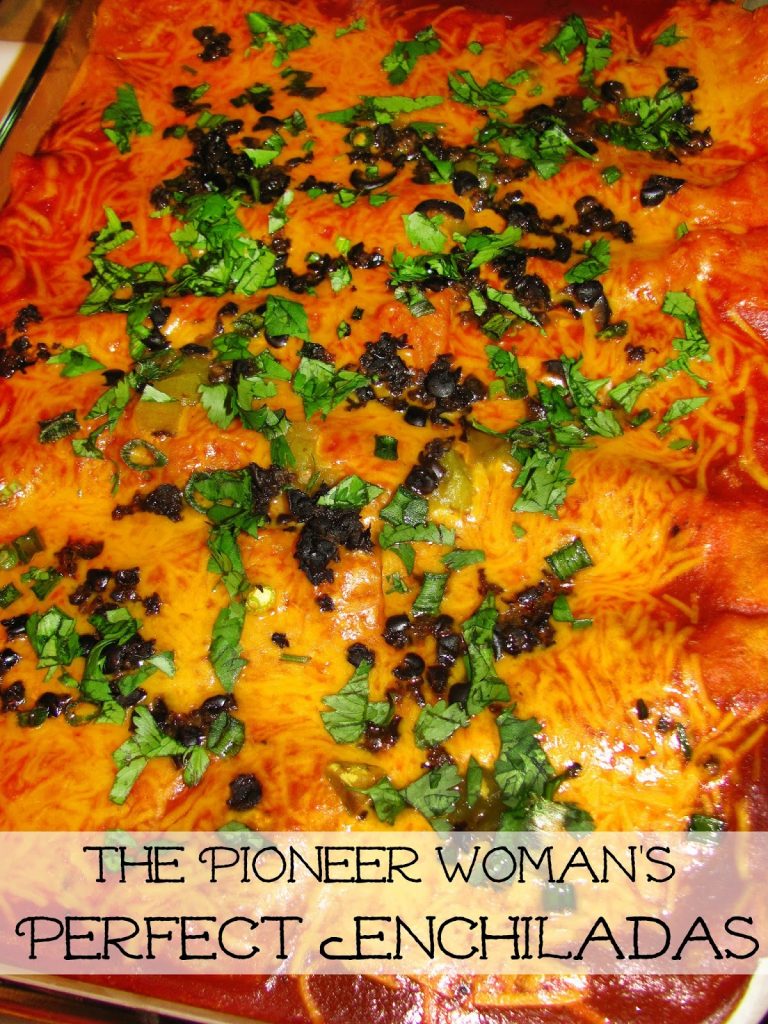 Recently my husband had a couple busy weeks at work, so I knew when the weekend finally rolled around I wanted to make him a mouthwatering meal that would put a smile on his face (and fill his tummy!) After all, as you know, I like to show my love and appreciation through my food! Well, it just so happened an episode of The Pioneer Woman was on that day and she made these delicious enchiladas for her brother. I was intrigued by her use of green chilies (my husband's favorite) and her technique of frying and soaking the tortillas. I have a favorite enchilada recipe of my own: Creamy Chicken Enchilada but this recipe was so completely different from my version I had to give it a try. Boy, I am glad I did (and so was my happy hubby!).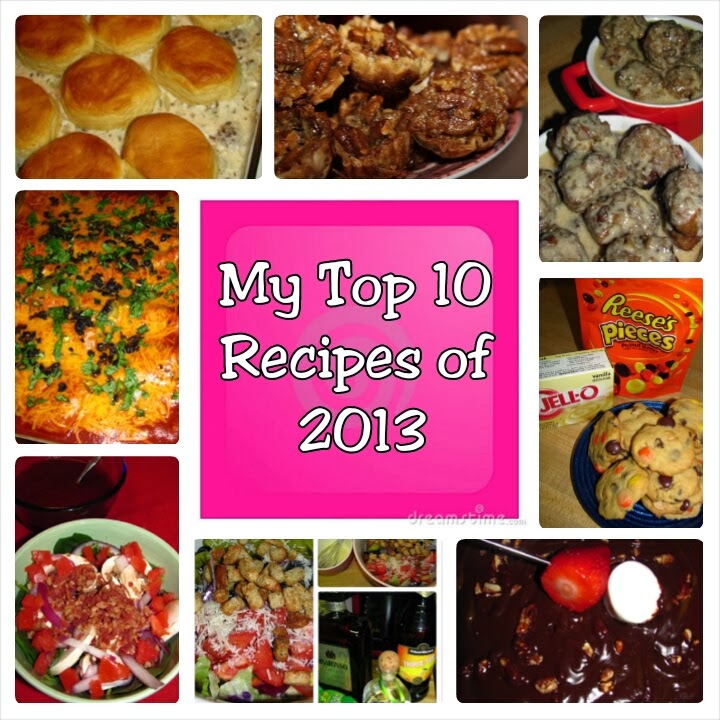 This recipe was my #5 most popular recipe in 2013! View the Top 10 here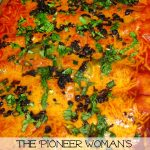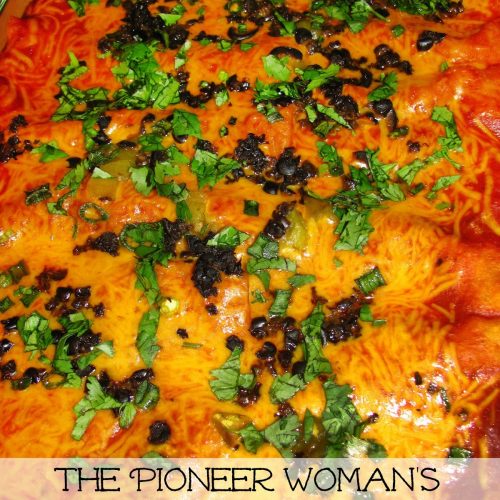 Print Recipe
Pioneer Woman's Perfect Enchiladas
Makes 10-14 enchiladas
Ingredients
Sauce:
2

tablespoons

canola oil

2

tablespoons

all-purpose flour

One 28-ounce can enchilada or Mexican red sauce

2

cups

chicken broth

1/2

teaspoon

salt

1/2

teaspoon

black pepper
Meat:
1

pound

ground beef

1

medium onion

finely chopped

1/2

teaspoon

salt
The Rest:
Canola oil

for frying

10 to 14

corn tortillas

2

4 ounce

cans diced green chilies

1

cup

chopped green onions

1/2

cup

chopped black olives

3

cups

grated sharp Cheddar cheese

Cilantro

for garnish
Instructions
For the sauce:
In a saucepan over medium-low heat, combine the canola oil and flour.

Whisk together and allow to bubble for 1 minute.

Pour in the red sauce,

chicken broth, salt and pepper. Bring to a boil.

Reduce the heat and simmer while you prepare the other ingredients.
For the meat:
While the sauce is simmering, brown the ground beef with the onions in a large skillet over medium-high heat.

Drain the fat, add the salt and stir to combine.

Turn off the heat and set aside.
For the rest:
In a small skillet over medium heat, heat some canola oil.

Lightly fry the tortillas just until soft. Do not crisp.

Drain on a paper towel-lined plate.

Repeat until all the tortillas have been fried.

Preheat the oven to 350 degrees F.

Spread 1/2 cup of the sauce in the bottom of a 9- by 13-inch baking dish.

Next, one at a time, dip each tortilla into the sauce.

Set the sauce-soaked tortilla on a plate.

Place on some of the meat mixture, chilies, green onions and black olives.

Top with a generous portion of grated Cheddar.

Roll up the tortilla to contain the filling inside.

Place the tortilla seam side down in the baking dish.

Repeat with the rest of the tortillas and pour the remaining sauce over the top.

End with a generous sprinkling of cheese and any other bits of chiles, green onions or olives you have left over from the filling.

Bake the enchiladas for 20 minutes, or until bubbly.

Sprinkle chopped cilantro over the top and serve.
Notes
Recipe from The Pioneer Woman on Food Network.

Mix oil and flour to make a roux. Then add enchilada sauce and chicken broth.
The roux is your base and will thicken your sauce.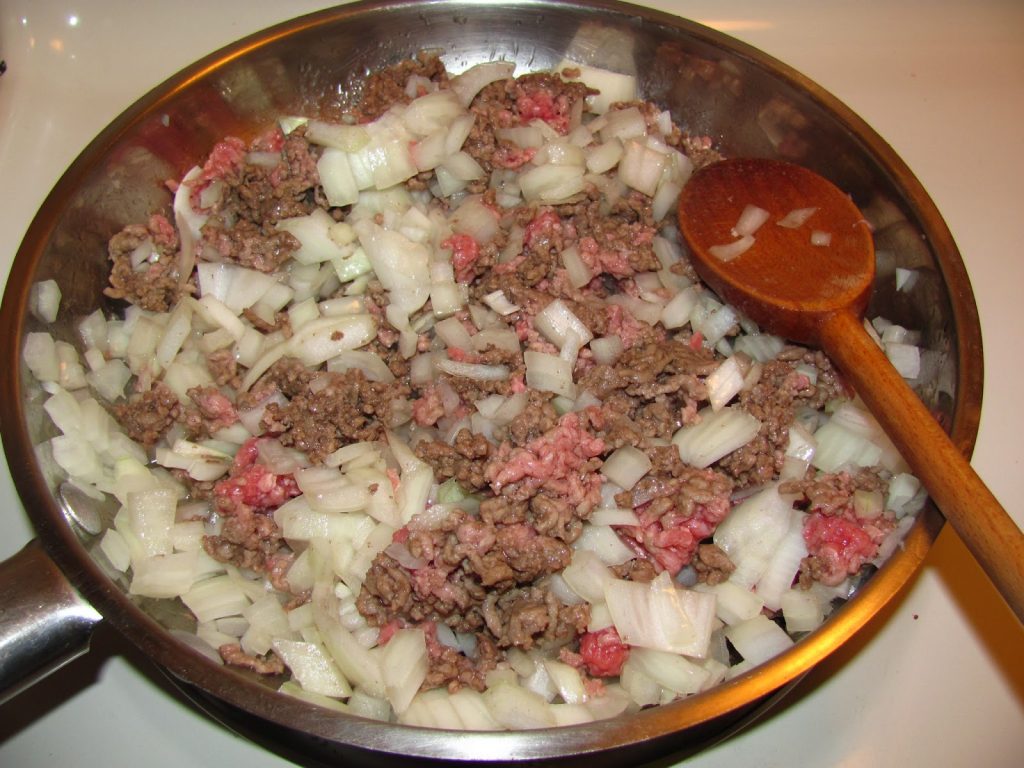 Cook your crumbled ground beef and diced onion until cooked through.
Carefully quick fry your corn tortillas, just for about 30 seconds.
You do not want to make them crispy! Drain on paper towel.
Pour 1/2 cup or so of the enchilada sauce in your dish then using tongs (this can get messy!) dip your fried tortillas in the enchilada sauce then lay on a plate and add your fillings in the middle, roll up, and place seam side down in the baking dish.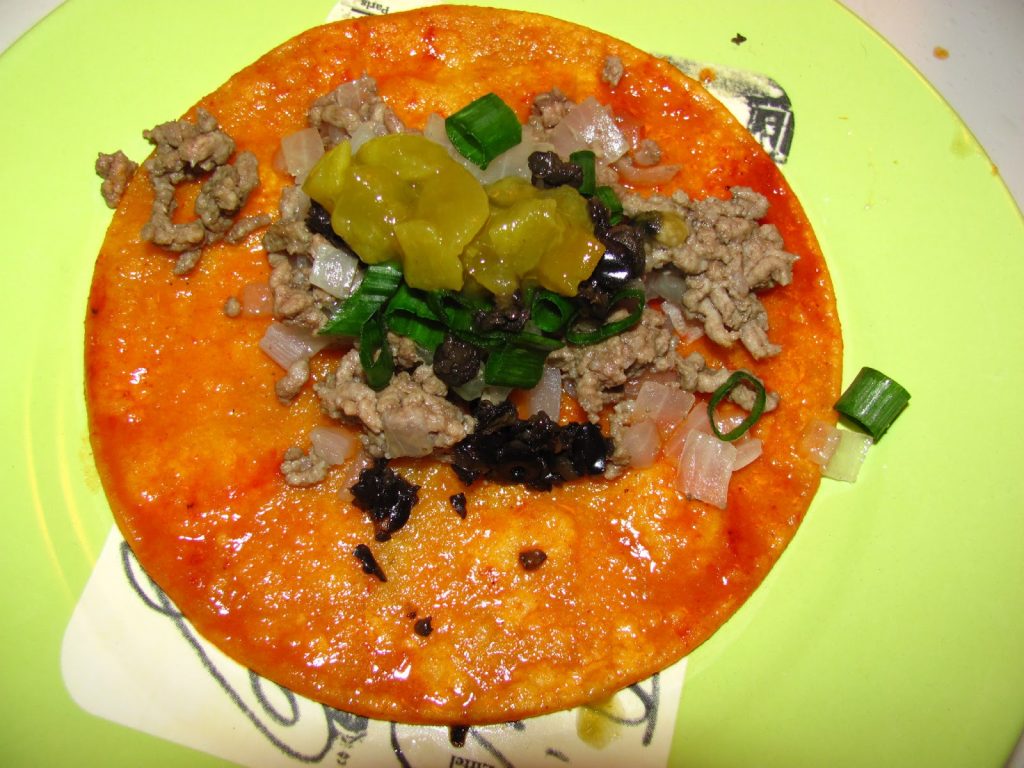 Filled to the brim, just add cheese and ready to be rolled up!
I fit 7 across, 14 total in my baking dish.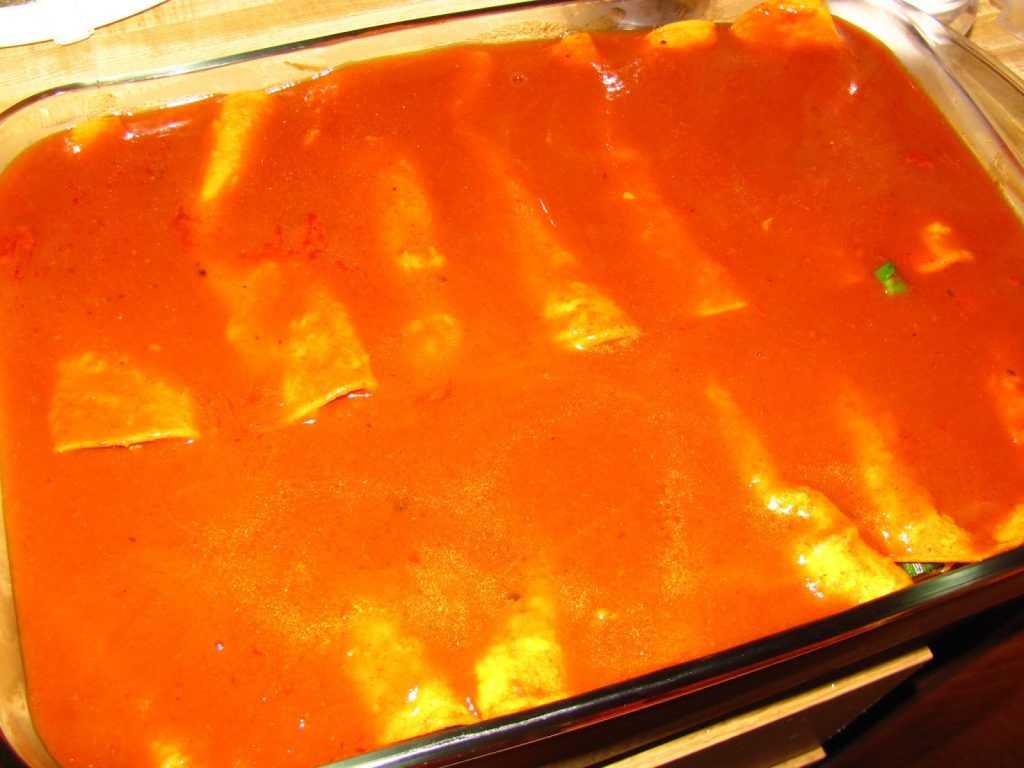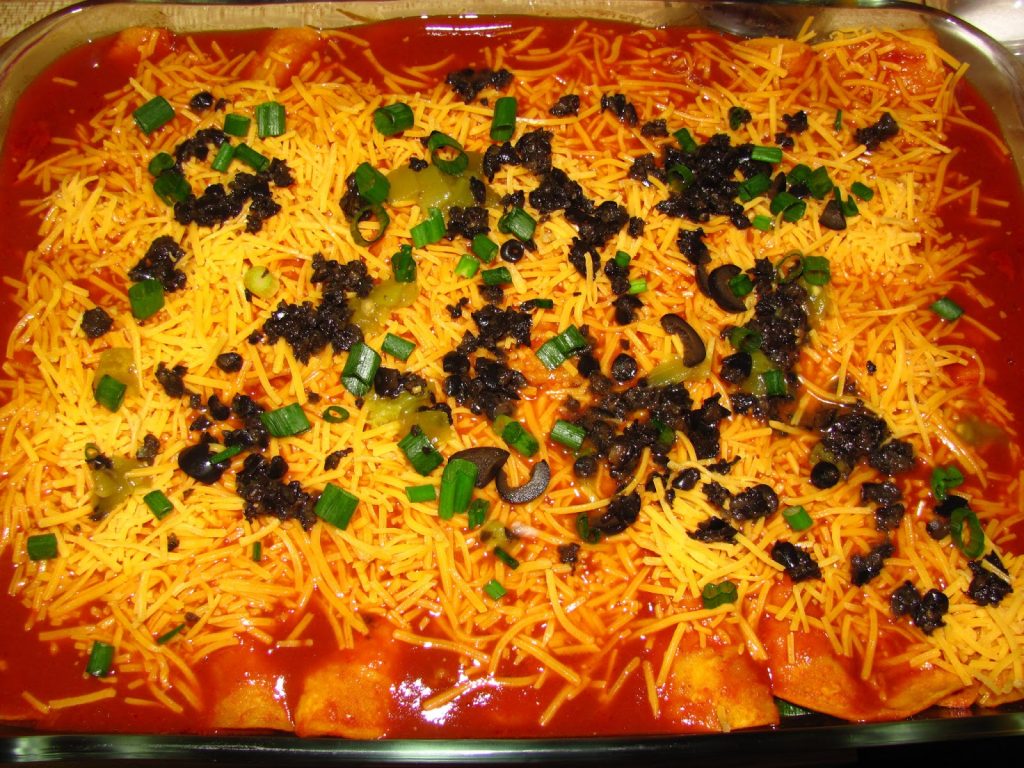 Pour the remaining sauce on top then add cheese and remaining toppings.
Bake in a 350 degree oven for 20 minutes.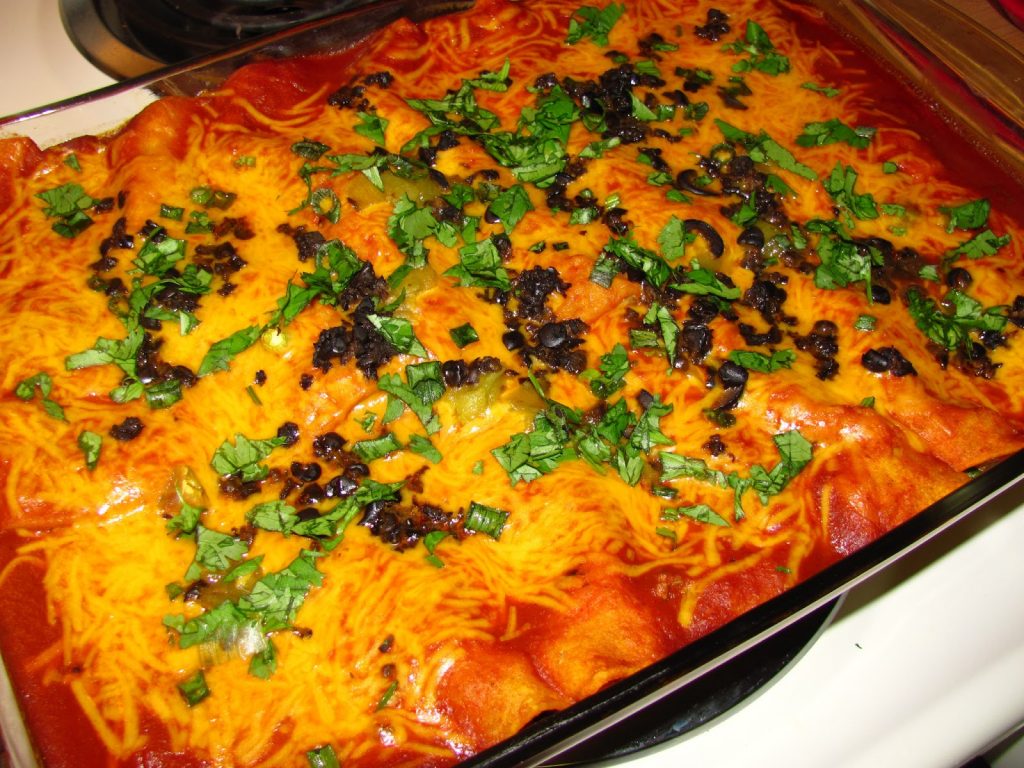 Hot and bubbly and amazingly delicious. top with cilantro and you are ready to serve.
She served these with lime rice on her show but we ate these alone. They were rich and filling on their own!