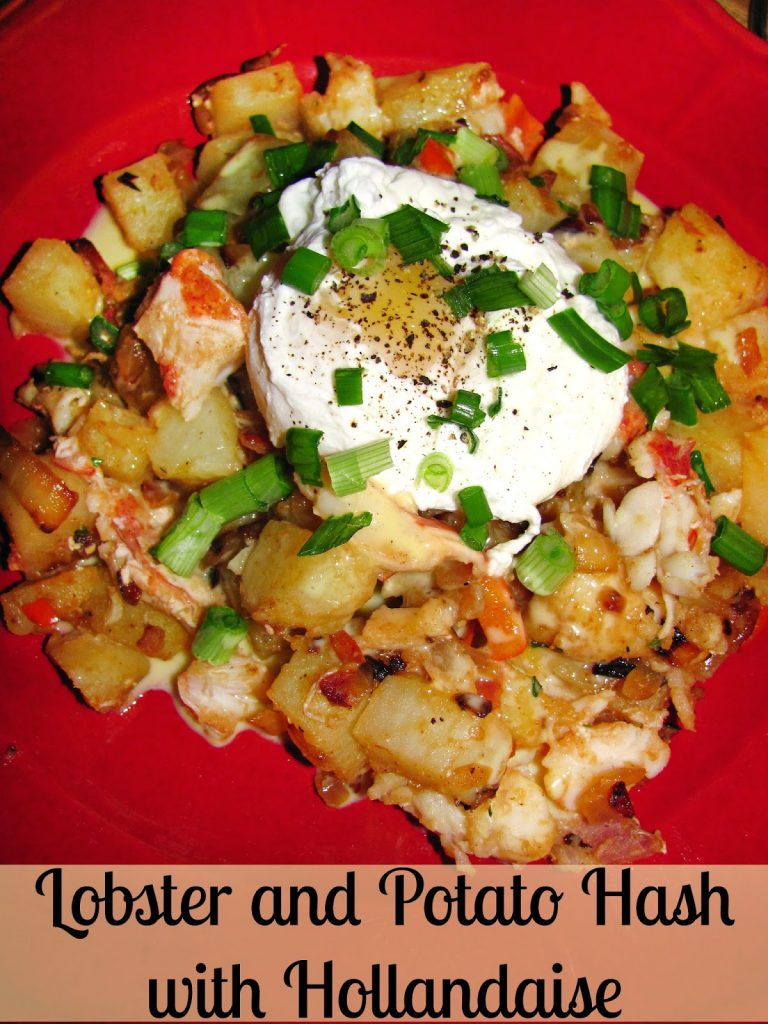 Lobster is a favorite seafood splurge for us, especially on a certain day every year: Jan 26th. That's my beagle, Charlie's birthday. This year he turned 8 and call me crazy but I swear my dog's favorite food is lobster- he goes nuts for it! So every year I make him his own steamed lobster and we have a Lobster Feast too! I've made Lobster Rolls, Lobster & Egg Salad Sandwiches, & Lobster Thermidor…and this year I decided to make Lobster Hash!

This homey meal is great for a hearty brunch or a delicious dinner.

Checking out his favorite food.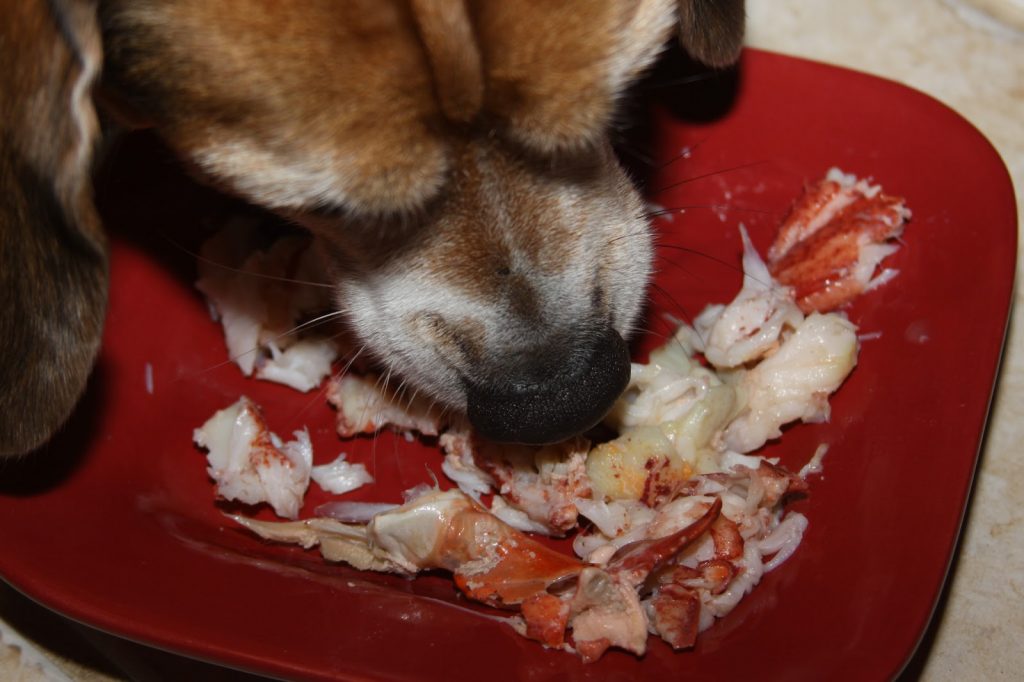 Charlie's portion!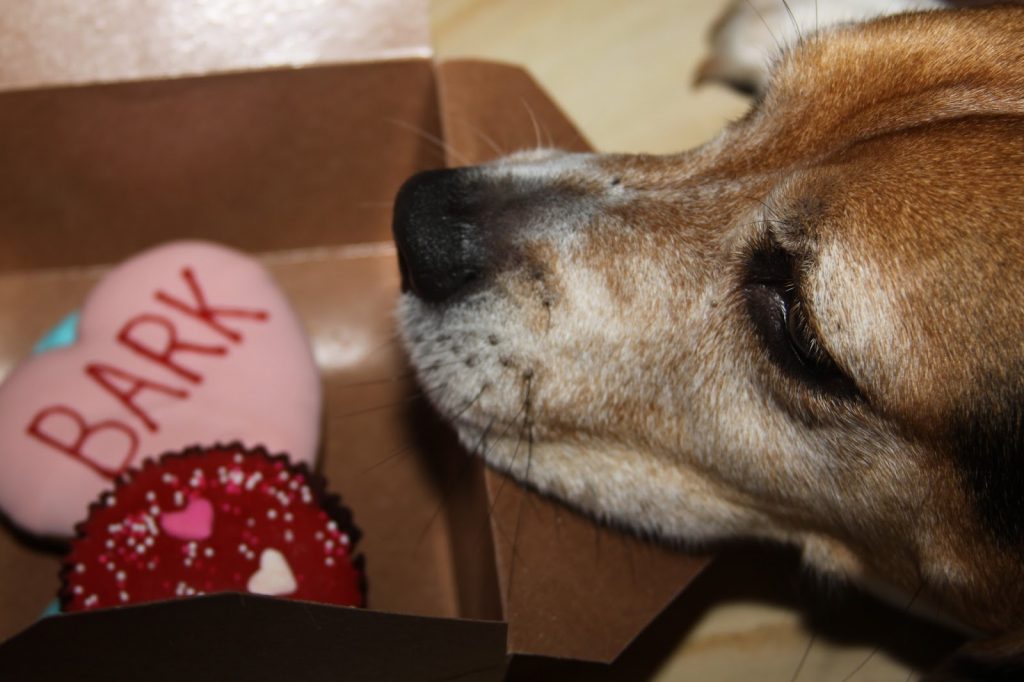 I also stopped at the dog bakery and picked up some special birthday dog cookies for my boy.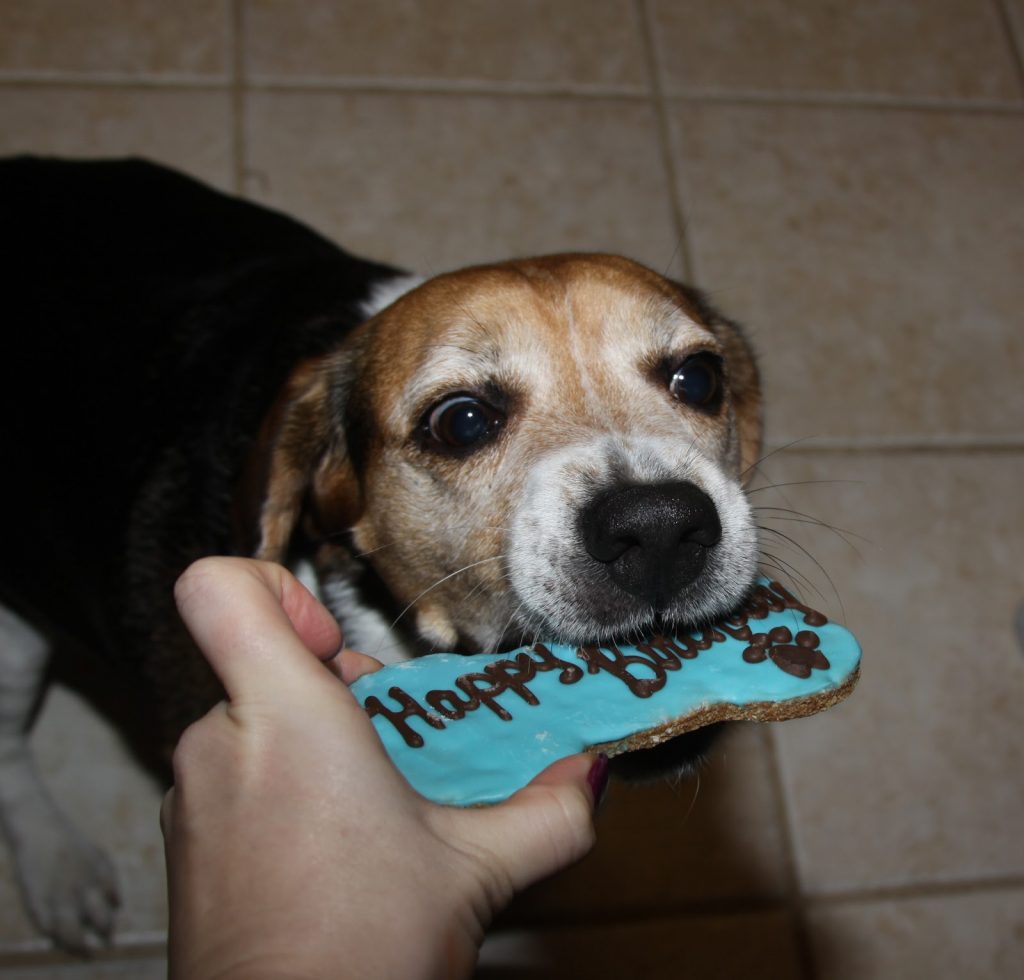 Dylan and my parent's dog Jagger got some sweet treats too!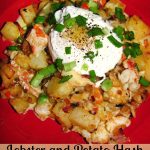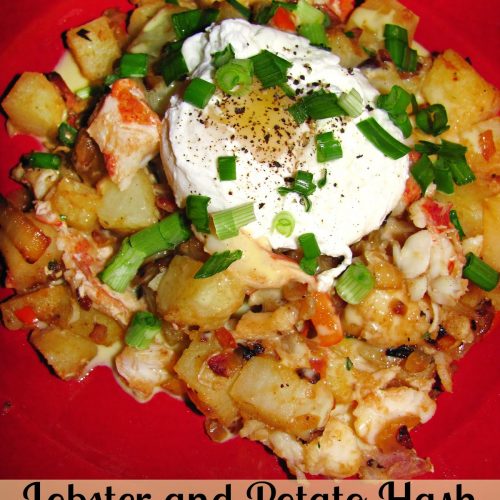 Print Recipe
Lucky Dog Lobster and Potato Hash with Hollandaise Sauce
Serving size : 2 large brunch or dinner entrees  (or 4 small entrees with fruit or a salad)
Ingredients
1

cup

of cooked chopped lobster meat

about 2 1 lb Maine Lobsters or 3-4 Lobster Tails

1

medium yellow onion

diced

3

slices

bacon

2

large Yukon gold potatoes

peeled

1/2

red bell pepper or 4 small sweet peppers

seeded and diced

2

eggs

4

tablespoons

white vinegar

2

sprigs fresh thyme

minced

4

green onions

diced

1/2

tsp

paprika

1

tsp

white pepper

Cracked black pepper and salt to taste
Hollandaise Sauce:
3

egg yolks

1

tablespoon

lemon juice

1/2

teaspoon

salt

1/4

teaspoon

cayenne

10

tablespoons

unsalted butter
Instructions
Place the potatoes in a large pot, cover with water, and bring to a boil.

Lower the heat and simmer until half-cooked and almost tender, about 15 minutes.

Drain and let sit until cool enough to handle. Cut into cubes. Set aside in a large bowl.

Meanwhile, in a heavy pan (I prefer a cast iron) cook bacon slices until crispy. Remove to a paper towel lined plate and drain.

Leave bacon grease in pan and add diced onions and sweet peppers.

Cook over medium for about 5 minutes, until soft and caramelized.

Add thyme, paprika, salt and white pepper.

Turn heat to low and add bacon, chopped lobster, and potatoes. Stir to combine and heat throughout.

Bring a pot of 4 cups of water and 2 tablespoons white vinegar to a boil over medium, then turn down to a simmer. Break eggs, one at a time into a bowl and slide into simmering water.

Cook for 2 minutes, until whites are cooked but yolk is still runny. Remove with a slotted spoon

Serve on a plate with the warm Lobster Hash and a healthy drizzle of Hollandaise sauce (recipe below) and top with a poached egg, cracked black pepper, and green onions.
For the sauce:
Melt the butter slowly in a small pot. Try not to let it boil – you want the moisture in the butter to remain there and not steam away.

Add the egg yolks, lemon juice, salt and cayenne into a bowl.

Blend the egg yolk mixture at a medium speed with an immersion blender (or use a traditional bender) until it lightens in color, about 20-30 seconds.

Once the yolks have lightened in color, turn the blender down to its lowest setting and drizzle in the melted butter slowly, while the blender is going.

Continue to blend for another couple seconds after the butter is all incorporated.
Notes
Sauce Source: http://www.simplyrecipes.com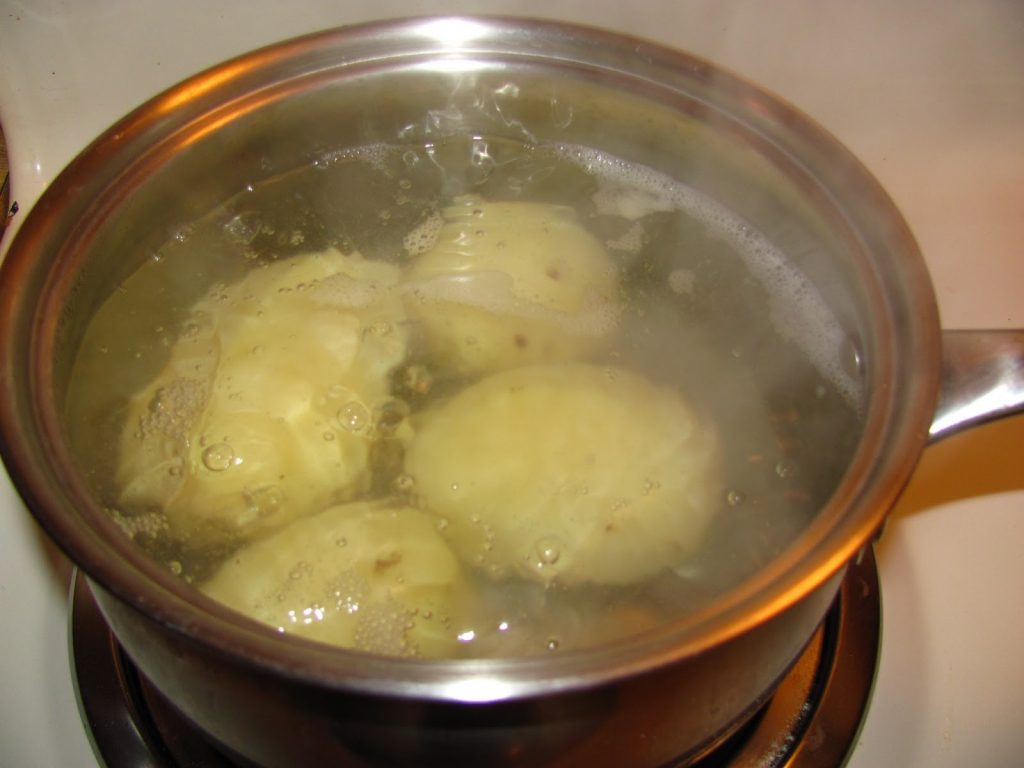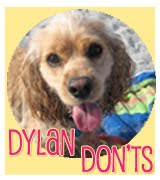 Don't cook the potatoes all the way, as you would for mashed potatoes.
You want them to still have a firmness to them when you add them to the
hash so they don't fall apart. 15 minutes of boil time is perfect.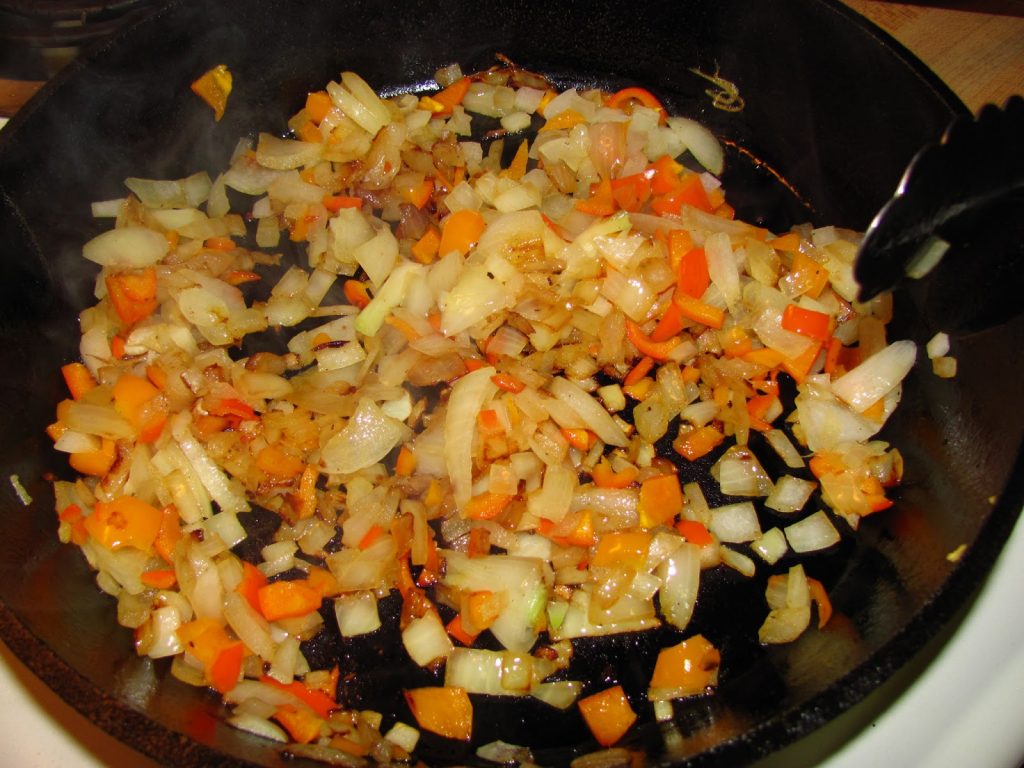 I love using my Cast Iron skillet, especially for a hearty dish like Lobster Hash! It has a built in flavorful seasoning, holds it's heat and cooks everything evenly!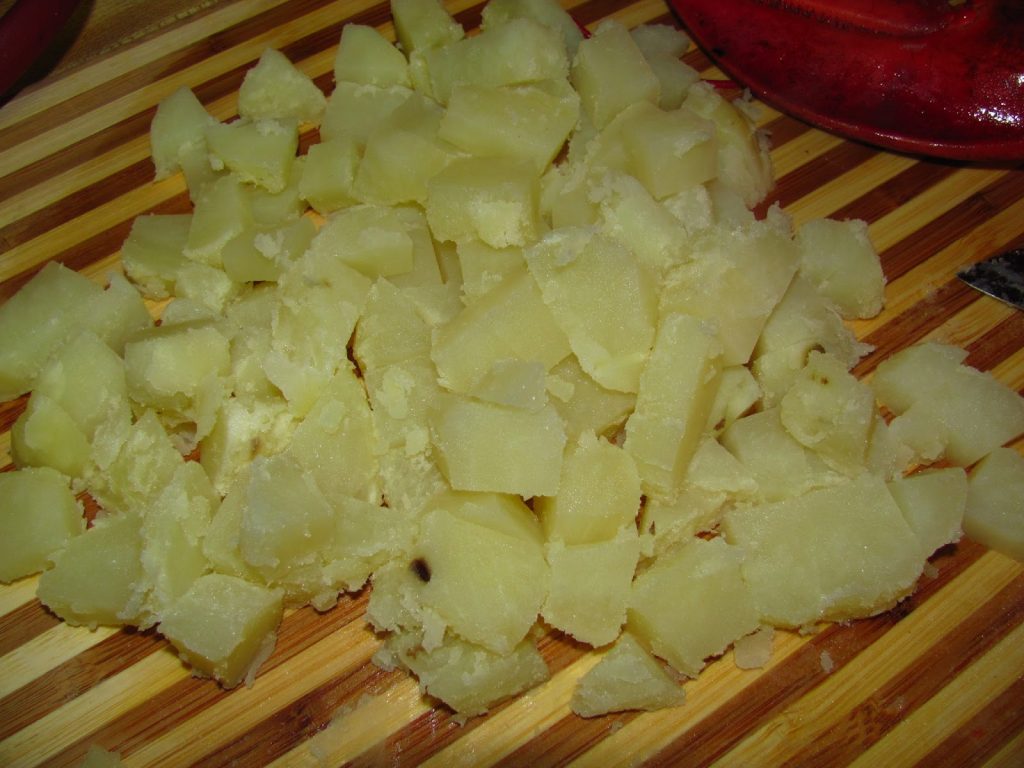 Once the potatoes have cooled enough to handle cube them into bite sized pieces.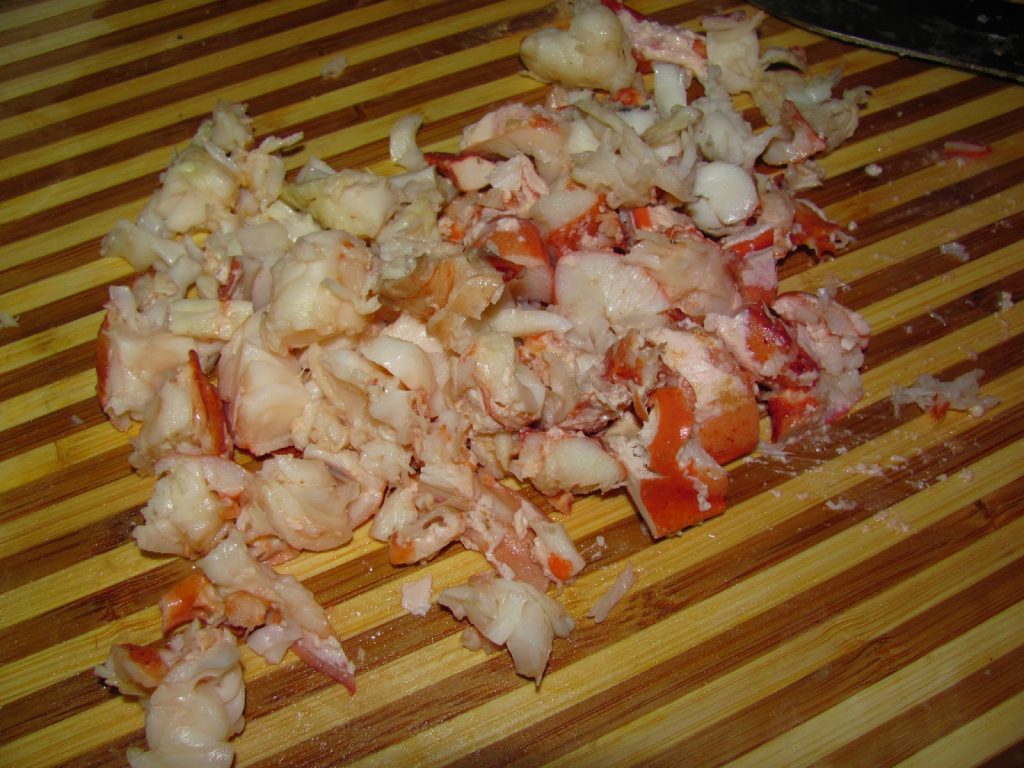 You can use either steamed Lobster tails or whole Lobsters (claw and tail meat).
I prefer the tails because it is a softer more luscious meat which is great in this hash!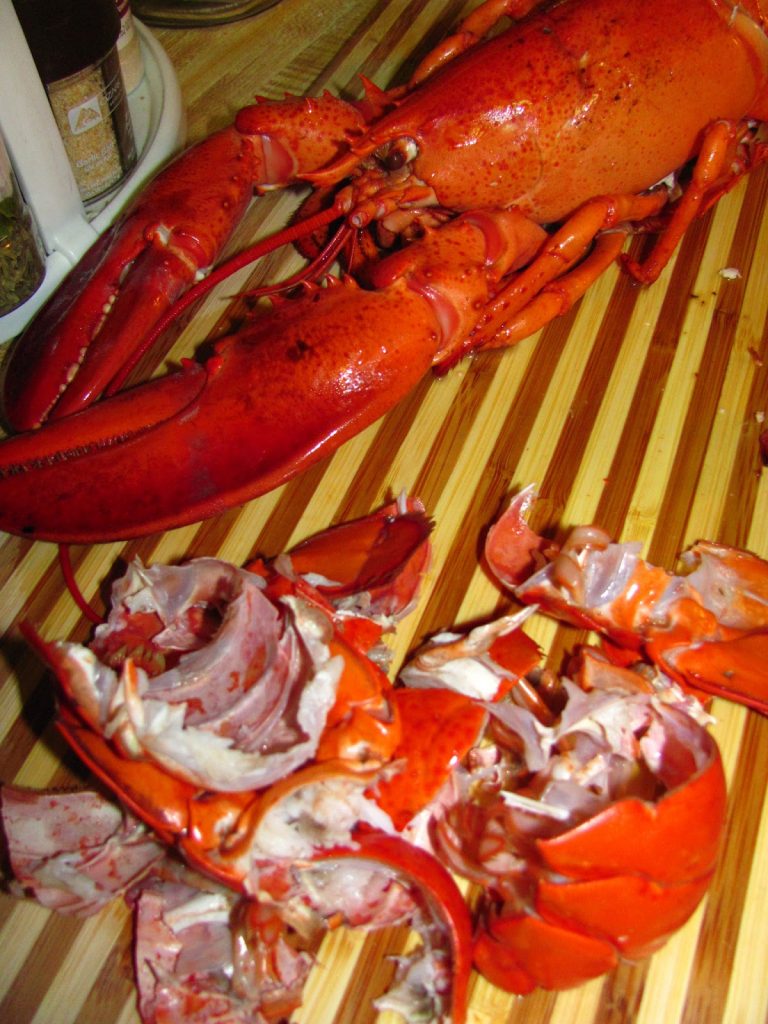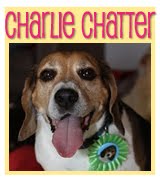 We always save lobster shells and freeze them in a freezer bag.
You can use them later for a homemade seafood stock or Lobster Bisque!
Once cooked, mix everything together in the cast iron and warm. Them add the Hollandaise and poached egg and green onions. Time to dig in!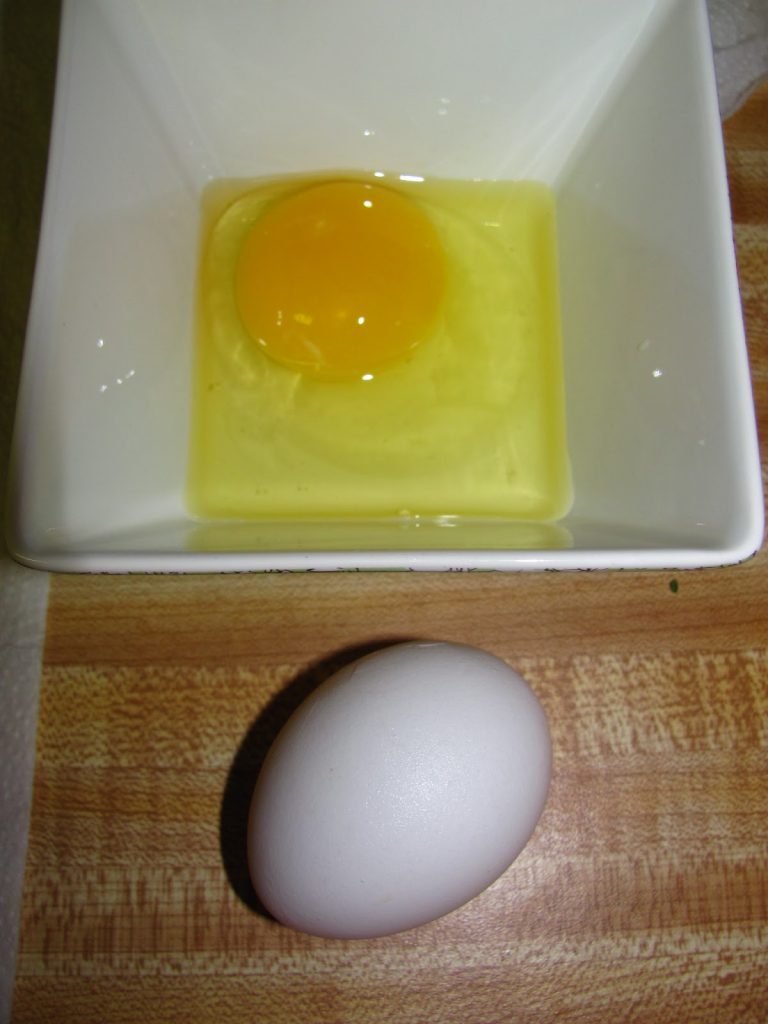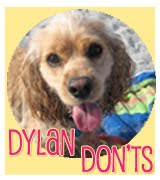 Don't break the egg right into the simmering water to poach. Break it into a bowl first them slide into the water. This way you do not accidentally drop egg shells into the poaching liquid.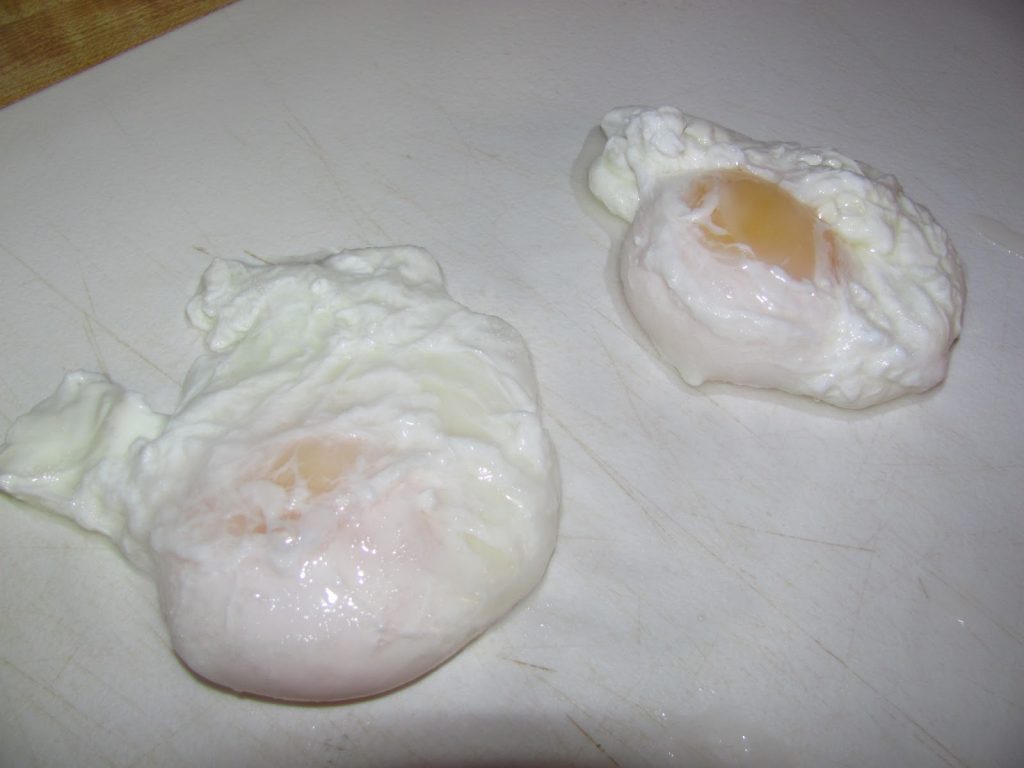 Perfectly poached eggs, the yolk is still runny so you can break it over the
hash and mix it all together. YUM!
You don't need to buy a package of Hollandaise sauce! Hollandaise sauce is actually easy to make!
It's basically just butter, egg yolk, and lemon juice beaten together.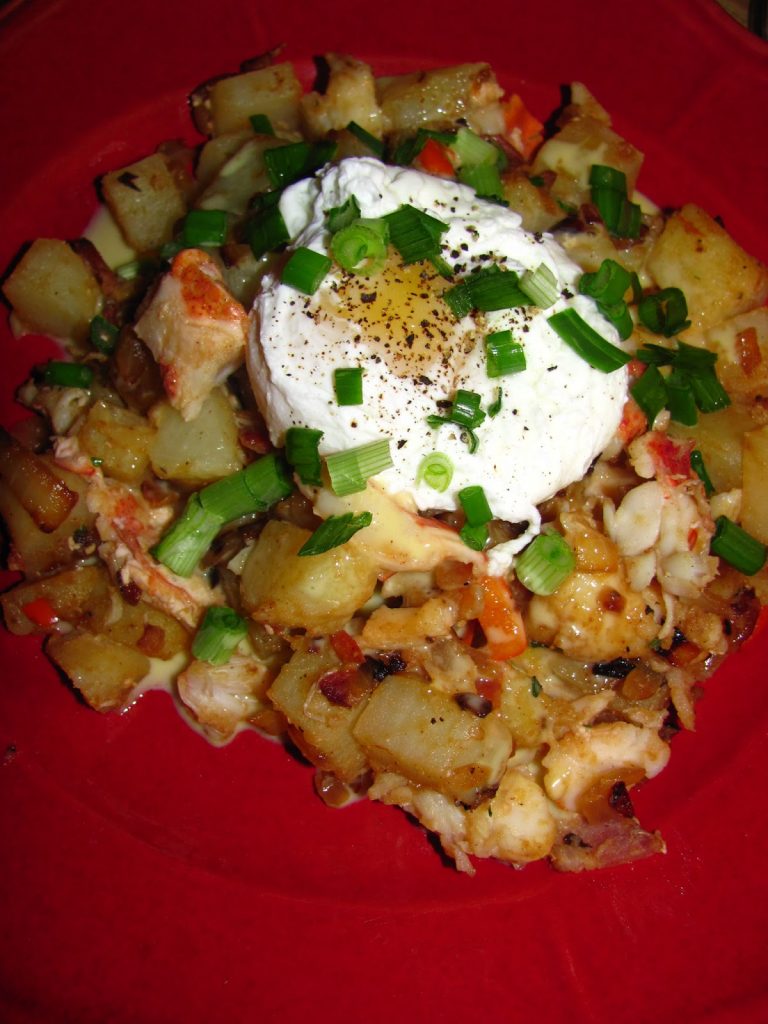 HAPPY BIRTHDAY Charlie the beagle!

My sweet pup turned 8 this year and of course I cooked him his own lobster!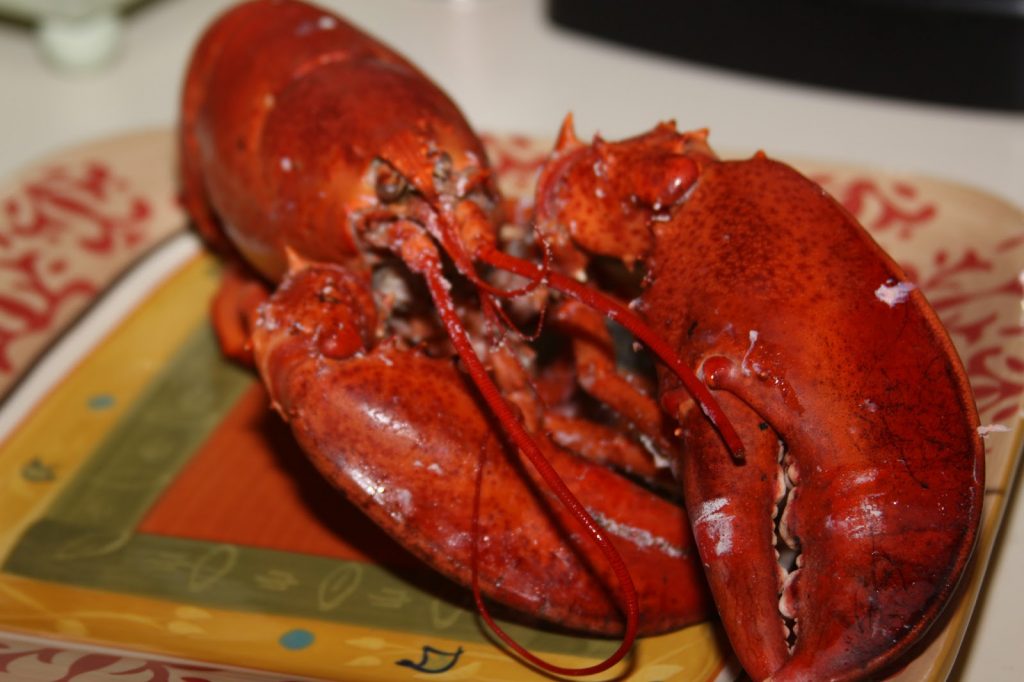 Nom, nom, nom!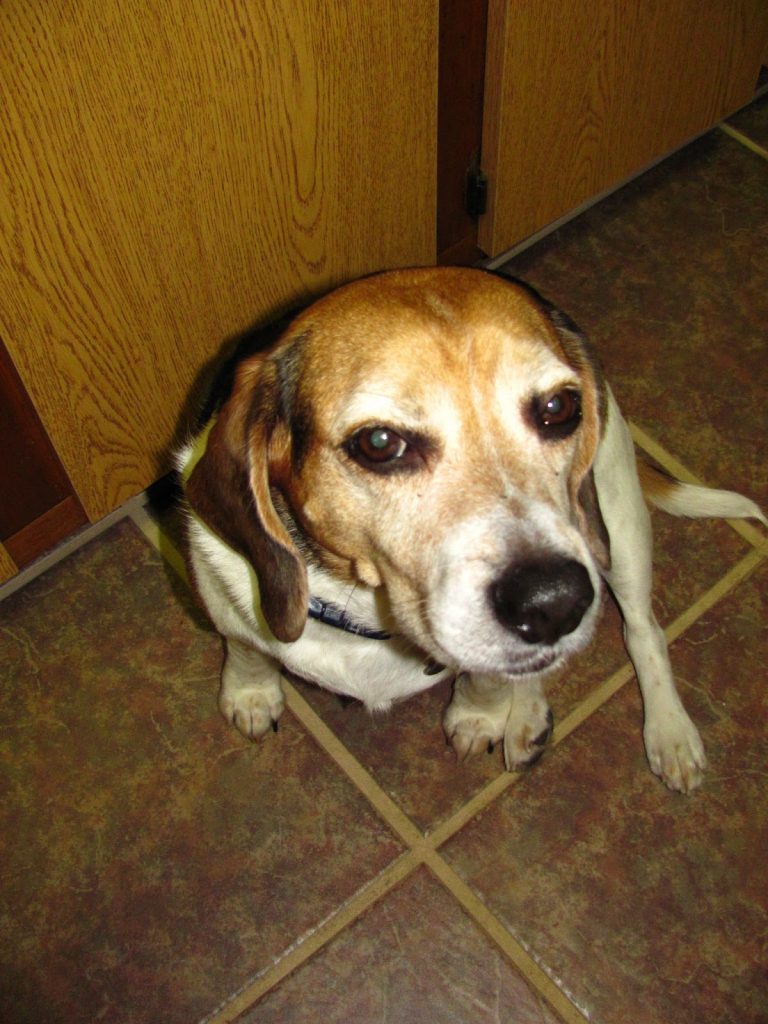 Lucky Dog!