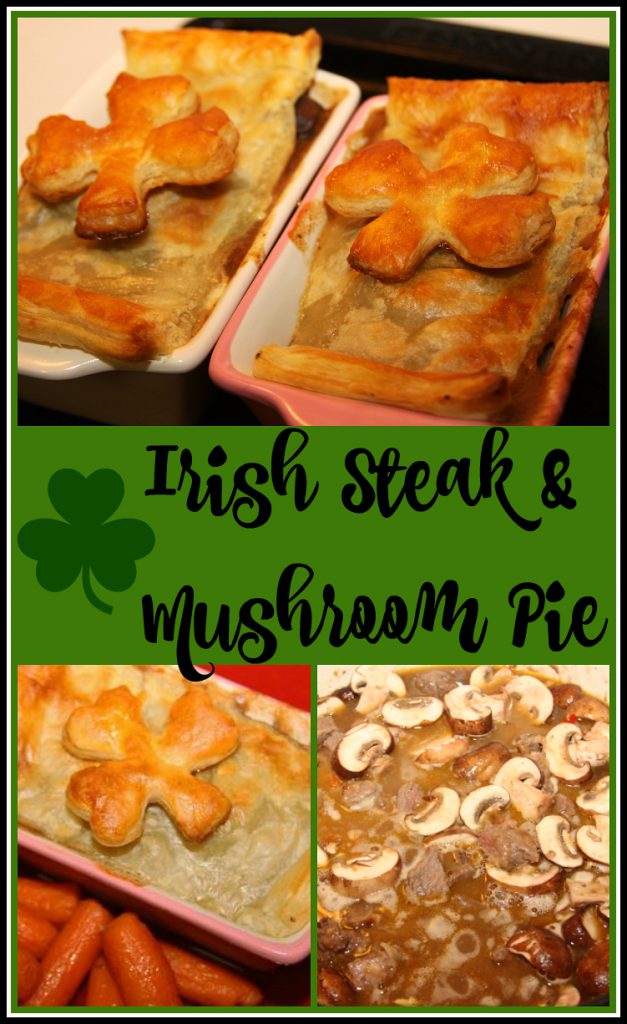 Here's a hearty comfort food dish perfect for St Patty's day: Irish Steak and Mushroom Pie.
This recipe is from my favorite local restaurant back home, McGuire's Irish Pub and was published in their cookbook: McGuire's Irish Pub Cookbook.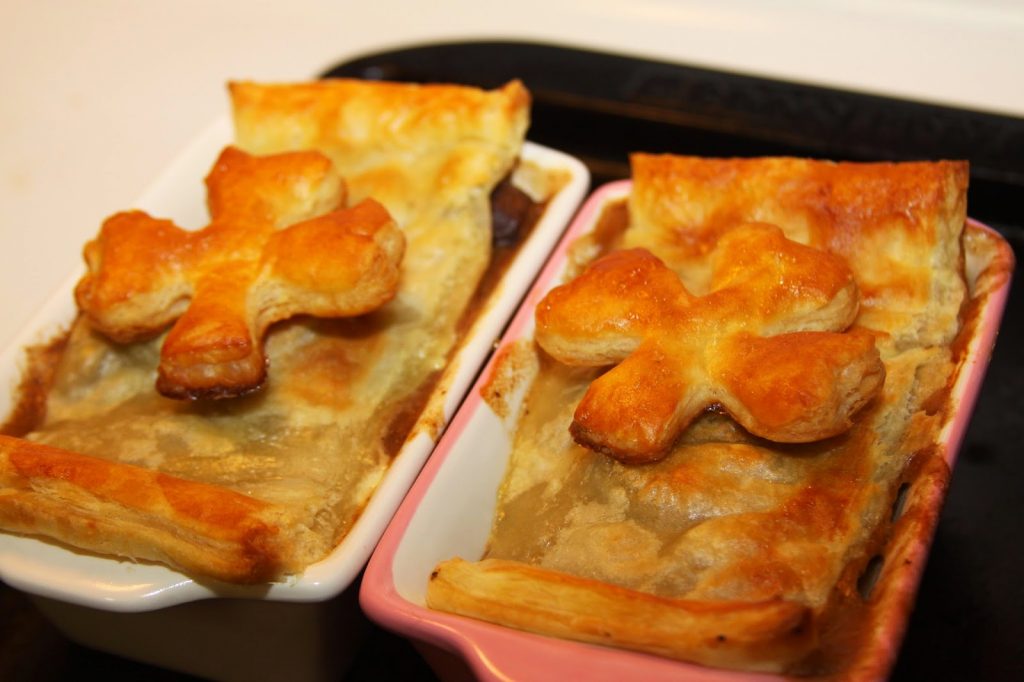 The perfect St Patrick's themed dinner: Irish Steak and Mushroom Pie
Ingredients:
1/3 cup unsalted butter
1 cup chopped onion (approx 1 onion)
1/4 cup chopped red bell peppers (approx 1/2 a pepper)
2 tsp fresh minced garlic (2 cloves)
2 lb beef tenderloin, trimmed of fat and cut into 2 inch cubes
1/2 cup flour
16oz sliced white mushrooms (about 4 cups)
1/3 cup dry red wine
1/4 cup dry sherry
1/4 cup chopped fresh parsley
2 tsp salt
10 turns fresh cracked black pepper
2 cups beef stock
1/2 lb frozen puff pastry, thawed in refrigerator
For egg wash:
occasionally until vegetables are tender, about 5 minutes.
Trim beef of fat and cut into 2 inch cubes.
Add the beef, cook, shaking the pot and stirring occasionally,
until the meat browns all over, about 3 minutes.
Remove from the heat and divide the meat mixture into 4-6 ramekins (I used mini loaf pans and large round ramekins) set on a baking sheet.
*Try not to keep the pastry at room temp or handle too much!
Make egg wash by beating together 1 egg and 1 1/2 tbsp water. Brush on pastry.
Bake until the pastry is brown and puffy and the meat mixture bubbling, 12 to 15 minutes.
Enjoy this St Patrick's Day themed meal!