I have been a lover of fondue since my first visit to The Melting Pot with my parents many, many years ago in Pensacola, FL. I remember then, as a little girl, how excited I was to watch them create these decadent cheese or chocolate creations in front of me! And I loved to cook my own meats in the bubbling broth and try the variety of mouth watering selection of sauces they set out. To this day The Melting Pot is still one of my favorite restaurants, especially for a Girls Night Out or Romantic Date Night.
Last month, I had the pleasure of taking my hardworking husband on a long weekend to Houston. He had never been to The Melting Pot, actually I don't think he had ever had fondue before (gasp!), so I knew that had to be our first stop!
We ordered the Four Course Experience, which is a fun and clever concept and perfect for a couple out for a romantic evening! You choose one cheese fondue to share, you each select an individual salad, then you each select your individual entrée and finally choose one chocolate fondue to share. It's a great way to sample a little bit of everything off the menu!
What we ordered:
Bacon and Brie Cheese Fondue
Spinach Mushroom Salad (Ashton) and Caesar Salad (Me)
The Classic Dinner (Ashton) and Fondue Fusion (Me)
Flaming Turtle Chocolate Fondue
Guess what? I will be recreating all these fondues on the blog this week! So keep checking back for recipes and don't forget to enter The Melting Pot Giveaway below!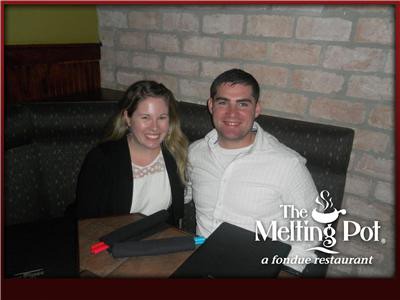 The Melting Pot Houston offered to take our picture and then posted it for
download on their website. Such a nice, personal touch!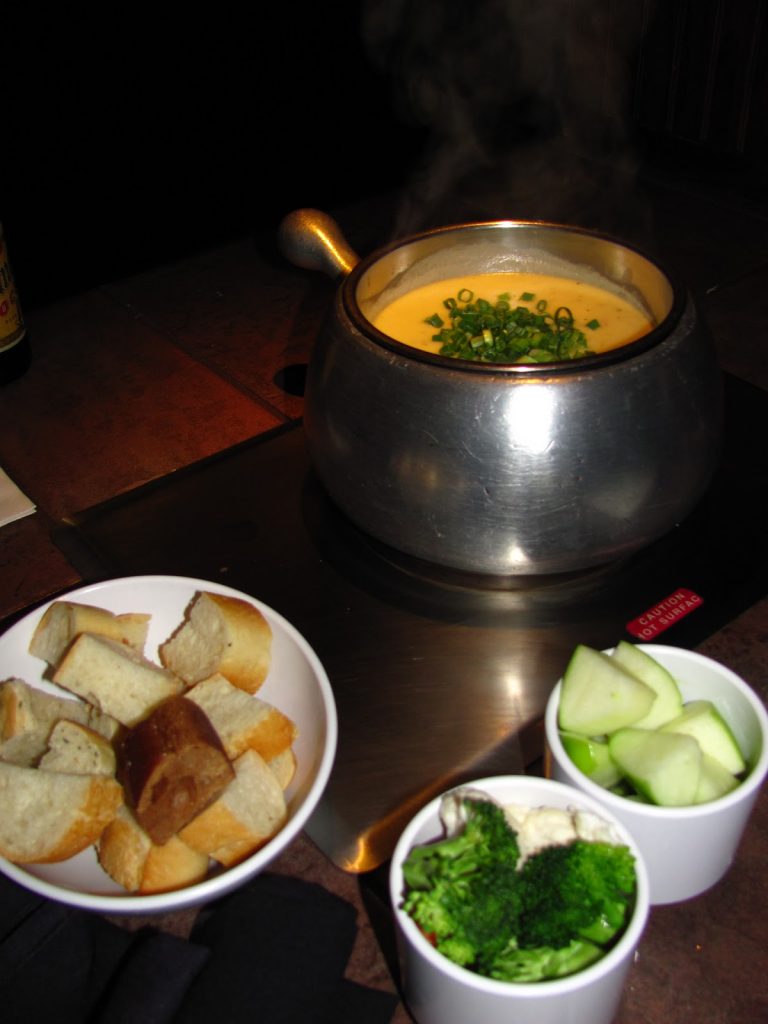 Ingredients:
2 3/4 cups (11 ounces) shredded Cheddar Cheese

3 tablespoons all purpose flour

1 cup beer

4 teaspoons chopped garlic

6 tablespoons Green Goddess Sauce

1 teaspoon The Melting Pot Garlic and Wine Seasoning (optional)

1 teaspoon freshly ground pepper
Directions:
Toss the cheese with the flour in a bowl.

Place a metal bowl over a saucepan filled with 2 inches of water (or use a double boiler).

Bring the water to a boil over high heat.

Reduce the heat to medium and pour the beer in the bowl.

Stir in the garlic using a fork.

Cook for 30 seconds, stirring constantly.

Add half the cheese and cook until the cheese is melted, stirring constantly.

Add the remaining cheese a small amount at a time, stirring constantly in a circular motion after each addition until the cheese is melted.

Fold in the Green Goddess Sauce, Garlic and Wine Seasoning, and pepper.

Pour into a warm fondue pot and keep warm over low heat.
NOTE: The cheese is shredded and tossed with flour to aid in thickening and to improve the viscosity of the fondue. The fondue should be the consistency of warm honey when completed. Monitor the cheese carefully as it is being added. Not all the cheese may be needed, and, in some cases, more cheese may be needed to reach the perfect consistency.
*Serve with green apple slices, crisp broccoli, carrots, and cauliflower, pretzels, and crusty chunks of bread such as pumpernickel.
Recipe from The Melting Pot 'Dip into Something Different' Cookbook
Enter to win one of two below!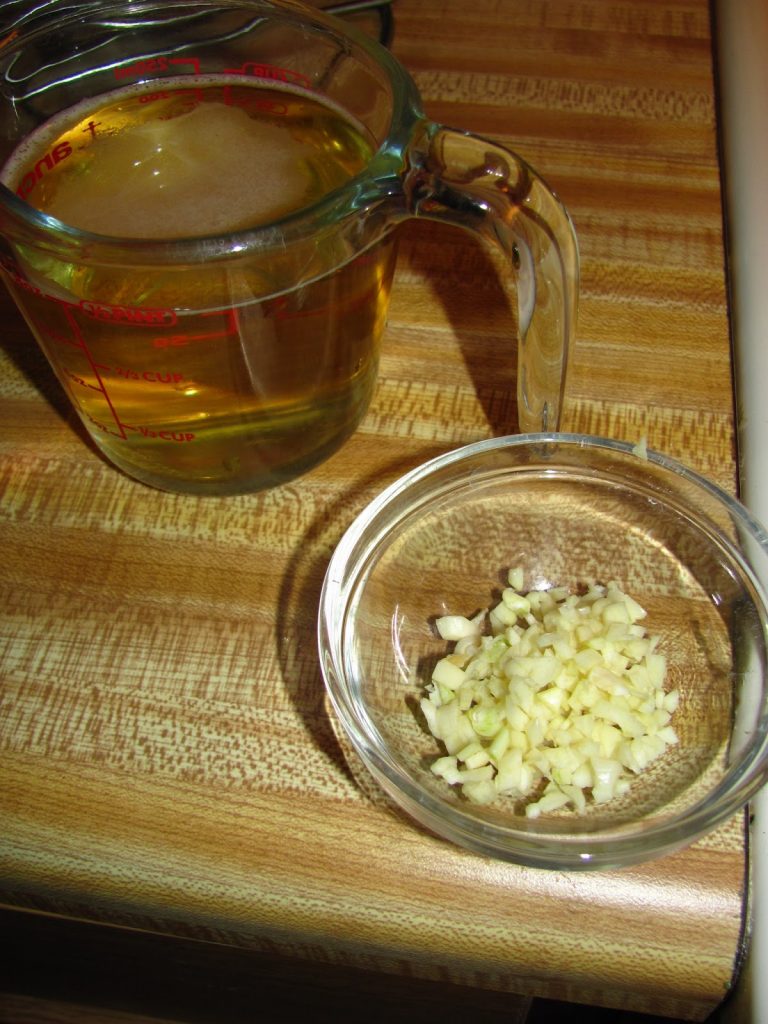 Lots of flavorful chopped garlic, light beer, and gooey cheese make this fondue the perfect warm meal during these cold winter nights!
Stir with a fork until the cheese is completely melted.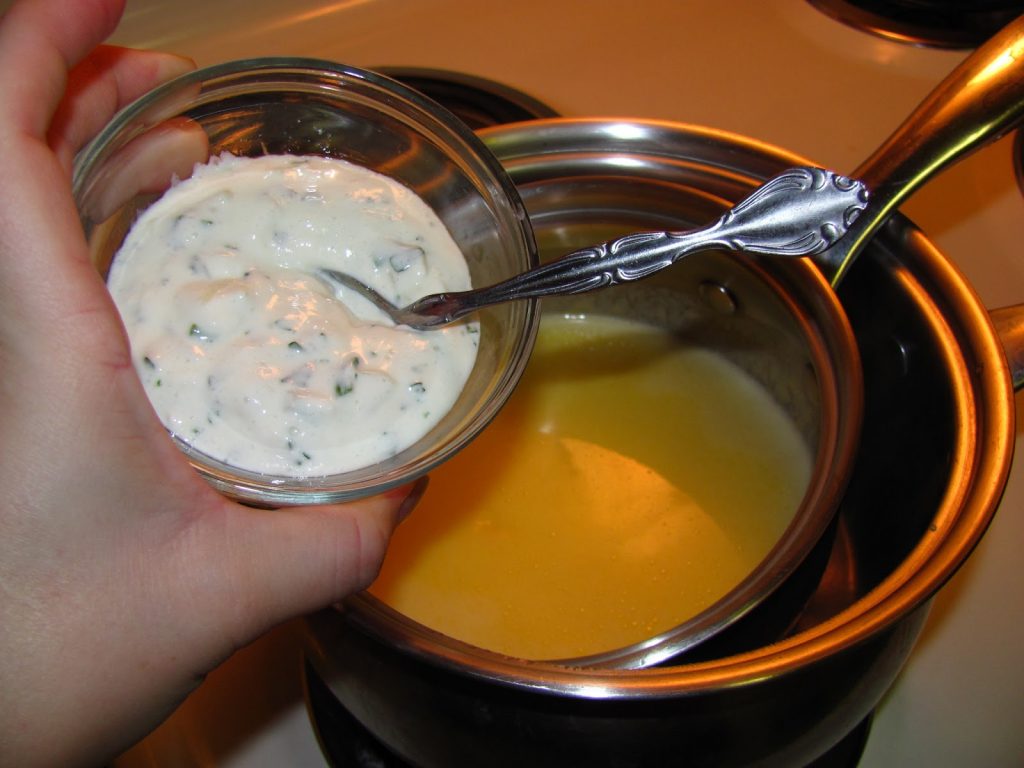 Add the Green Goddess Sauce (look for the recipe later this week!)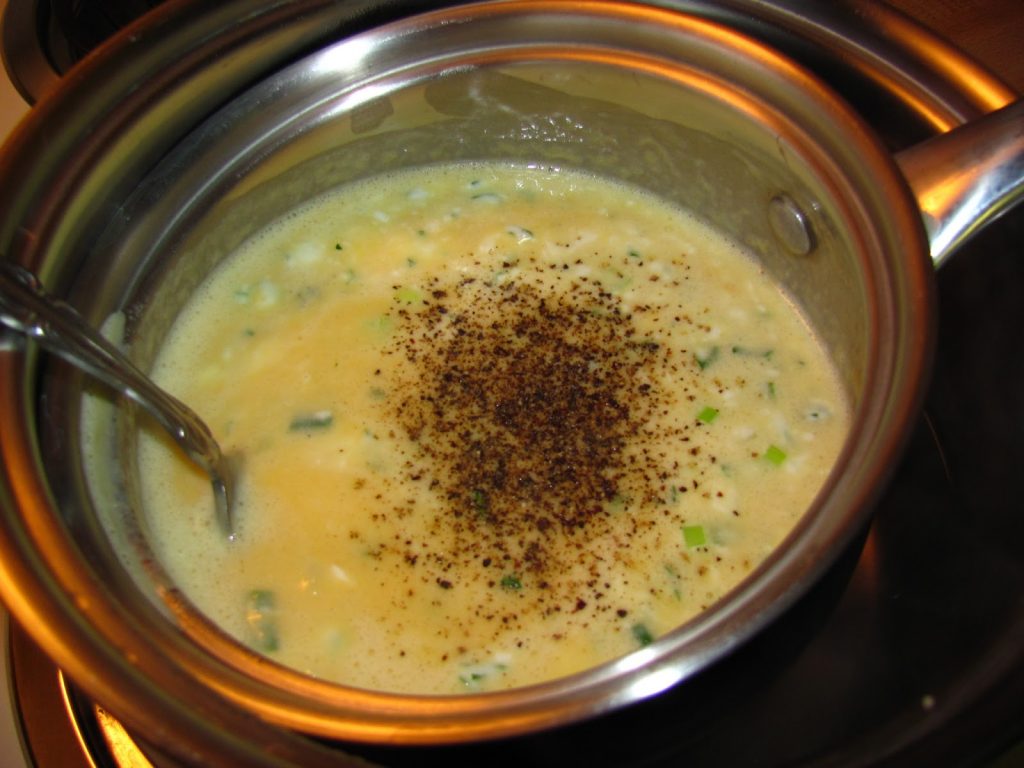 Season with ground black pepper and Garlic and Wine Seasoning (available at The Melting Pot)
Serve warm with apples, veggies, bread, and pretzels!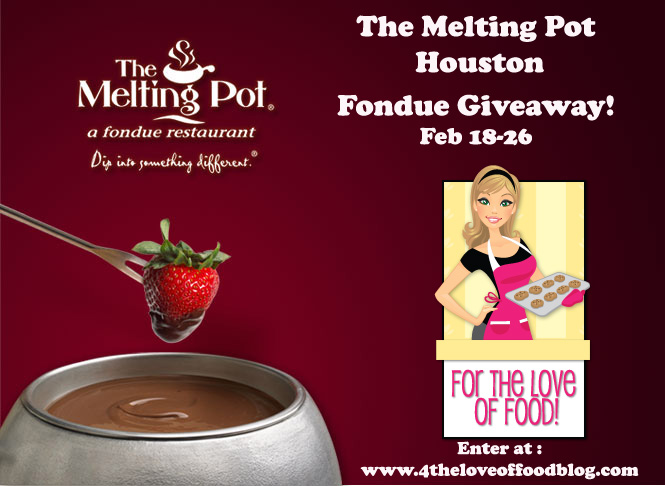 The Melting Pot of Houston
6100 Westheimer Road, Houston, TX